6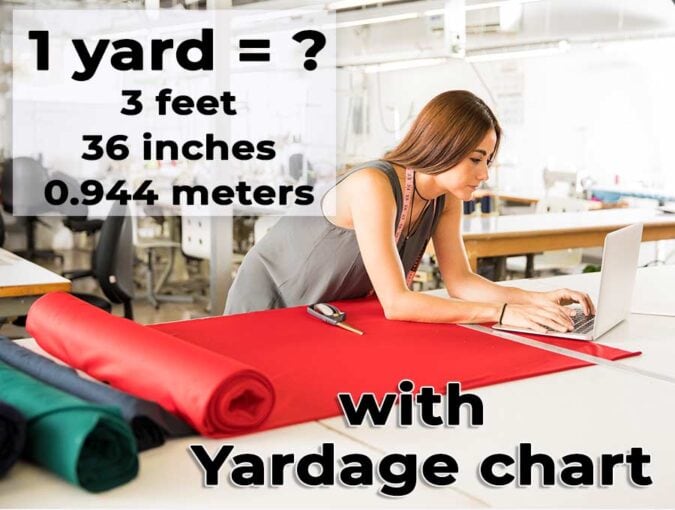 How Big is a Yard of Fabric + Free Yardage Chart Printable
This is a bit of a trick question because the size of a yard of fabric can vary vastly, even though it measures exactly one yard or 36 inches in length. A few countries still work on the Imperial system or what is known as the US system using yards and inches, however most of the rest of the world has moved over to the decimal system. A person used to having fabric measured in meters may want to know how much area a yard covers compared to a meter. If they are working from a US pattern or needing to buy a certain amount of fabric for a project in the US, this is where the question often comes in as to the actual size of a yard of fabric. A yard, is 3 feet or 36 inches and is equal to .9144 meters, or 91 cm, but that doesn't mean it's a square yard of fabric because it all depends on the width of the fabric.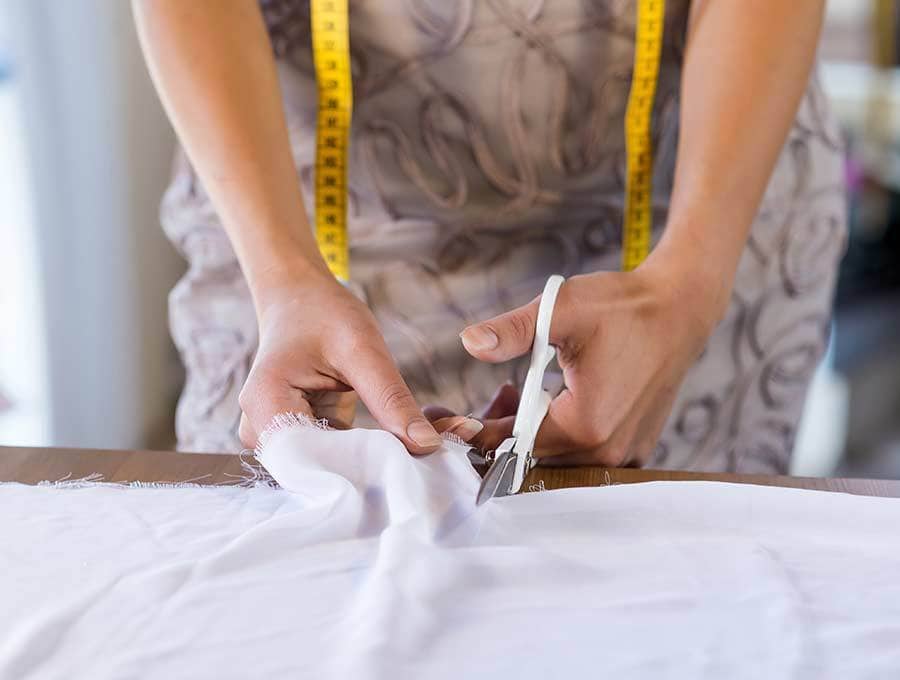 How big is a yard of fabric actually?
Fabric comes in widths that vary from 28 inches wide all the way up to 60 inches, and even more for specialised applications like canvas for awnings or boat canopies. So, if you are buying 1 yard of 36" wide fabric you have a square yard – the length is the same as the width.
If you are making an awning for a patio or a canopy for a boat then the fabric may come in a two-yard width and be sold by the yard – so for each yard you buy you are getting two square yards of fabric. When calculating the cost of your fabric always consider the width because a yard of 60-inch-wide fabric will cost more than a yard of 36-inch-wide fabric simply because it is covering a greater area and you are getting more fabric per yard.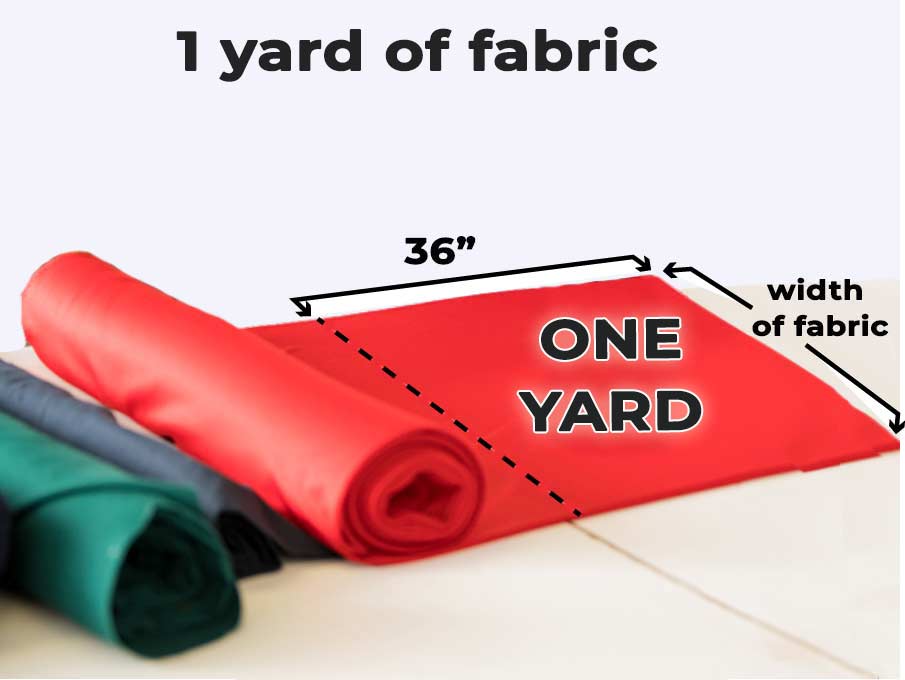 What is a running yard?
The term 'running' means fabric is a continuous length. Fabric is sold by the running yard when it is not already cut into yard or ½ yard pieces, as is often done for quilters who require smaller quantities of a particular patterns for their projects.  So, if a sales attendant is unrolling material to cut from the roll, then it is sold per running yard, although this term is seldom used and a customer will just ask for x number of yards.
Ensuring you get exactly the yards you need
Now if your patterns calls for an exact number of yards you need to be careful when buying because often the fabric is cut slightly skew. Always check for straightness– if it skew the sales attendant should give you the extra inch or so to make sure you have enough for your project. Some companies do not allow for this in their 'policies' so you may need to buy a little extra to ensure your pattern pieces all fit.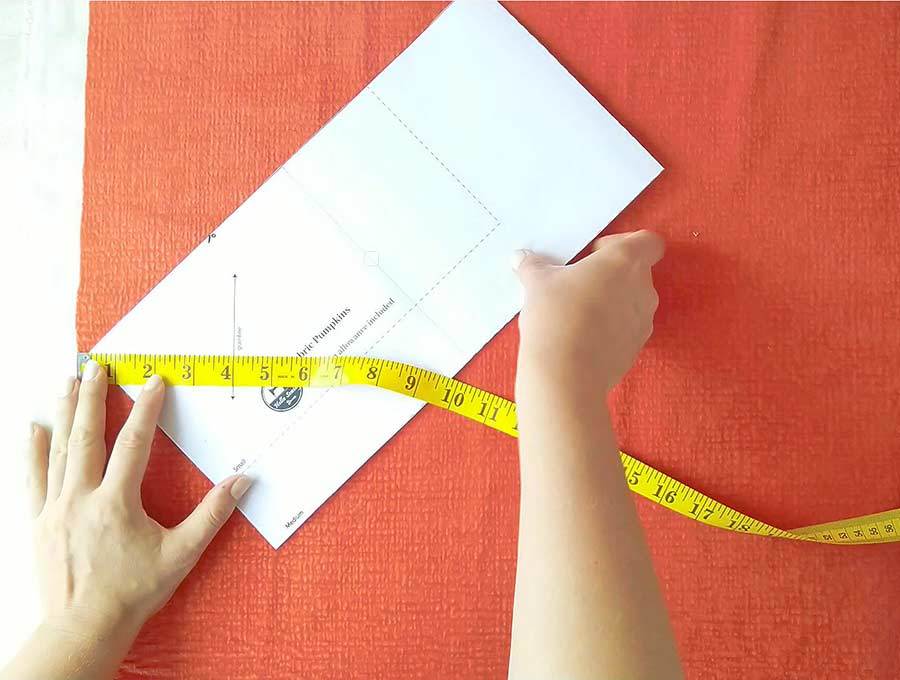 You may have seen some salespeople make a small nick with the scissors and rip the fabric across, as it will tear along the thread, giving a straight edge. This only works on certain fabrics like a lightweight cotton.
Another way to ensure a straight cut, so you get the exact yardage is to pull a thread, starting by making a tiny nick on the selvage. After making the nick the salesperson will find a visible thread and pull it out gently – it will snap somewhere along the way but it will leave a tiny gap along which the person can cut, and then they will pull again from where it snapped. This ensures yardage is not skew and is sometimes used for cutting expensive tweeds and suiting fabric.
A handy tool: For embroidered, beaded and lace fabric neither of the above methods will work. A dressmaking/carpenter's square an be invaluable in helping cut a straight edge, particularly on expensive embellished fabrics that can cost $100 upwards per yard.
Wider fabric is usually more economical
Try, if possible, to buy a wider fabric because it will enable more economical placing of pattern pieces. The narrower the fabric the more potential there is for wastage. And if you are wondering why all fabric manufacturers don't just make fabric all the same width, it's because looms differ in width, and some countries work on the decimal system while some work on the imperial system. Usually silks, heavily embroidered fabrics and laces are narrower in width due to the production process.
So, when a pattern says you need 3 yds of fabric it all depends on what you are making. To make sheets for a double bed you may need 3 running yards but the fabric will be very wide – enough to stretch across a double bed and tuck in without any seams. If you are making a top or a skirt you have to take in account the width of the pattern pieces. Most patterns will tell you that you need X number of yards of 36 inch or 44 inch fabric. But if they don't, then it's best to lay out the pattern pieces and measure the width at the widest point of the largest pattern piece before going off to the shop in search of fabric. The worst is not being able to finish a project because you didn't buy enough. I always buy a little more just in case of a mistake in pattern cutting – it can happen. The remnants can always be used for creative projects with children or as embellishments on other projects.
RELATED:
Making conversions from yards to inches and centimeters
If you are used to a decimal system where fabric is measured in meters and centimeters, then the fabric yardage conversion chart below will help you visualize the sizes you need. It also helps with visualizing fractions of a yard, for example a ¼ of a yard  is 9 inches – 3 inches less than the normal 12 inch (30 cm) ruler. We all know the length of a ruler from having used them in school so often.
Yardage conversion chart
Here's a convenient fabric yardage conversion chart that will help you find the fabric yardage in a glance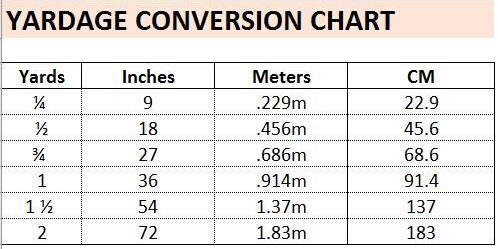 Meterage conversion chart
If you are used to working in meters and need to convert to yards this will help visualize the amount of material you need.


Can I buy the exact yardage I need?
The pattern may indicate you need say 2 and ¼ yards of fabric but when you get to the store they usually only sell by the yard or ½ yard, so you may find yourself with a little extra fabric over after your project. Don't discard it because all sorts of projects will use up those small pieces of fabric.
Yard of fabric in inches: Converting inches to yards
Some projects will state that you need, for example, 40 inches of fabric. So, to calculate how much is a yard of fabric, we need to go back to the arithmetic – a yard is 36 inches that means you need one yard and 4 inches – so to find the fraction of a yard needed divide 4 into 36 = 9. You need 1 and 1/9 of a yard, or if you are working in centimeters 101.6 cm. If this all seems a bit of a pain then just print out our printable yardage chart and keep it handy to use when converting for projects.
Before you cut
Before you pick up the scissors check whether the fabric has been pre-shrunk. If you forgot to do this at the store then it is best to wash the fabric before cutting.
Some fabrics have quite a wide selvage and all have little holes where it fitted onto the loom. Not seeing these when cutting a pattern can ruin a project. Always cut off the selvage before starting to ensure the pattern fits onto the fabric without its selvage.
You usually have to buy extra fabric if you are matching up stripes or a particular print.
To conclude, fabric is measured along the length of the selvage – the sides where the fabric is fastened to the loom, so the size of a yard of fabric is dependent on its width, the length of a yard does not vary – it will always be 36 inches.
 Yard of fabric FAQs:
 Q:   What does 1 yard of fabric look like?
A:   It can be a square if the fabric is 36" wide – the same as the length – 1 yard being equal to 36 inches, this is referred to as a square yard. The yard will look different if the width is more than 36 inches or less in which case it will be a rectangular shape.
Q: What size is a yard of fabric? How many inches are in a yard of fabric?

A: The length will always be 36 inches but the width may differ from as little as 28 inches all the way up to 72 inches.
A yard of 44-inch-wide fabric will be the shape on the top, and a yard of fabric that is 72 inches wide will look like the shape on the bottom of the image below: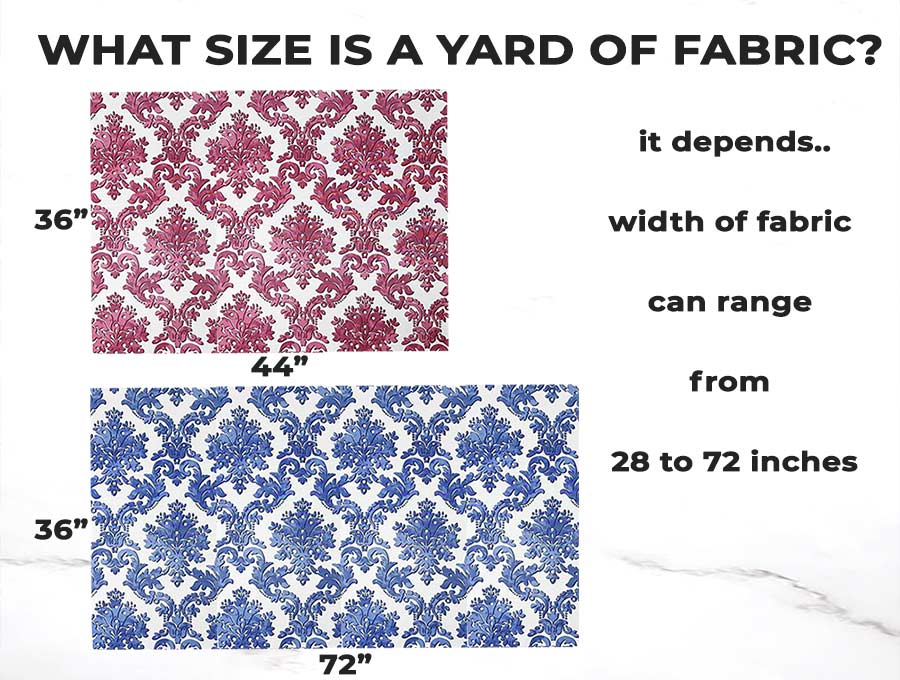 Q:  How many feet are in a yard of fabric?
A:  A yard of fabric is three feet in length. There are twelve inches in a foot.
If you are calculating how many square feet the fabric will cover then you multiply the length times breadth – so a 3 feet long piece of fabric that is also 3 feet wide (3 x 3) will cover 9 square feet. Fabric that is 48 inches (4 feet) wide and a yard (3 feet) long will cover 12 square feet (4 x3 = 12).
Q:  Is a yard of fabric a square yard?
A:  Not necessarily – only if the fabric is 36 inches wide will it be a square yard (nine square feet). If the fabric is wider it, for example 36 x 45, 36 x 54 or 36 x 60 inches it will cover more than a square yard depending on the width.
Q:  What can you make with a yard of fabric?
A:  There are endless projects you can sew with just one yard. What you can make will depend on the type of fabric. Here's a list of ideas
One Yard Projects:
To show you how much you can really make with just one yard of fabric, I've compiled a list of ideas. All these sewing projects require a single yard of fabric or less, and most of them can be completed in less than an hour.
Here are a few ideas for cotton fabrics:
Toddler's short pants/ vest
Toddler's sun dress/ hat/ bloomers
Baby bib
Baby burp cloth
Oven gloves
Pencil case
Cosmetic bag
Face Masks – a yard should give you quite a few depending on the pattern used
Christmas stocking
Bunny shaped Easter bag for collecting eggs
Halloween bag for treats
Tablet cover
Headband
Child's art apron
Roll out bag for holding various cell phone and laptop charging cables neatly
Babies soft ball
Teen's mini skirt
So, what are you waiting for? Turn a yard of pretty cloth into something wonderful.
Sew a grocery shopping tote, a plush toy or any of my other gift-worthy one yard sewing projects in less than an hour today.