1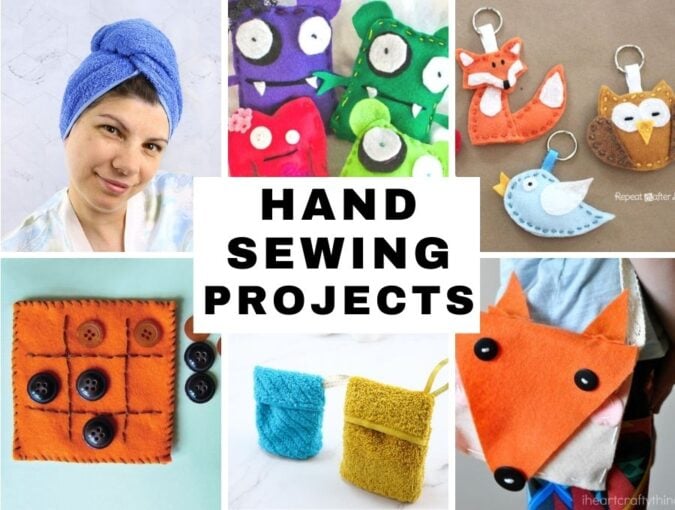 15+ Easy Hand Sewing Projects for Kids and Adults
Traveling? No sewing machine? Not a problem! There are a ton of cool sewing projects you can tackle entirely by hand. Only a needle and a thread and you can sew away for hours. It's sooo relaxing. These hand sewing projects are great for beginners and advanced sewists alike, and I've even included some projects that even kids can do. Just browse through this list for inspiration what you can do entirely by hand.
Check these out!
Easy hand sewing projects for kids
Fox purse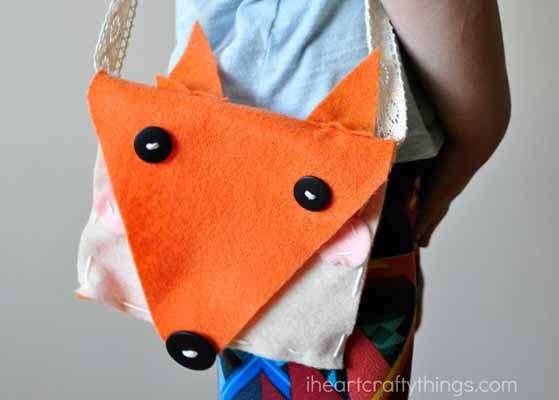 Make an adorable new rectangular bag for your kid and decorate it with an orange triangle with three buttons and two smaller triangles in the same color for the shape of a friendly fox face that is also a closing flap for the bag.
Emoji face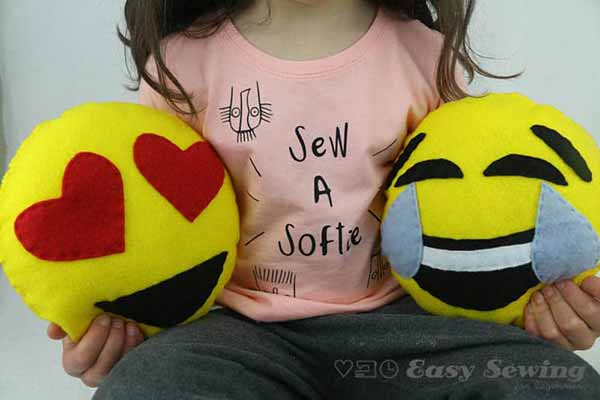 Kids nowadays are technically educated at a young age, which means they know and love emojis more than most adults, so go ahead and surprise your little one with a miniature pillow in the shape of their favorite smiley face, laughing face, or that face with a tongue pointing out.
Felt finger puppets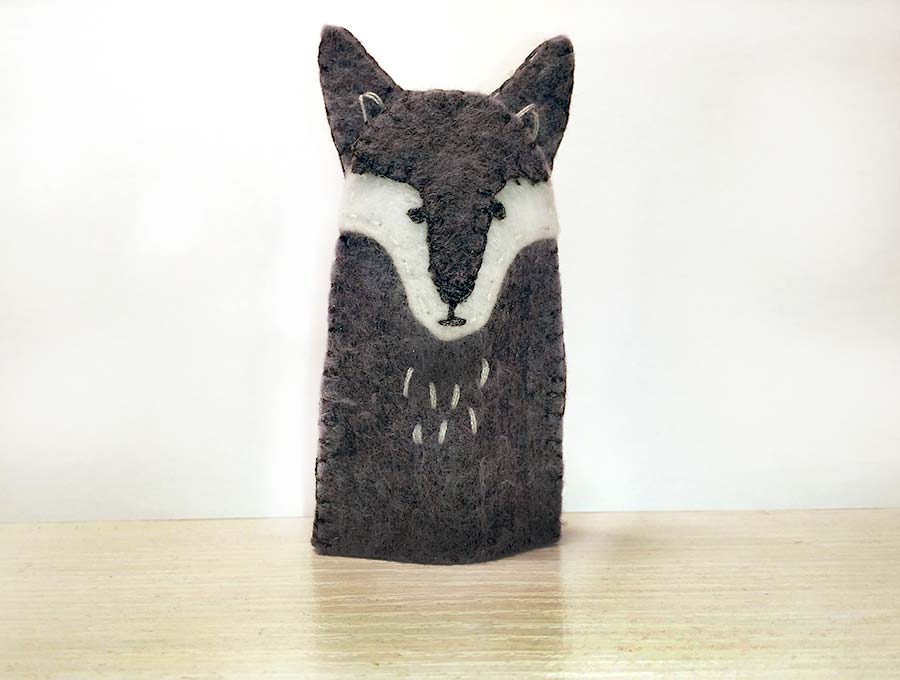 Finger puppets provide loads of silly fun times for you and your child, even more so when you sew them together in the shape of a tiny wolf or a fox, complete with small ears, eyes, and even embroidery fur on their chests. Make a bunch so you have enough for all your fingers!
by hellosewing
Felt monsters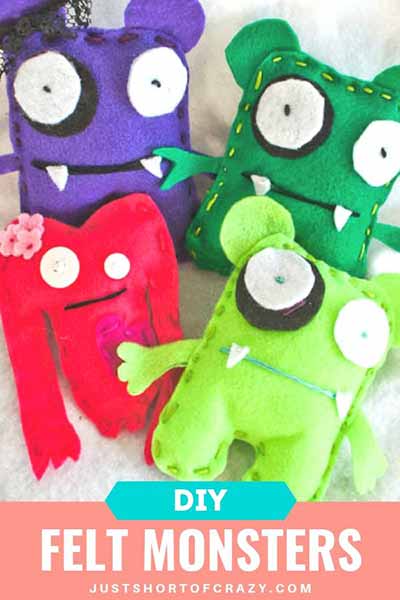 Build an army of scary creatures in the form of small felt monsters with rectangular bodies and little arms and legs, eyes in various shapes, different facial expressions, and sharp teeth peeking out of their closed lips. These miniature creatures are simple enough for your kid to try and sew under your supervision.
Felt forest friends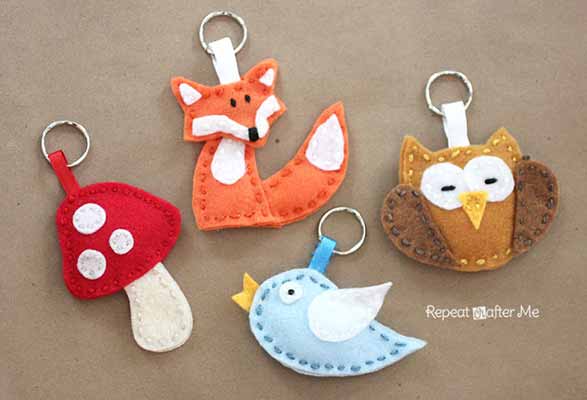 Never be alone again, thanks to these adorable forest critters that come in shapes ideal for keychains you can carry around and enjoy their tiny features like the closed eyes on the owl, the cute snout of the colorful fox, the open beak of the singing birdie, or the small spots on the mushroom head, all of them equally irresistible.
Tic tac toe game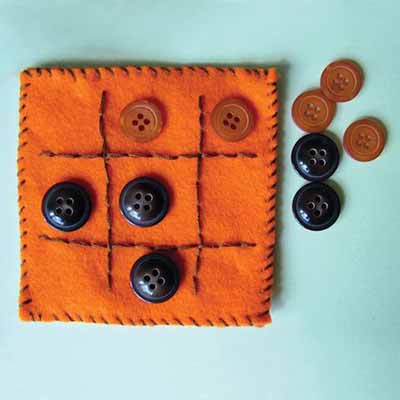 Why draw a tic tac toe board when you can just sew a miniature felt rectangle and stitch a few lines on it to get the portable version of the famous game and then use buttons in different colors instead of the X and O letters that represent each player's move for fun times on the go!
by resource-bank.scholastic.co.uk
A swan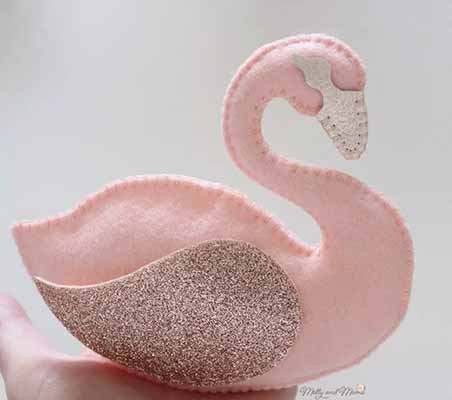 Swans are symbols of pure and beautiful emotions, which is why everyone would appreciate receiving a felt swan like this one that has a neck curved into an S letter shape, with a beak and eyes on its top, a wing on the side of the swan body, and a pointy tail characteristic to these majestic birds.
by mollyandmama
Squidget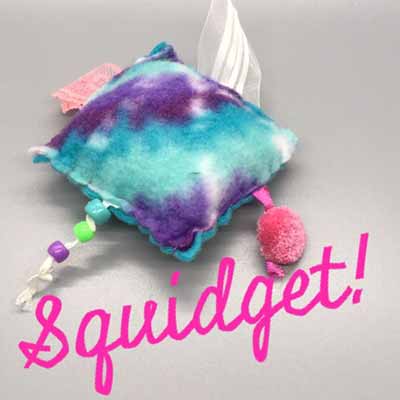 For all of you out there who like to keep their hands by squeezing something, comes this inventive design of a stuffed square that has a different decoration on each of the four sides it has, one of them is a thin but wide lace strip, the other one is a shorter fabric strip, the third one is a drawstring with marbles, while the last one is a ribbon with a cotton ball at its end.
by sewingschool
Easy hand sewing projects for adults
Hair towel wrap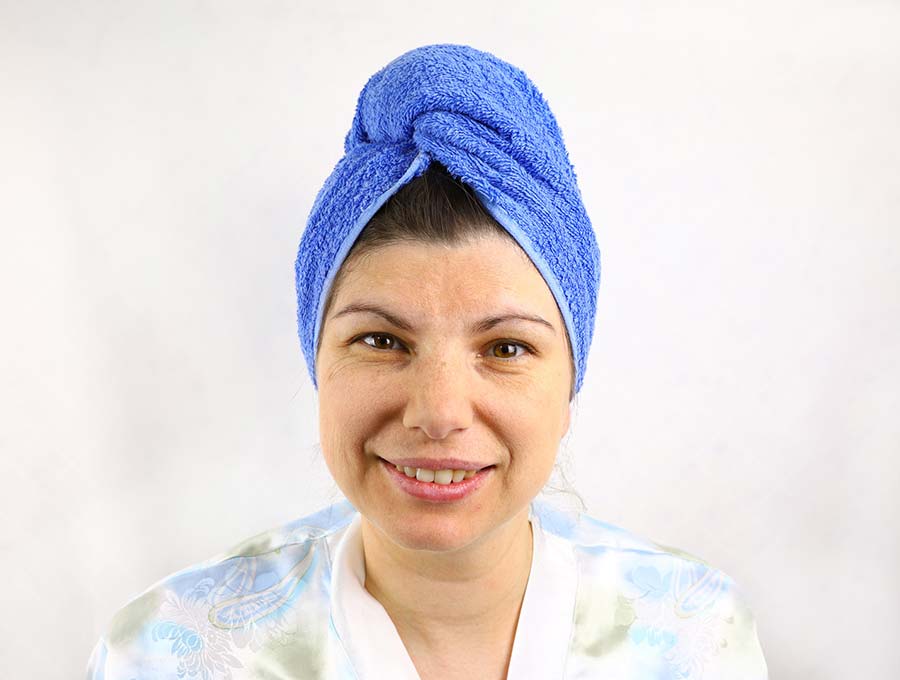 Forget about using a towel to wrap your wet hair when you can use this practical hair wrap that is like a solo hood you place on your head and twist to keep your hair snug and covered while it dries off. Unlike a plain towel, this one won't unwrap nor slide off your head regardless of how much you move the head.
Hair towel wrap by hellosewing
Fabric coaters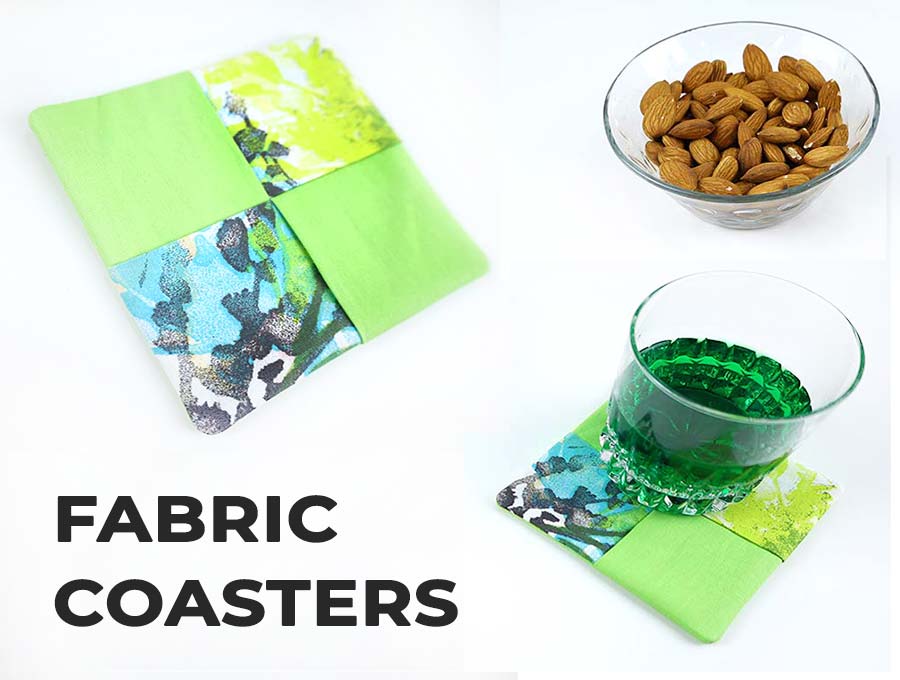 Keep your tables stain-free when your friends come over for a drink with the help of these squares fabric coasters that consist of four smaller squares in three different colors, arranged in a checkered manner, with a diagonal pair in matching colors. Feel free to experiment with color combinations to get the one you like the best.
diy fabric coasters by helloSewing
Drawstring backpack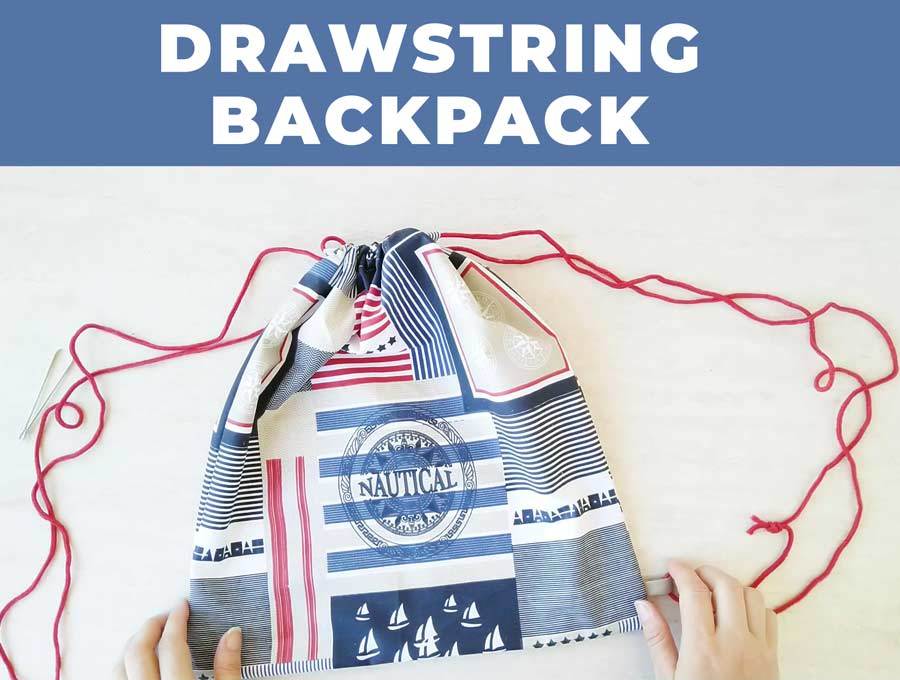 Here's a pattern for a simple drawstring backpack you can use for all kinds of purposes, from bringing necessities to the beach, over trips to the gym, to quick dashes to the store, its light body and practical drawstrings you can use to tighten the opening shut and as shoulder straps make the bag extremely easy to handle.
drawstring backpack tutorial by HelloSewing
Sweater mittens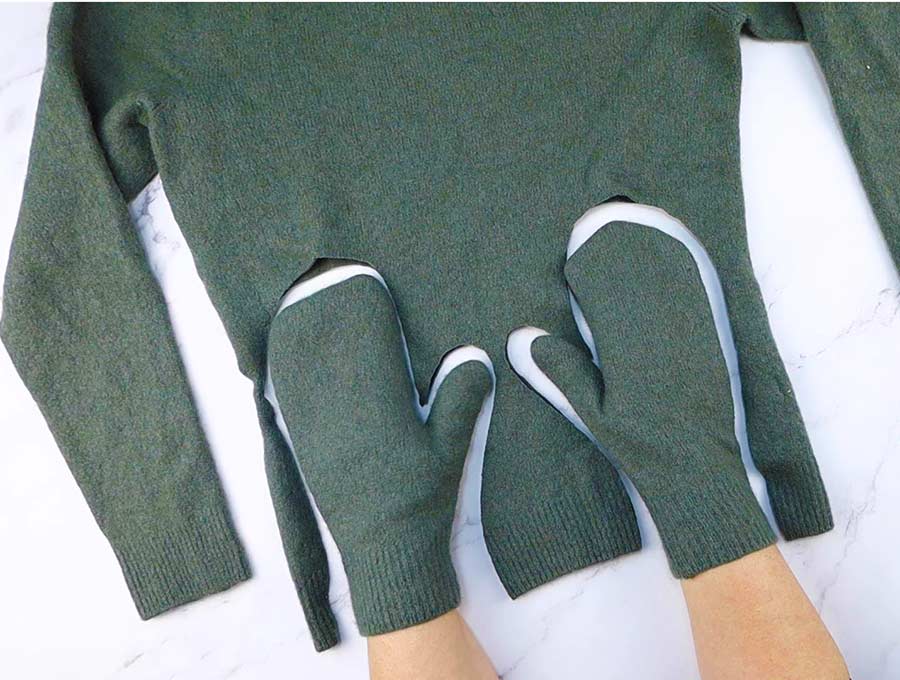 Reduce the waste you leave behind smartly, turn that old sweater into a pair of warm and comfortable mittens in about ten minutes with this pattern at your disposal and you'll get stylish hand protection against the winter that is one-of-a-kind in the entire world!
sweater mittens tutorial by HelloSewing
Soap saver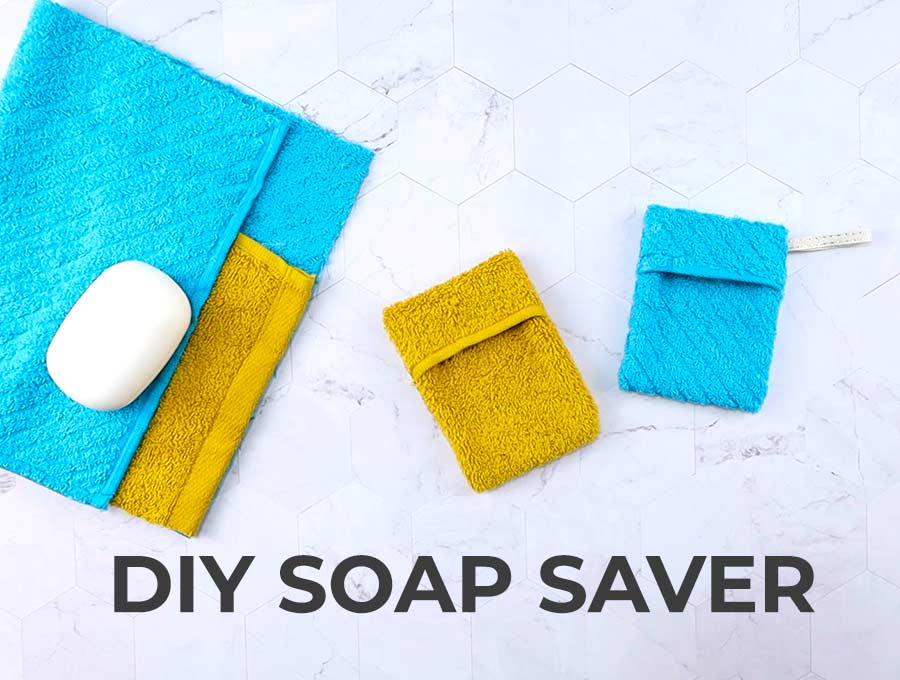 Raise the environmental consciousness of your friends who come over to your place with this green alternative to those boring plastic soap holders, small pouches with one pocket and flap closure that you make out of old towels, so this project does twice the good of one environmentally friendly sewing project.
soap saver pouch tutorial by HelloSewing
Practice sampler
Here's a little thing that can help your kid to learn all the types of stitches they can do by hand, or to help you improve your skills, a rectangular piece that has all the types of stitches arranged in a vertical row with enough space between them for you to practice directly below a stitch if you wish.
Practice your hand stitching with a sampler. Here are the most popular hand sewing stitches you can practice
A face mask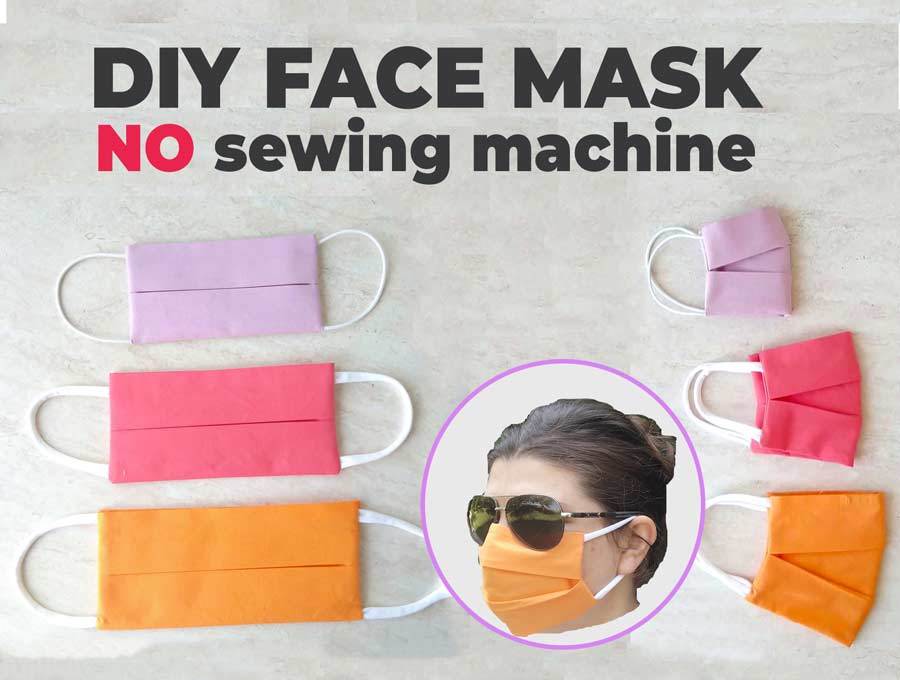 You never know when you will have to make yourself a decent face mask in a jiffy, so this face mask with elastic ear straps and a horizontal pleat along its center can prove to be extremely important, especially if you find yourself without a sewing machine and all you can do is sew by hand.
Sew a mask by hand by HelloSewing
DIY travel kit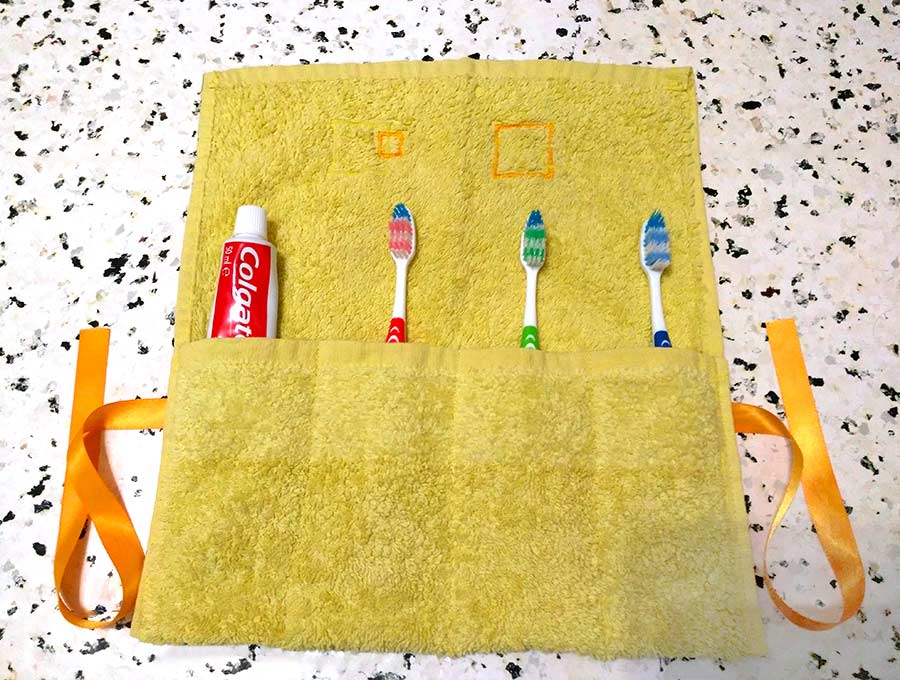 Pack your bathroom essentials in a tidy manner with this travel pouch that has individual pockets for your toothbrush, toothpaste, floss, and a flap that covers them, together with a ribbon you tie around the kit so nothing can fall out while you are en route to your vacation destination.
DIY travel kit tutorial by HelloSewing
Winter hat with pleats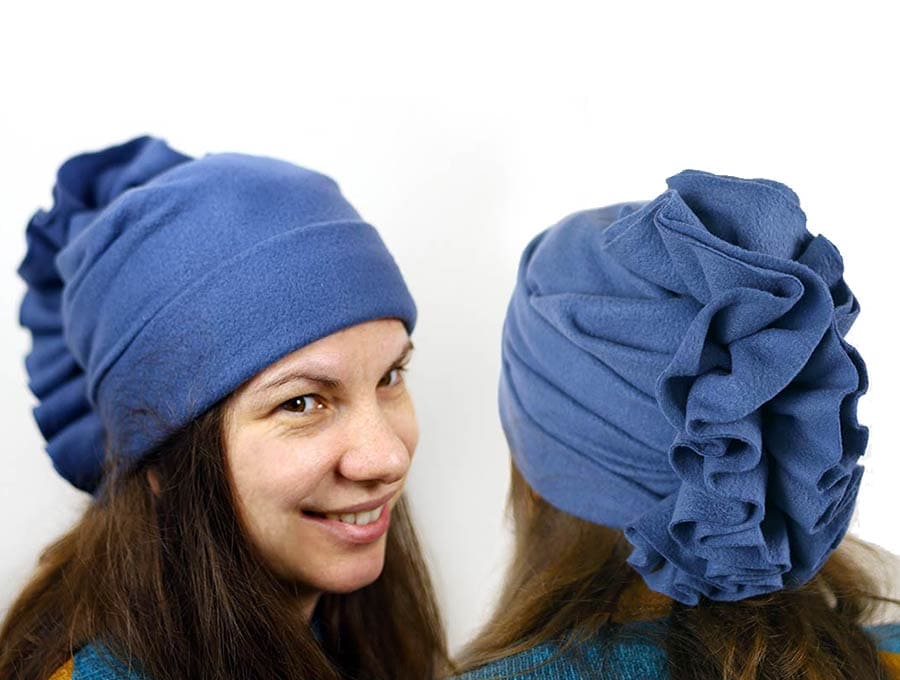 Winter hats don't have to be boring, says this chic hat that is similar to a beanie, but it has a fun addition of ruffled pleats resembling a clam shell on its back that give it a special charm and ups its originality a lot. Despite its appearance, it's easy to sew and doesn't take a lot of time to finish.
Winter hat with pleats tutorial by HelloSewing
Fleece tie blanket
Not really a sewing project, but a craft one. Just make sure to cut your strips before you go and you will have a good project to keep your hands busy for a while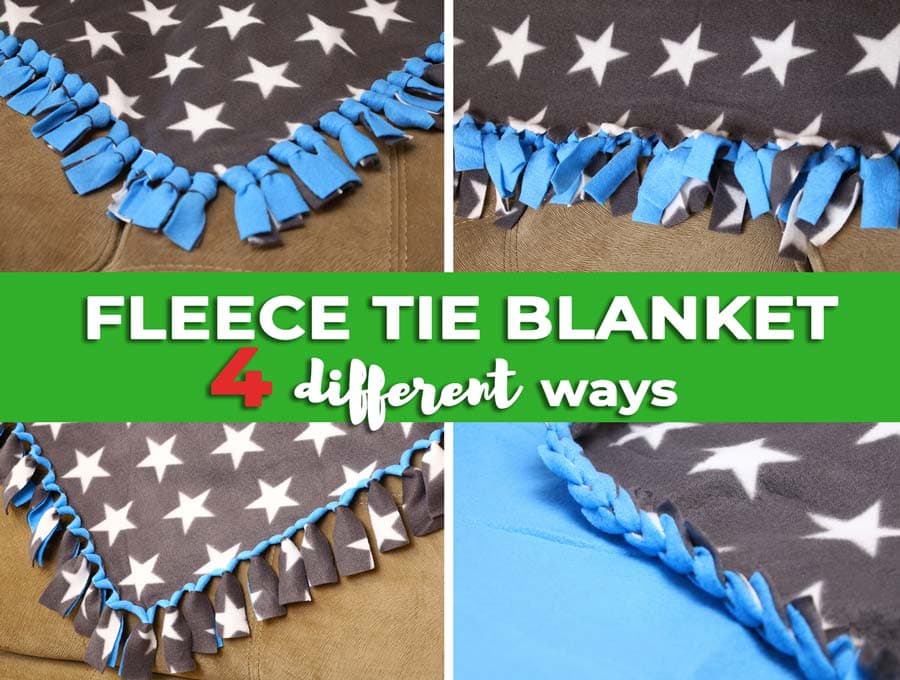 You don't even need to sew anything in this project, just grab two fleece blankets, snip their edges to give them a frayed look, then tie those strips together in four different ways, braid, double loop, overhand knot, and square knot, to create a unique and interesting new blanket.
Fleece tie blanket tutorial by HelloSewing
I hope you got many ideas for projects to sew by hand.
All these craft ideas will come in handy when rain or snow wreaks havoc outside and you find yourself with a bit of free time you'd like to spend in a creative and fun way. Try out all of them, then come back and tell everyone which one was the most fun in the comment section. Feel free to subscribe to the mailing list if you want to receive notifications regarding new projects and tutorials on this website. Have fun sewing with your kids!