11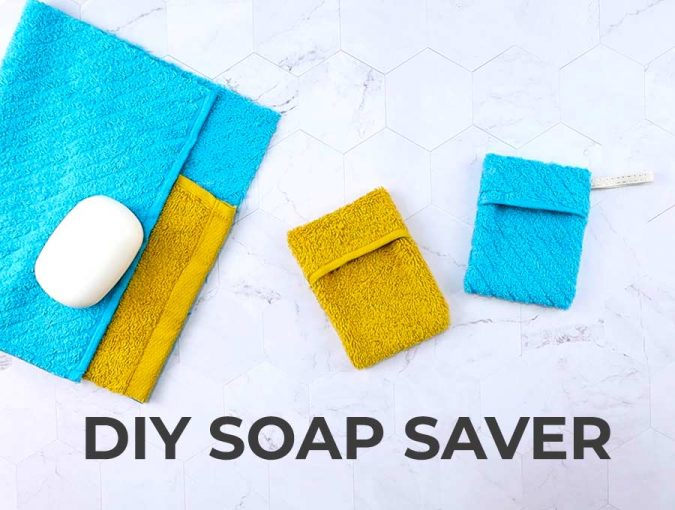 DIY Soap Saver Pouch out of Washcloth (VIDEO)
Make your own soap pouch quickly and easily! Why you may ask?
It's eco-friendly, it's cute and it sews up so quickly that you have no reason not to make this soap saver for shower today. After all it only takes 5-10 minutes to sew up once you gather the essentials. Just see how cute these DIY soap savers are. All you need is a wash cloth and few spare minutes to make them.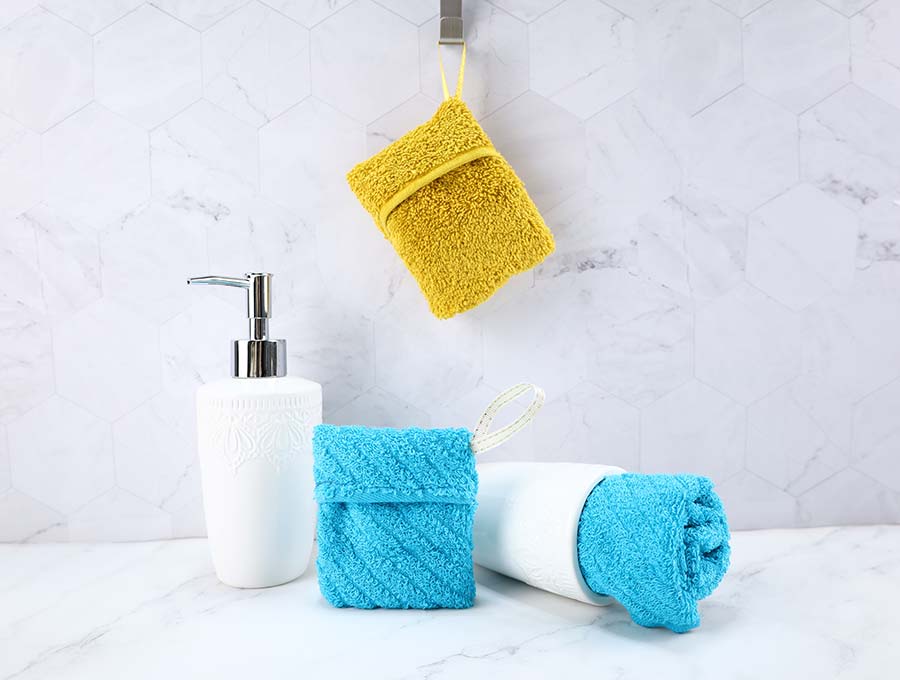 Below you will find my step by step written tutorial with VIDEO instructions for all the visual learners.
We occasionally link to goods offered by vendors to help the reader find relevant products. Some of the links may be affiliate meaning we earn a small commission if an item is purchased.
How to make a soap saver
Making a soap saver is easy. You don't need a pattern, and you can even upcycle an old washcloth to make these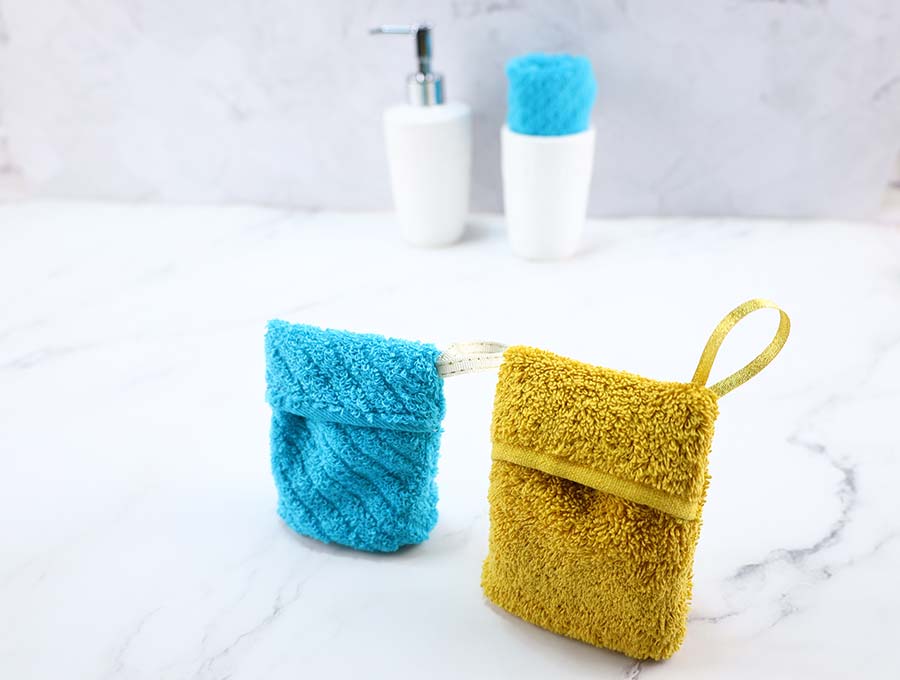 Supplies and tools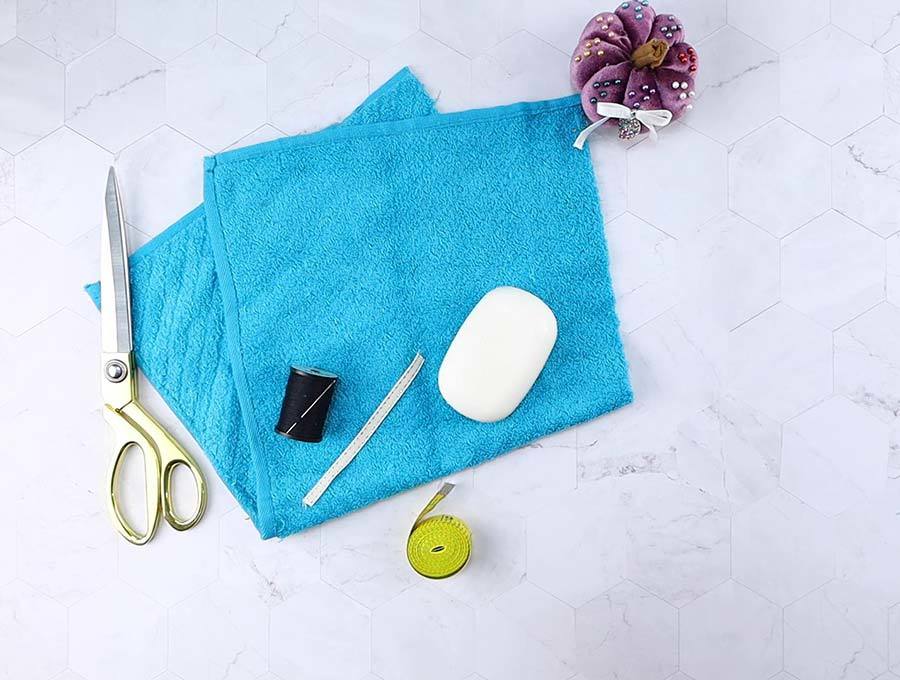 wash cloth (hand towel or any other towel you happen to have)
thin ribbon (1/8″ or 3mm works best)
matching thread
scissors (or rotary cutter and a cutting mat)
ruler or measuring tape
iron and ironing board
sewing clips or pins
sewing machine
Follow us for free patterns & tutorials!
How To Sew a Soap Pouch
Watch the diy soap saver pouch video first and then follow the written step by step instructions below.
Please enjoy and don't forget to Like and SUBSCRIBE over on YouTube to be kept up to date with new videos as they come out.
DIY SOAP SAVER POUCH VIDEO TUTORIAL
DIY SOAP SAVER POUCH INSTRUCTIONS:
STEP 1: Cut out the washcloth
You don't need a pattern. Actually making this wash cloth soap pouch is so easy that you can sew a bunch of soap savers and give them and gifts!
first, remove the hemmed side of the washcloth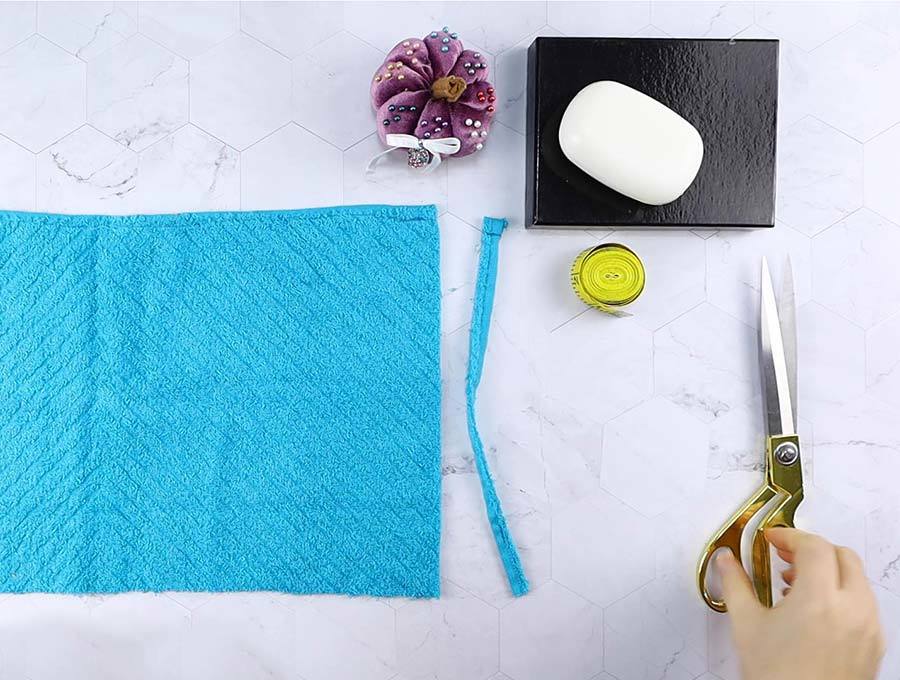 Cut a piece of the washcloth that is 4 inches wide by 11 inches long (10 x 28cm).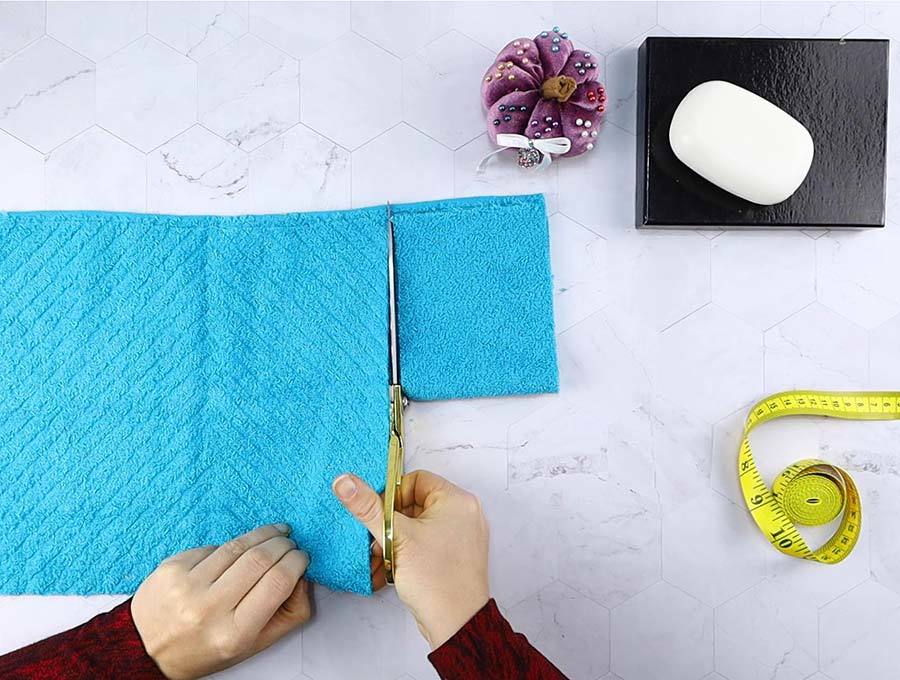 TIP: Before you cut the washcloth, I'd like to make sure that the soap will actually fit inside the soap bag, so measure it now
STEP 2: Hem the bottom edge
Hem the shortest raw edge of the washcloth
STEP 3: Add loop holder
Cut a piece of ribbon 5in long.
Fold ribbon in half and pin it about 2in (5cm) from the top.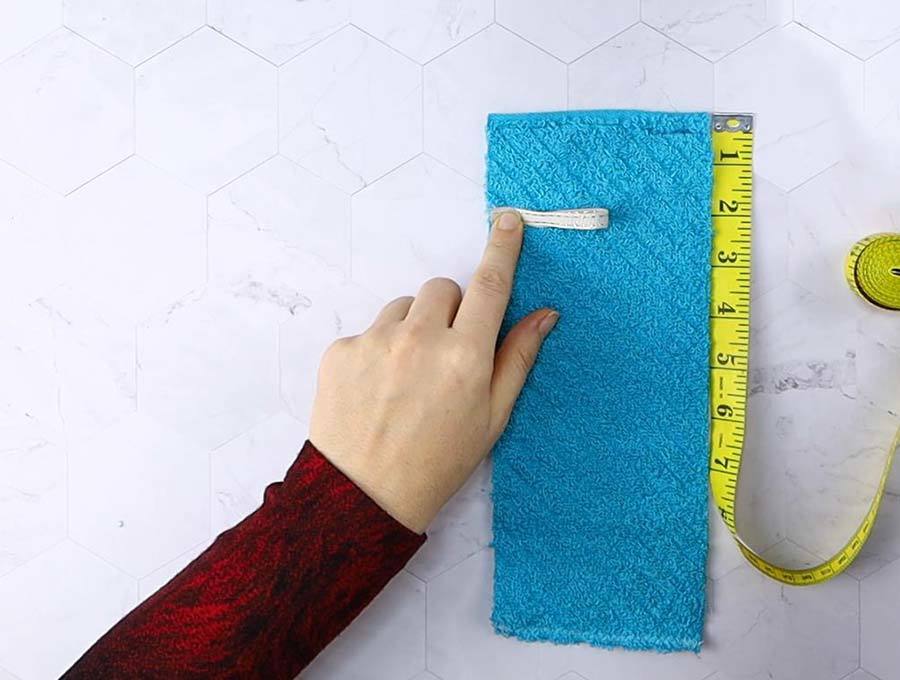 STEP 4: Fold down and pin
Fold the top down. Then fold the bottom up
Pin both sides in place to keep them from moving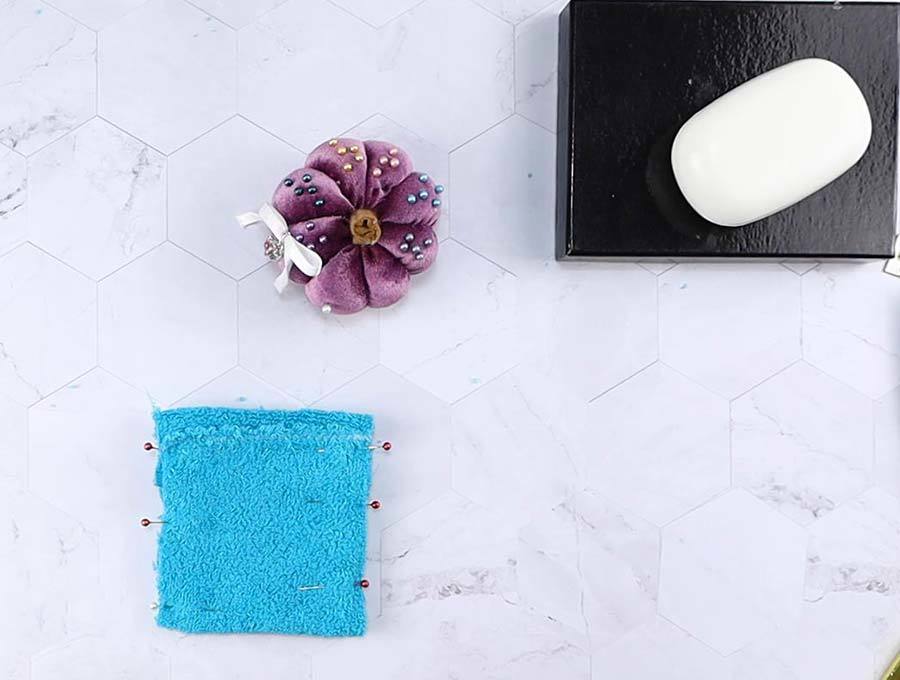 STEP 5: Stitch the sides
Sew both sides either by hand or with a machine
METHOD #1: Handsew using a backstitch
METHOD #2: Use a zig zag stitch
Here's how each sewing method looks like
Handsewn (right) VS machine sewn (left) soap saver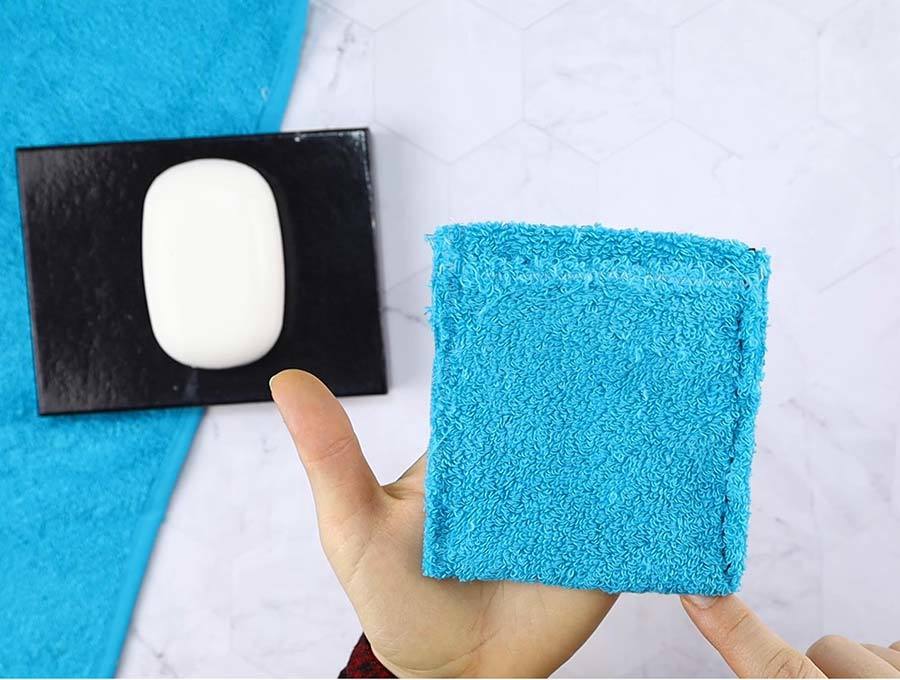 That's it your diy bar soap holder is ready!
STEP 6: Use and enjoy
Insert soap in the washcloth soap pouch, fold the top down and use

Now that you know how to make a soap pouch, why don't you make a bunch of soap savers and use them as gifts for friends and family! They are great small gifts you can sew for neighbors, too!
SOAP POUCH OPTIONS:
With or without a hanging loop
Small or large size – small size is 4 x 11 inches for the standard bar soap, large size is 5 x 12 inches and holds larger bar soaps
Do you like this? Pin for later:
[***pin img****]
Wanna be friends? Click HERE and follow me on Pinterest
RELATED TOWEL SEWING PROJECTS: