15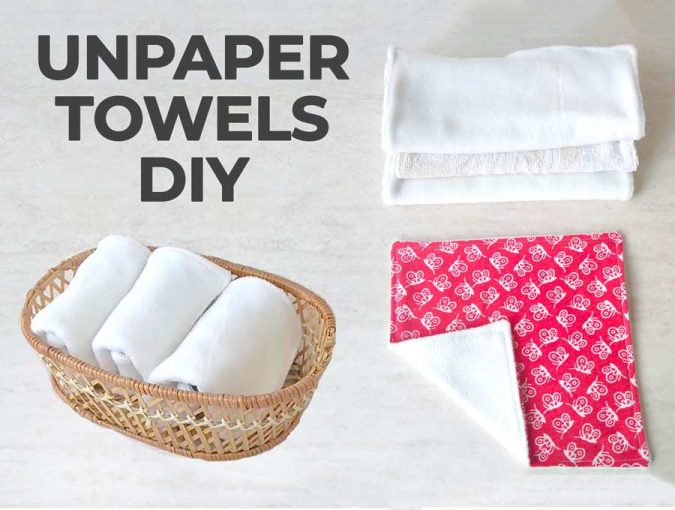 Unpaper Towels DIY: How to Make Reusable Paper Towels for Your Kitchen
Thinking about making the switch to unpaper towels in your home? That's awesome! It's even easier than you think and you can make a full set of reusable paper towels in just half an hour! Let me show you how ridiculously easy this unpaper towels DIY is, but first.. a confession..
I used paper towels in the kitchen for a very long time. Not just in the kitchen actually, I used them for almost any kind of wiping. Got a spill? Paper towels. Needed to dry a pan real quick. Paper towels. You can easily go through a ton of disposable towels real quick. And that's not eco-friendly at all.
Another thing I realized is that those things cost a lot when you add up the monthly tally for them. And I sure wasn't going to keep paying for something that causes additional mess for me and cost quite a bit. So I decided to make a reusable alternative and that turned out to be one of the best decisions I have ever made. It's environmentally-friendly, practical, and economical. Plus, they are ridiculously easy to make, as you'll see in this tutorial.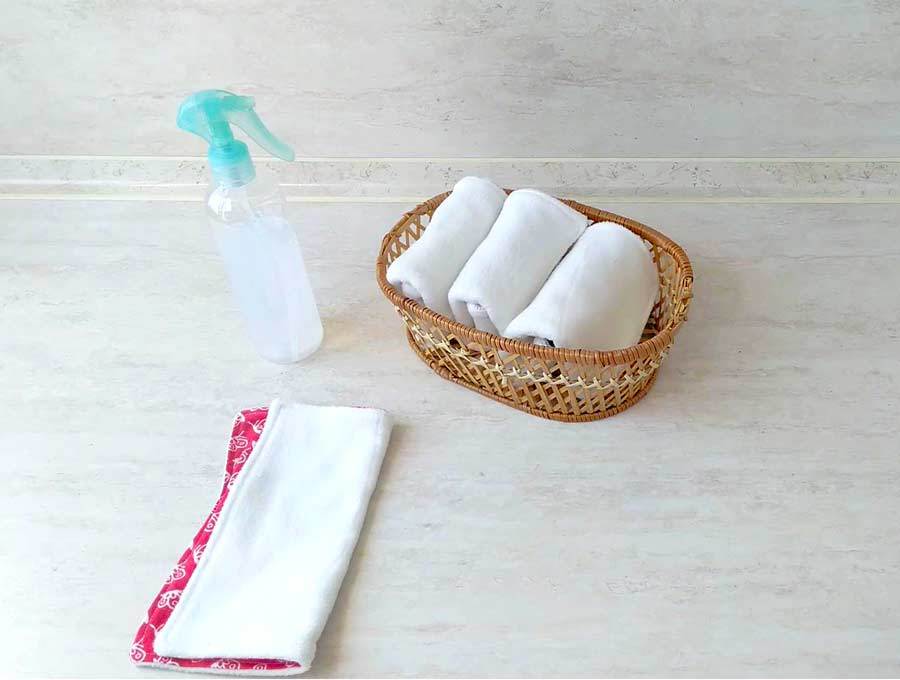 Below you will find my step by step written unpaper towels tutorial with VIDEO instructions for all the visual learners.
We occasionally link to goods offered by vendors to help the reader find relevant products. Some of the links may be affiliate meaning we earn a small commission if an item is purchased.
How to make unpaper towels
Supplies and tools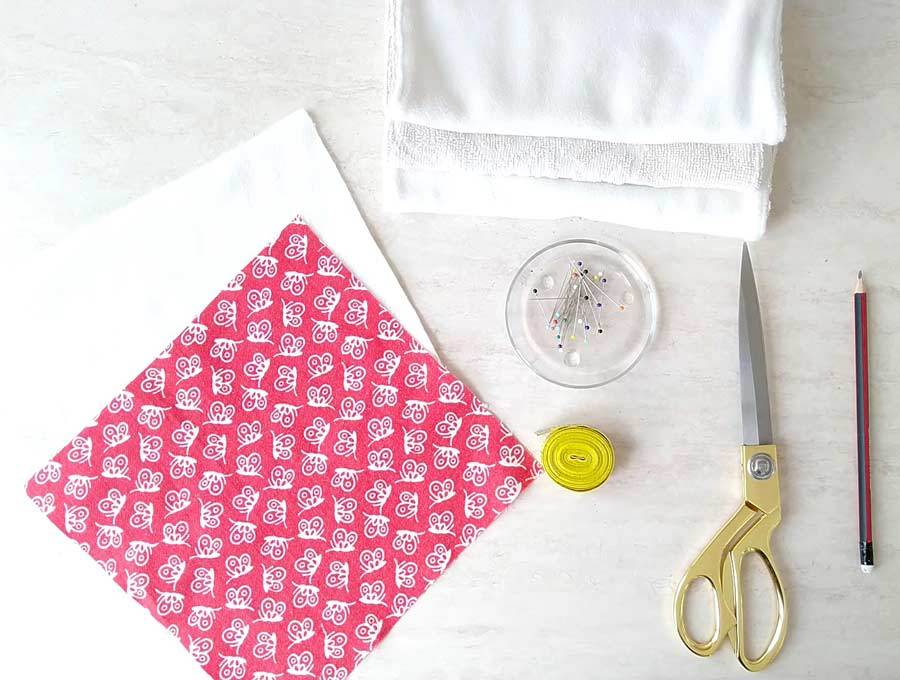 *Notes: You can use whatever fabric you have on hand for truly zero-waste reusable towels. Old towels, old flannel or cotton t-shirts, linen napkins. Mix and match these as you feel fit for your kitchen.
Follow us for free patterns & tutorials!
How to make reusable paper towels
Watch the diy cloth paper towels video first and then follow the written step by step instructions below.
Please enjoy and don't forget to Like and SUBSCRIBE over on YouTube to be kept up to date with new videos as they come out.
DIY

 

Kitchen Towels VIDEO TUTORIAL
INSTRUCTIONS:
Preparations: Pre-wash your fabrics in hot water. This will cause any shrinkage that could happen later on to happen right away, which means that the towels won't get deformed the first time you put them in the wash after making them.
STEP 1: Cut the fabrics
Cut 10 x 10 inch square from each of your fabrics. (you can slightly upsize or downsize if you prefer, I found that 10 x 15 inches is also a good size)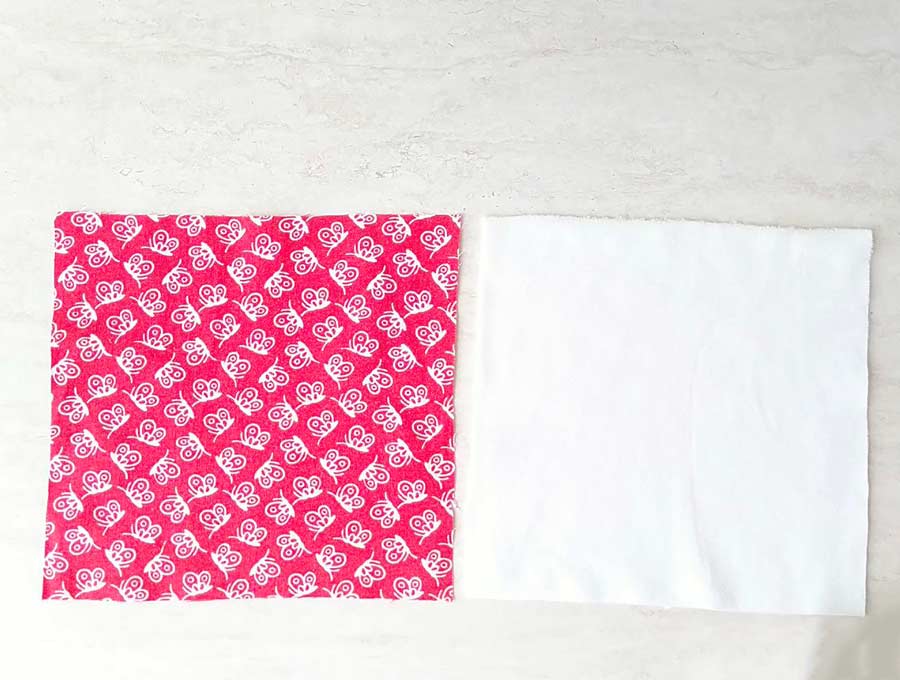 STEP 2: Layer fabrics
Put the two pieces on top of each other, pretty sides facing each other, and pin them together.  Make sure to leave a small opening of about two inches to turn the towel inside-out later on. I'd like to mark this opening with two pins together at the beginning and the end of the opening so I can remember to leave it unsewn.
STEP 3: Sew
Stitch around the edges to join the two fabrics, using a 3/8″ seam allowance.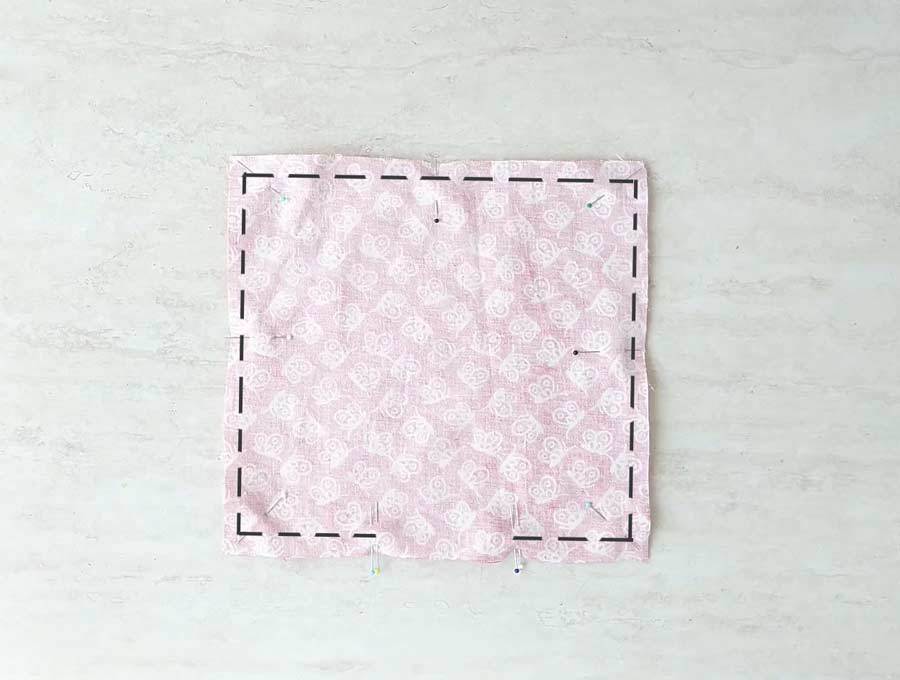 TIP: Use a walking foot instead of your universal foot for easy handling of these fabrics.
STEP 4: Clip the corners
Trim the corners a bit so that they can lay flat after you turn the towel inside-out.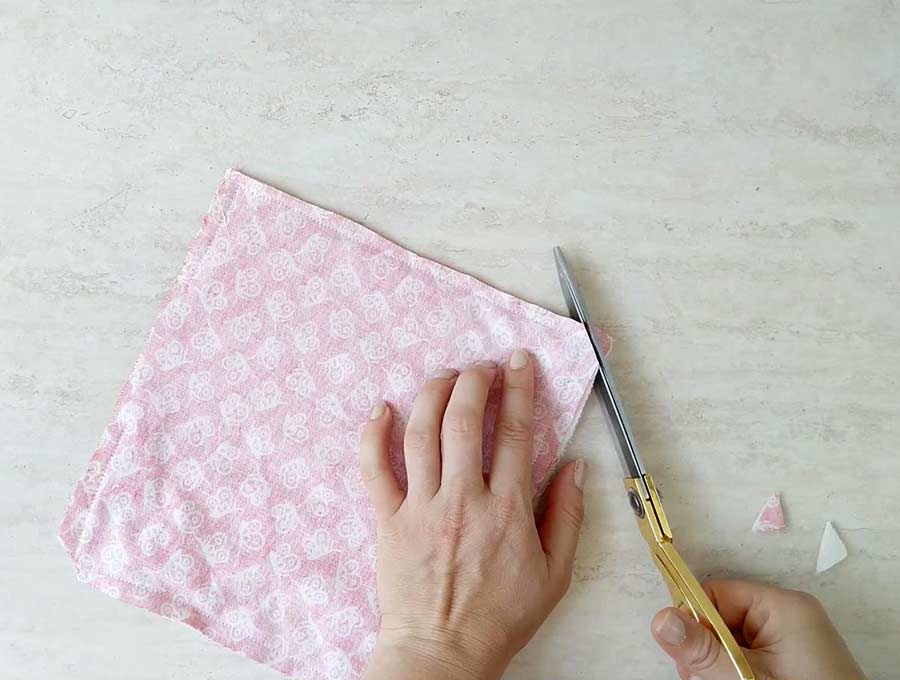 STEP 5: Turn the towel around
Turn the towel inside-out through the opening you left on one edge earlier. Fold in the edges of the opening and pin them in place.
STEP 6: Topstitch
Topstitch all around the kitchen towel using a 1/4″ seam allowances. Backstitch at the beginning and the end. This will also close the opening shut.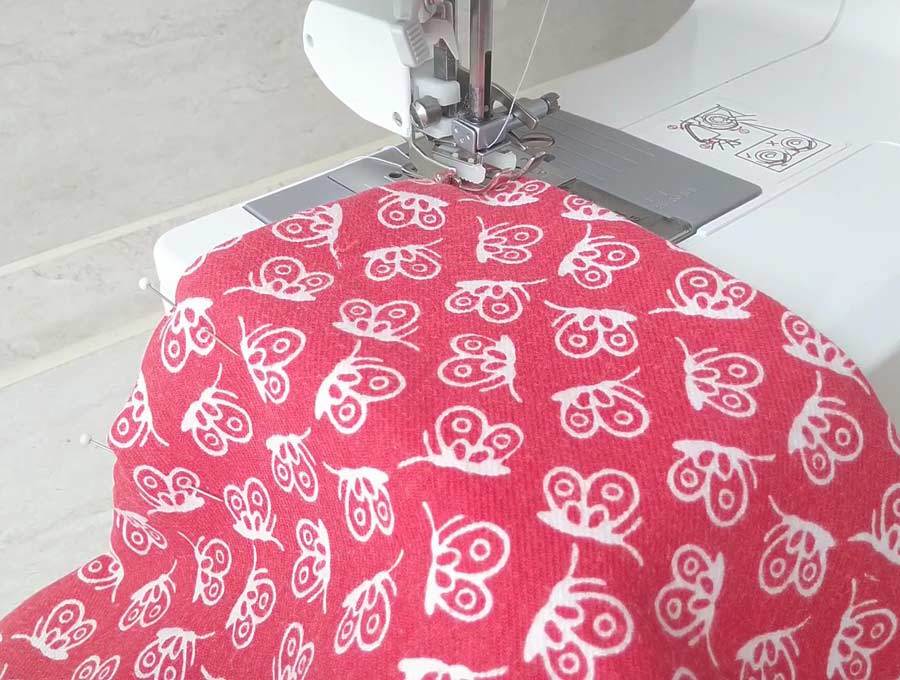 That's it your reusable paper towel is ready! Now make 5 more for a full set!
OPTIONS:
Using different fabrics – you can mix and match your fabrics however you please. For example absorbent fabric+linen/cotton, or two absorbent fabrics. Use whatever you have on hand!
Use different colors. You can also use two fabric pieces different in color to give your towels a bit of style. Just make sure that the cloth doesn't release its dye.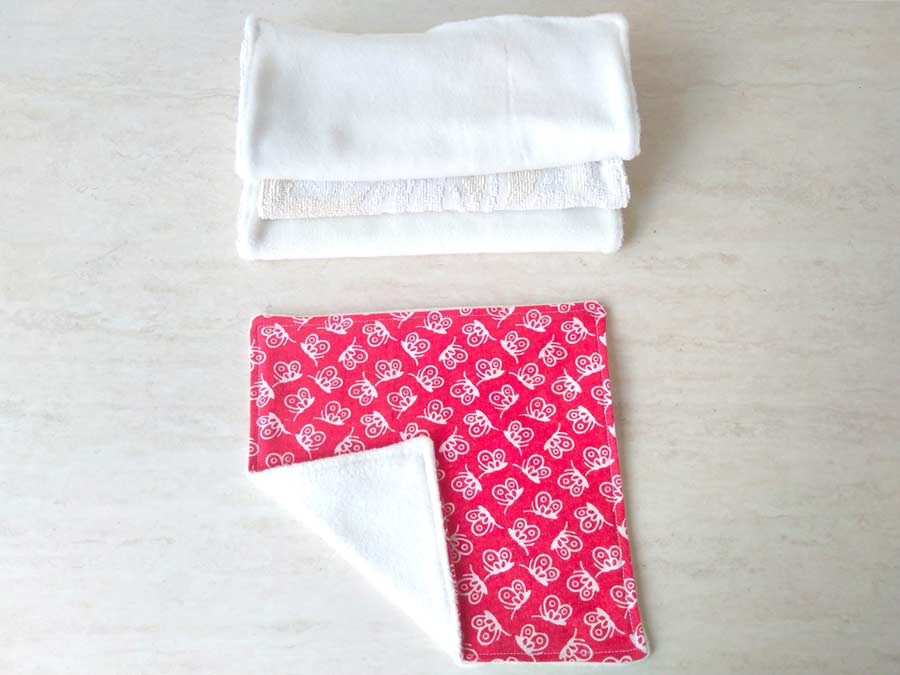 FAQs, Tips and Troubleshooting:
Unpaper towels, paperless towels, reusable cloth towels, kitchen cloth. These are all different names of the same useful, eco-friendly towels made from cloth that can be used for different purposes such as wash cloths, kitchen cloths, polishing or for mopping up spills.
Paper towels VS reusable cloth towels
Some people state that using reusable cloth towels instead of paper ones isn't more eco-friendly at all. Their stance is that you end up using much more water electricity to wash them, which makes them less green than the paper alternative. I don't share those thoughts, I think that's not true.
I can use these towels for a few different things before I have to put them in the washing machine. I can also just quickly rinse and shake them off if needed before the washing. I always wash them with other stuff so I don't turn the machine on just for a few pieces of cloth, which minimizes the water and electricity I spend on them.
On the other hand, paper towels are usually made from pure cellulose, and we all know where that comes from. From the poor trees that were cut down just for that purpose. The waste that is left behind after using this product isn't all that small either, especially if you use up two or three rolls weekly. Finally, the factories that produce these towels aren't exactly the best example of eco-friendly business, far from it.
To me, it's pretty apparent which of the two options is the smarter choice and which one is just a method for large factories to make quick money without considering their environmental impact.
How long do reusable paper towels last?
I've been using my unpaper towels for more than two years and they are still going strong. they are just as usable as they were in the beginning
How many unpaper towels do I need?
I would suggest you to have at least two sets of 6 reusable towels so you can rotate them and you don't have to run new loads of laundry all the time. If you have a large family or use a lot of towels,
Help! My reusable unpaper towels crumble and bulk up after washing. How can I fix that?
Stitch two diagonal lines from corner to corner on your towels. Doing this will also give your towels a bit different appearance since it doubles as a decoration.
Did you enjoy reading this Unpaper towels DIY article? If you have some suggestions on how to make this tutorial better, please share your ideas with all of us in the comment section below. See you on some other fun sewing project!
Do you like this? Pin for later: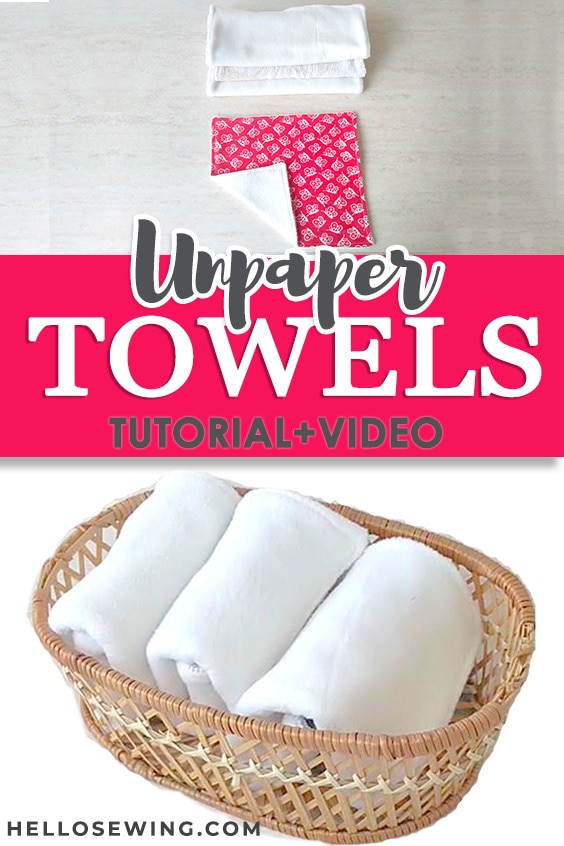 Wanna be friends? Click HERE and follow me on Pinterest
OTHER ECO-FRIENDLY PROJECTS:
OTHER TOWEL TUTORIALS: