2
Easy Spring and Easter Sewing Projects
Spring is just around the corner which means Easter is right around the corner as well! To get you into that spring and Easter mood we all love, I've prepared a bunch of fun and easy, quick Easter sewing projects! They are fun, quick to sew and most of them make great little gifts. The best thing is that these Easter sewing patterns take less than half an hour to make!
I suggest you try them all out because they are extremely simple and practical! Welcome to another round of easy things to sew. Let's dive in
Easter Home Projects
DIY spring kitchen linens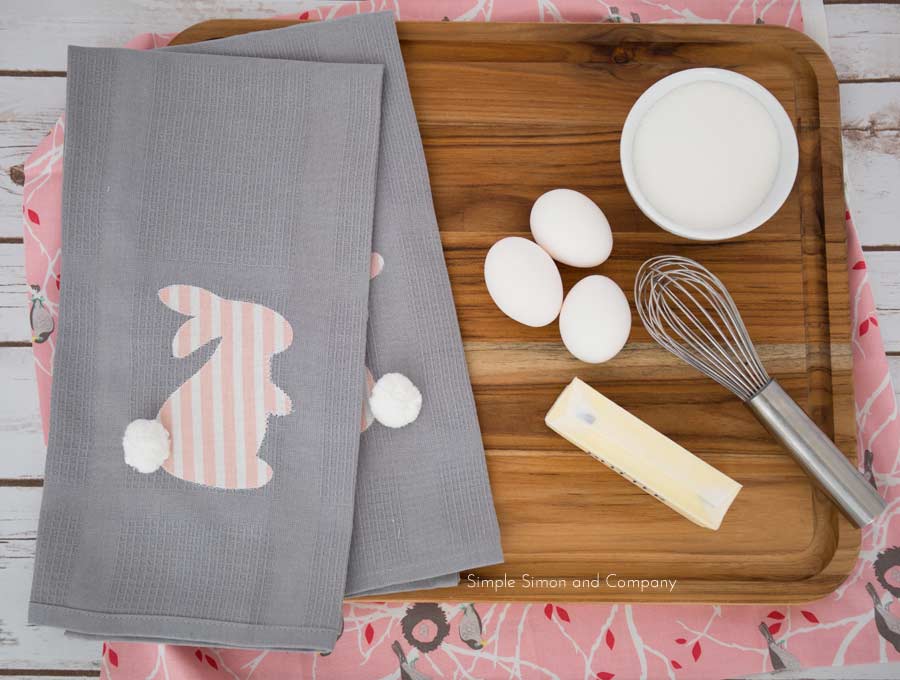 What says Easter and spring better than bunnies? So why not put them on your kitchen linens?
These linens are easy to make and the cute bunny on them will bring a smile to your face whenever you use them.
Source: Lolly Jane
Fabric Easter Eggs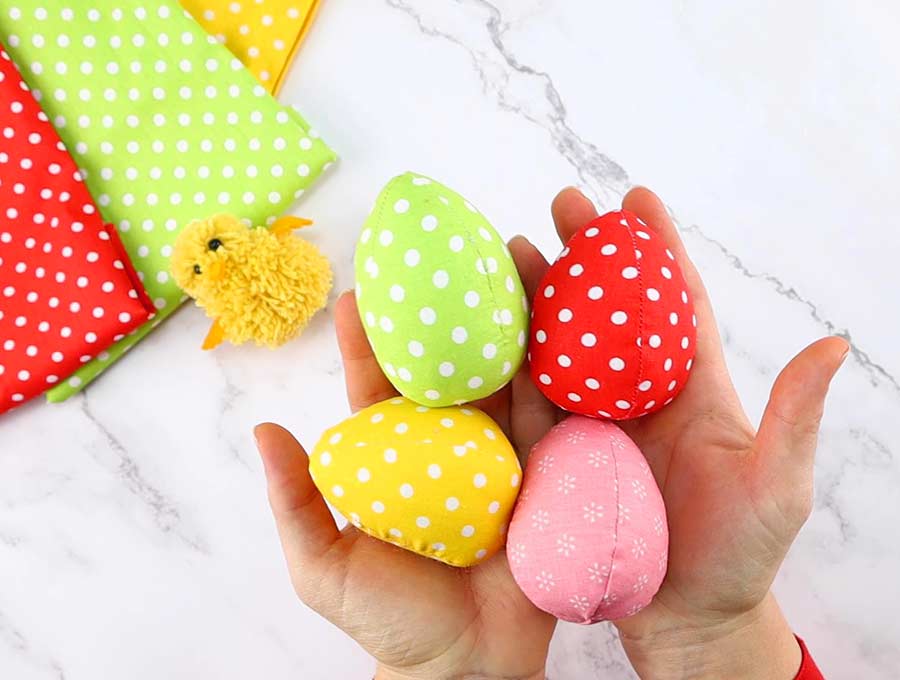 Make these adorable fabric eggs in fun colors to jazz up your home decor. they are great for the Easter egg hunt too. They take very little fabric and sew up in a matter of minutes. Jazz up your home decor with these fun Easter sewing patterns.
Source: fabric easter egg pattern by HelloSewing
DIY Easter egg wreath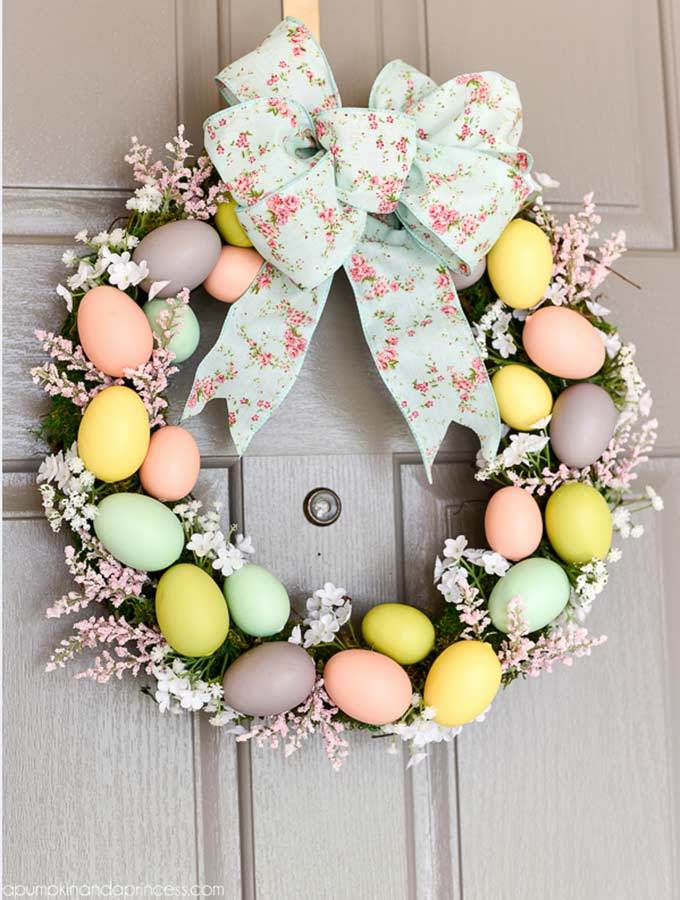 Decorate your front door with a beautiful Easter egg wreath that takes less than half an hour to make! Let everyone in the neighborhood know that you're ready for spring and Easter and that you can't wait until they come!
Source: A pumpkin and a princess
Spring bunnies love pillow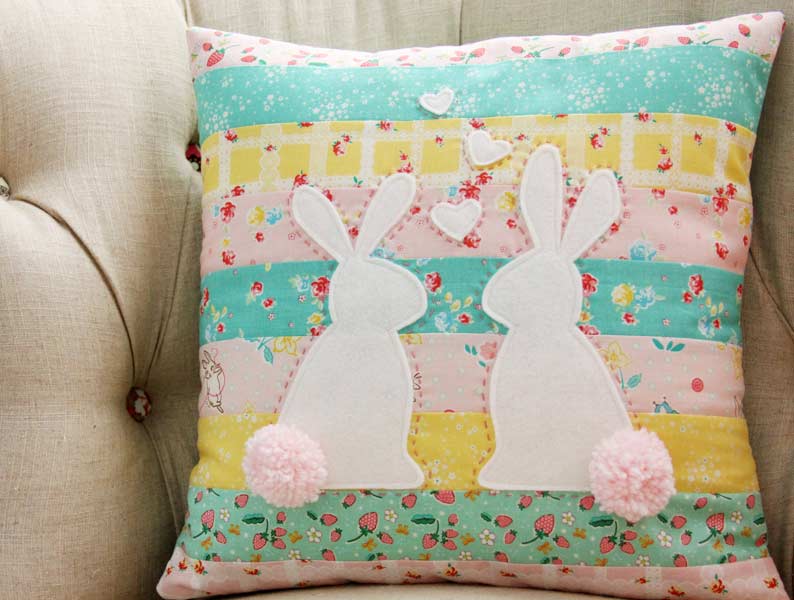 Surprise your significant other with a beautiful, creative, and cute spring bunnies love pillow. It's just as easy to make as a normal pillow but it's a hundred times prettier.
Source:Flamingo toes
Easter egg placemats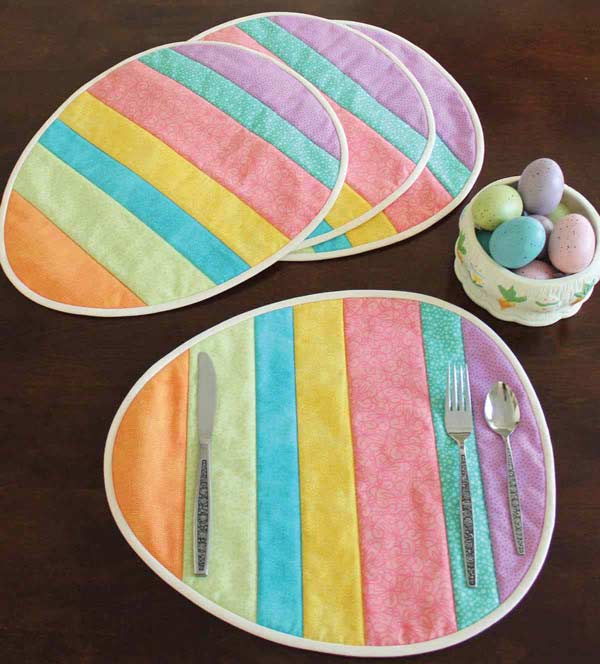 If your household uses placemats, then you must make these Easter egg variants! They are joyful and colorful, and extremely easy to make. They shouldn't take more than twenty minutes to make, which makes them ideal for those quick sewing sessions you can snatch during the day.
Source: Quilting Digest
DIY hanging kitchen towel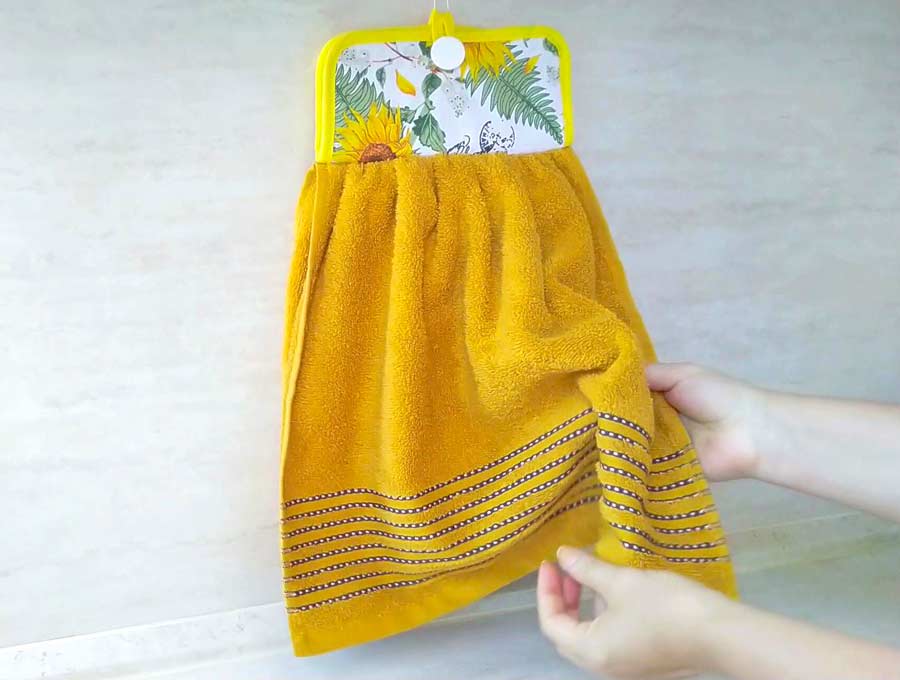 Every kitchen must have a hanging towel if you ask me. You can quickly wipe your hands on them and keep your kitchen clean and grease-free because you won't touch anything with messy hands!
This is also a great upcycling project since you can repurpose old towels for it. Since it's all about Easter, I suggest you use some spring-themed materials.
Source: HelloSewing
Table runner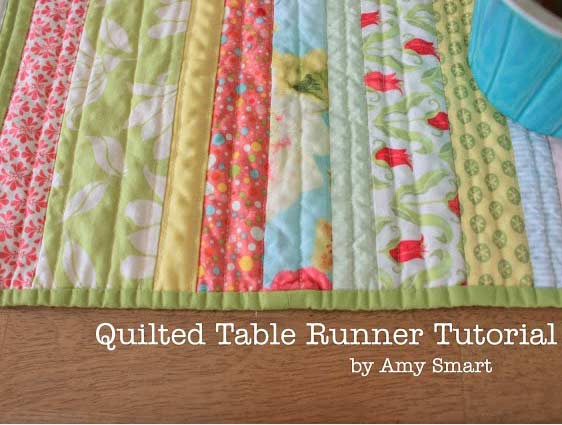 Table decorations are essential in my home, and this one is my favorite! Even though I don't do much quilting, for this project, I'm happy to make an exception. This one is easy, but it does take some time so organize appropriately!
Source: Diary of a quilter
Easy Dollar Store Easter Wreath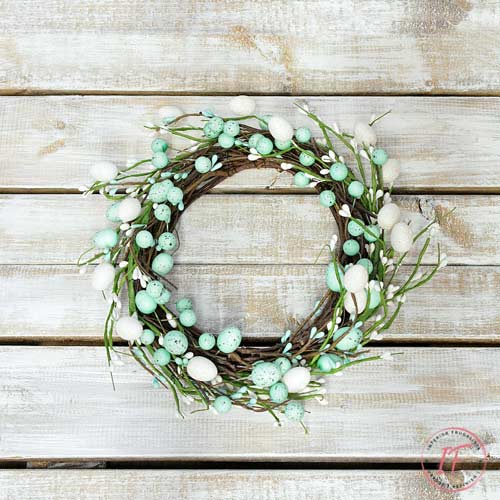 You can make this adorable DIY easter wreath in a flash for just few dollars. The best thing is that you can whip it up in 5 minutes or less as all that is involved is wrapping 2 or 3 different styles of Easter egg floral picks around a pre-made grapevine wreath. Easy peasy.
Source: Interior Frugalista
Easter Baskets and bags
Fabric basket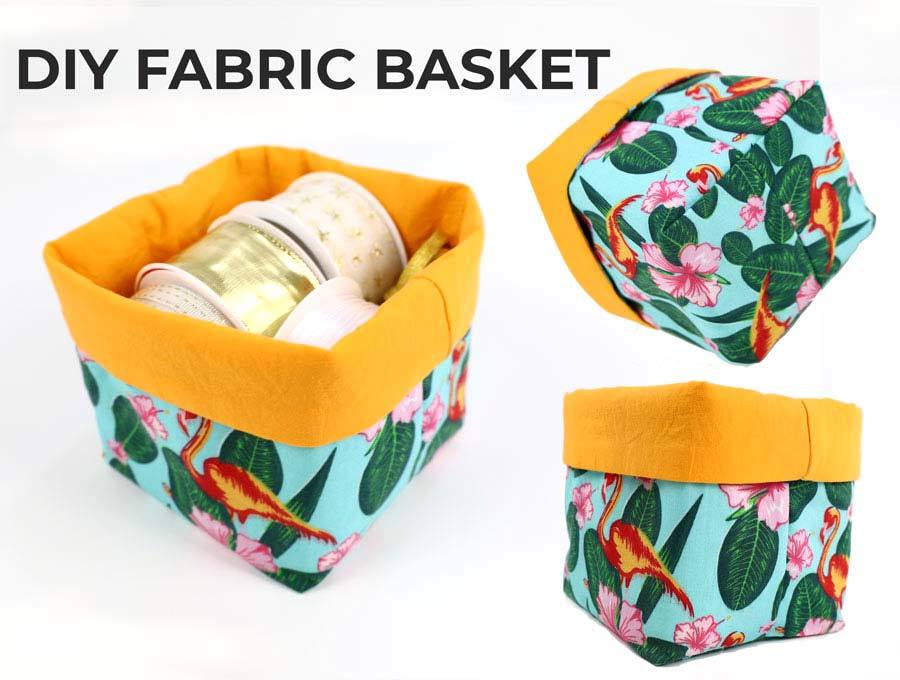 Egg hunting is one of the favorite things about Easter if you ask my kids. That's why I always prepare nice baskets for them to make the experience even better! After they're done, I take the baskets and use them for storing my fabric. It's a win-win!
Source: HelloSewing
Sleepy bunny goody bags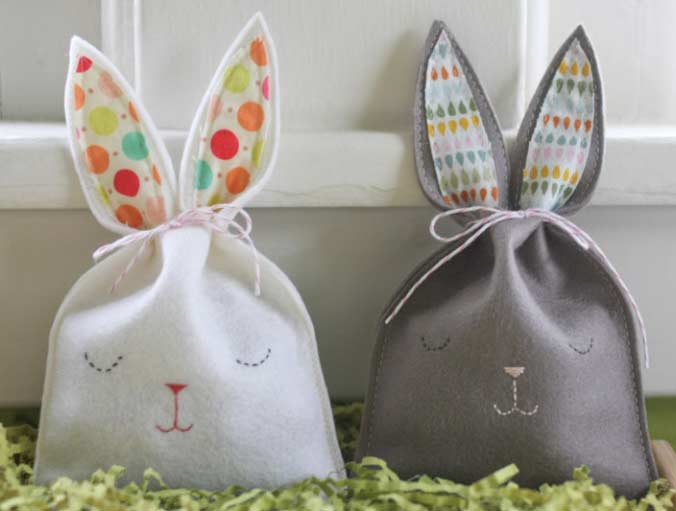 Surprise your loved ones with a cute goody bag full of treats! It's so easy to make, you can finish them in ten minutes!
My kids liked them so much that they decided to bring them to school instead of lunchboxes!
Source: Probably Actually
Carrot treat bag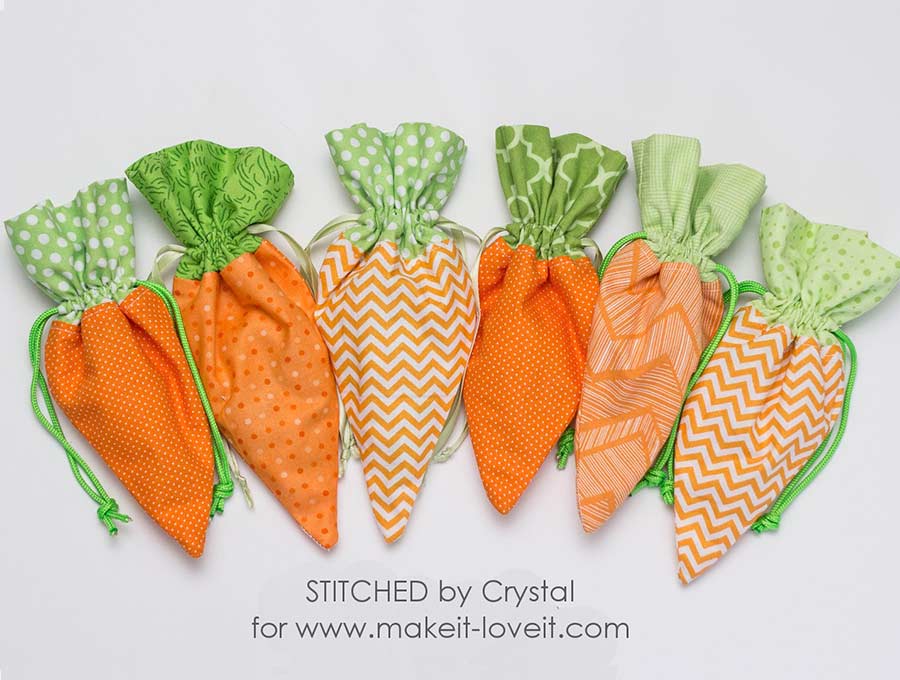 This one is similar to the previous project, but it's a carrot instead of a bunny! It's just as easy to make though.
I like to pair them up, one bunny and one carrot!
Source: Makeit-loveit
Bunny purse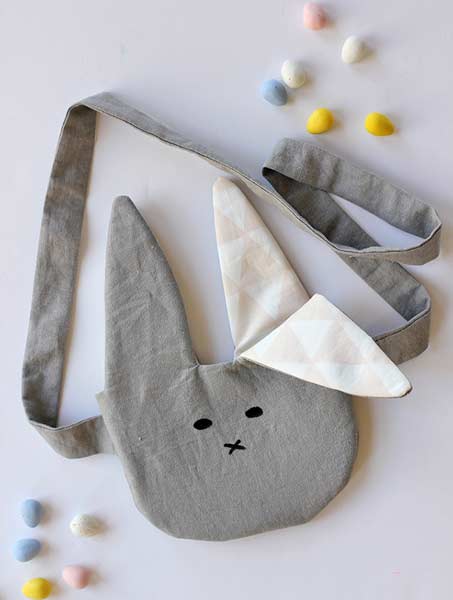 If you have a daughter, you have to make this purse! It's great for Easter egg hunting and it's unbelievably cute. This is a simple project and it's suitable for complete beginners as well.
I gave one to my friend's daughter and I even saw her bringing it to the park, way after Easter!
Source: Alice and Lois
Easter Softies and pom pom toys
Softies and pom poms for Easter
Pom Pom bunny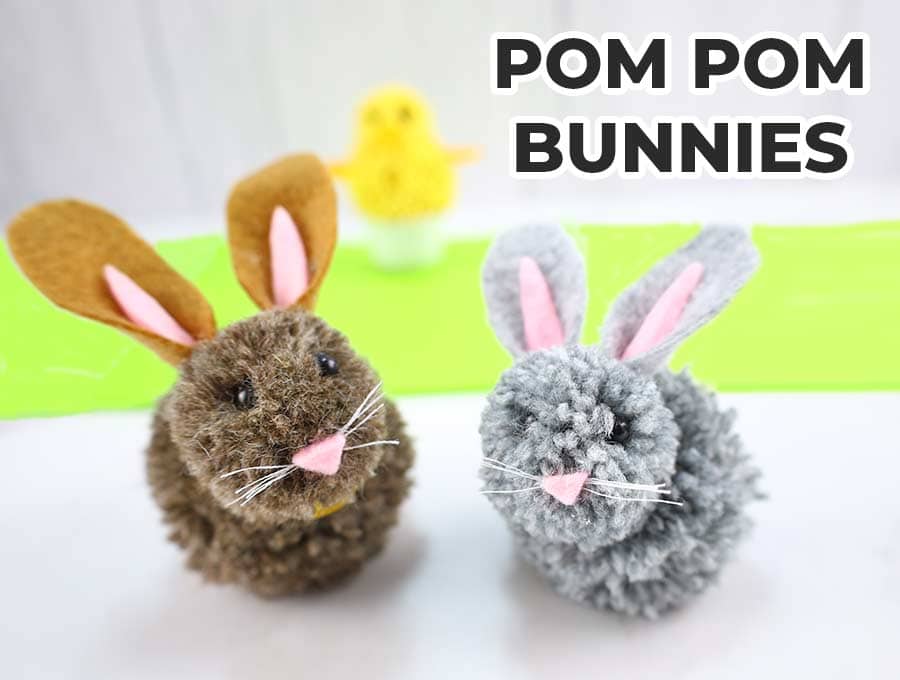 A bunny out of yarn but without knitting? Yup, this is it!
Wrap, tie up, cut, glue, and your pom pom bunny will be finished before you know it! These bunnies make great presents too, everyone adores them.
Source: Hello Sewing
Felt Easter eggs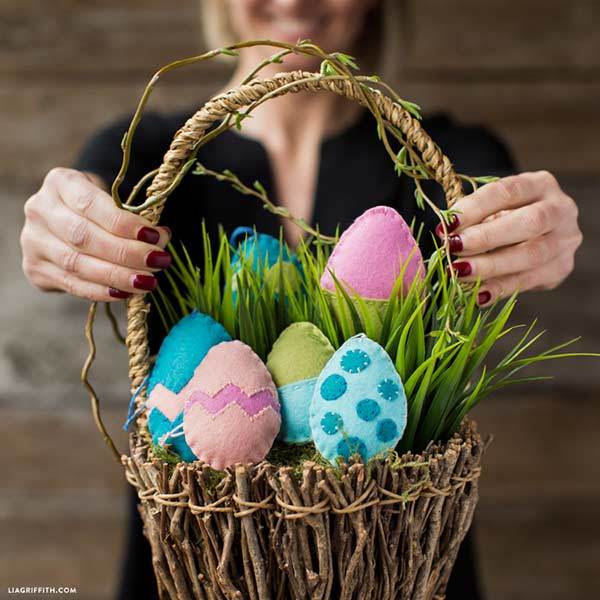 Real eggs break easily so they aren't all that great as decorations, but these felt ones do the job splendidly!
You can sew these eggs in a few minutes and put them all over your home to evoke the Easter spirit!
Source: Lia Griffith
Pom Pom chicks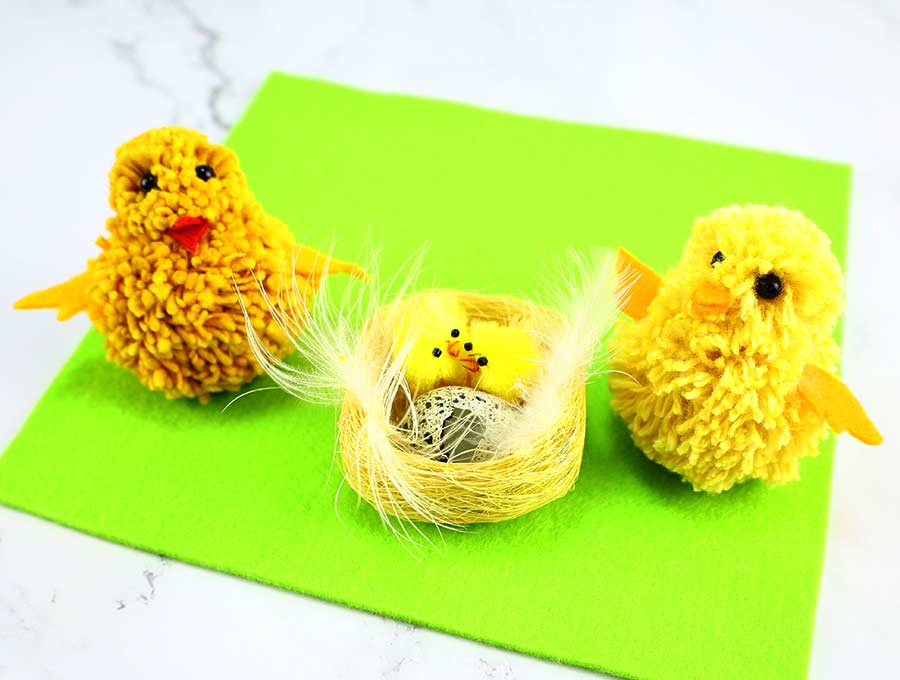 Similar to the pom pom bunnies, these pom pom chicks are just so cute and fluffy that you must make them! Each chick takes around ten minutes to make and you don't even need to do any sewing at all.
Source: Pom pom baby chicks by HelloSewing
Bunny pillow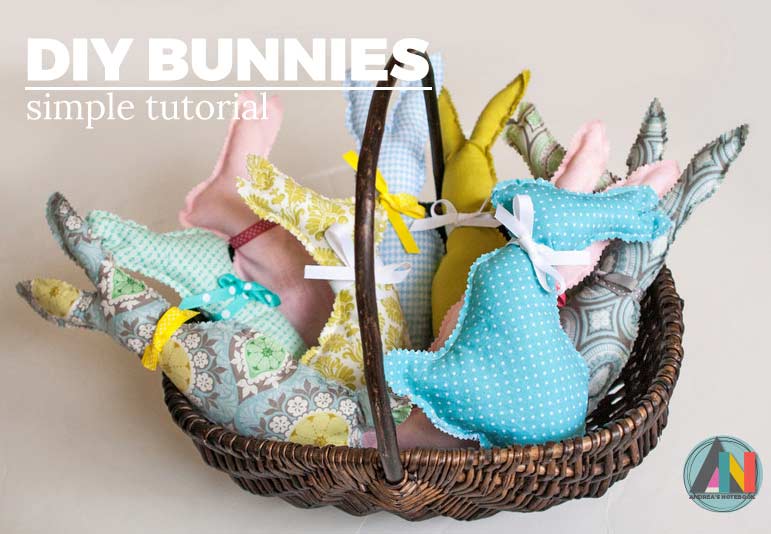 These miniature bunny pillows make excellent decorative pieces! And when they're done doing that, you can use them as pincushions!
Make a few of these and surprise your friends with creative gifts.
Source:Andrea's notebook
Cute stuffed bunnies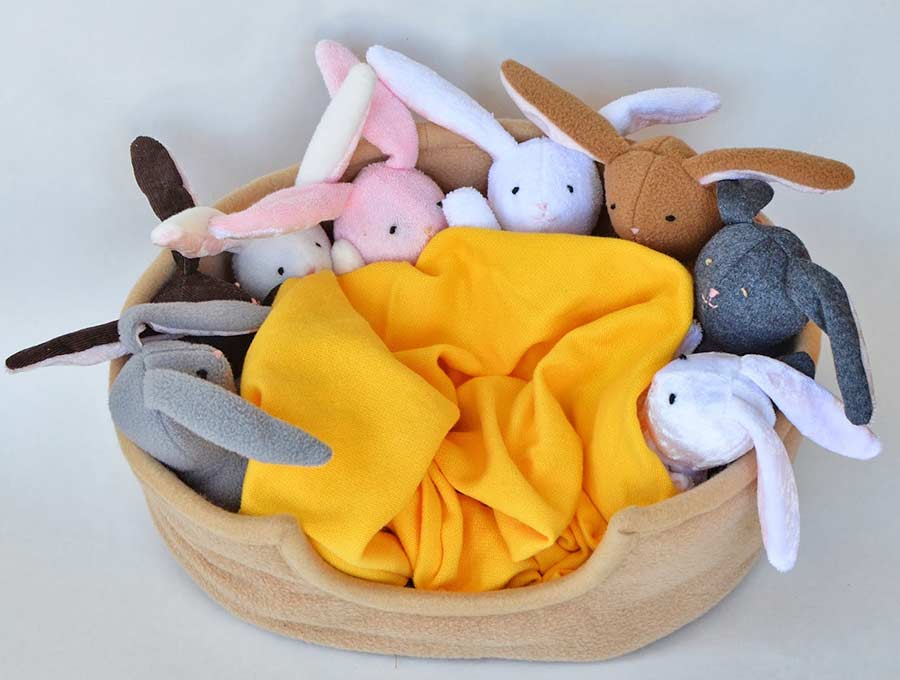 This is one of the best plush toys I ever made, yet it was one of the simplest projects I did. Be sure to sew one of these for your little ones, I guarantee they'll adore it.
Source: Ikat bag
Owl doorstop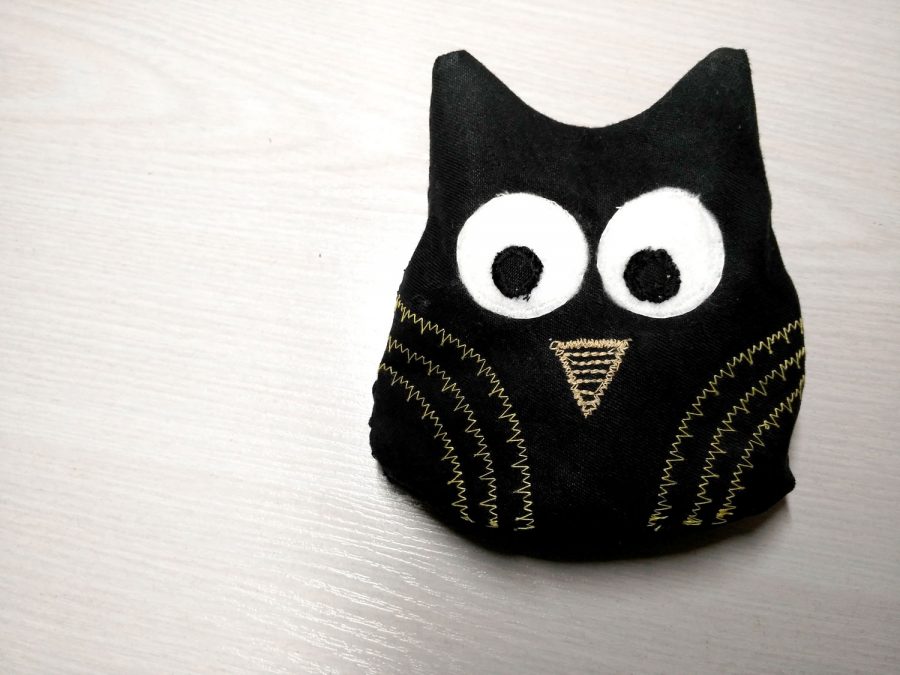 When it's Easter, the kids usually run around the house like crazy thanks to all that sugar they get. You don't want them to run into a door, and this doorstop will help you with that! Don't worry, it's super easy to make.
Source: Hellosewing
Bunny Ears Fabric Hair ties
Make these adorable bunny ears and knot them on a rubber band – boom instant hair accessory
Source: Bunny Ears Fabric Hair ties by HelloSewing
Easter and spring clothing
Peter Cotton tail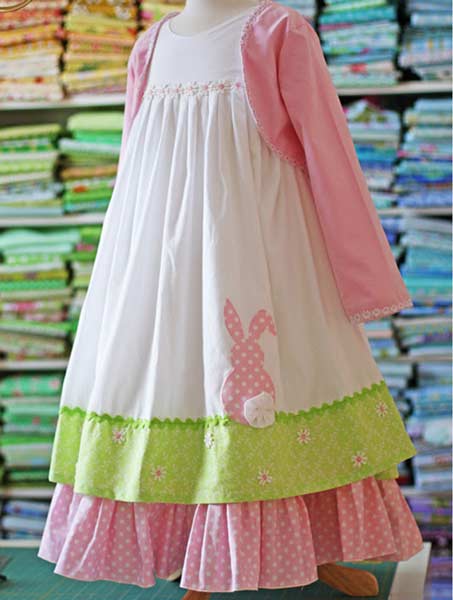 A dress with a cute bunny motif is the perfect girl outfit for Easter! Even though it is a dress, it's not a complex project at all, so feel free to give it a go regardless of your skill level.
Source: Olabelhe
Easter bunny ears
Turn yourself and your family members into Easter rabbits with these cute bunny ears! Kids love playing dress-up, so they'll love these ears too!
Source: Hobby craft
Easter egg shirts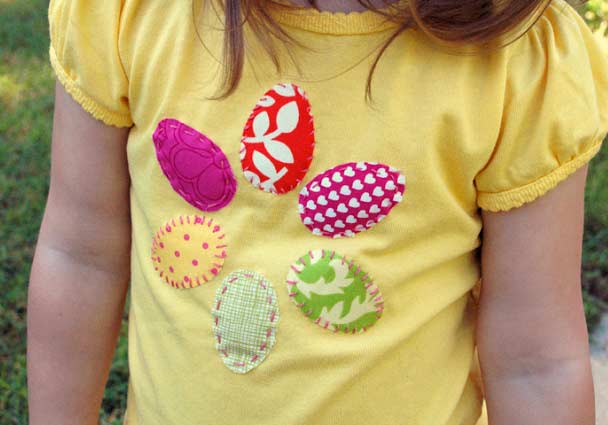 Make a special Easter outfit for all your family members with a few of these neat Easter egg shirts! You can then take a picture together and make a beautiful, creative holiday card to spread Easter joy!
Source: Crafter hours blog
Bunny hooded towel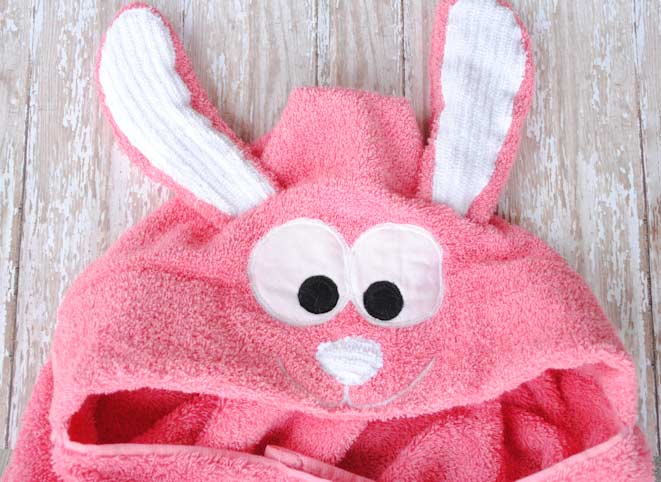 Turn a regular boring towel into a cute bunny towel in a flash with this project! Drying wet hair with a towel gets a million times more fun thanks to this hooded towel. One of the loveliest Easter crafts to sew for the little ones!
Source: Crazy Little Projects
Spring sewing projects
The weather warms up, the days are longer, it smells of freshly mowed grass. It's spring and I crave to spend more time outdoors. And I love stitching up something little as a celebration of this time of the year. So here are few ideas for Spring sewing projects and patterns.
Fabric Book Cover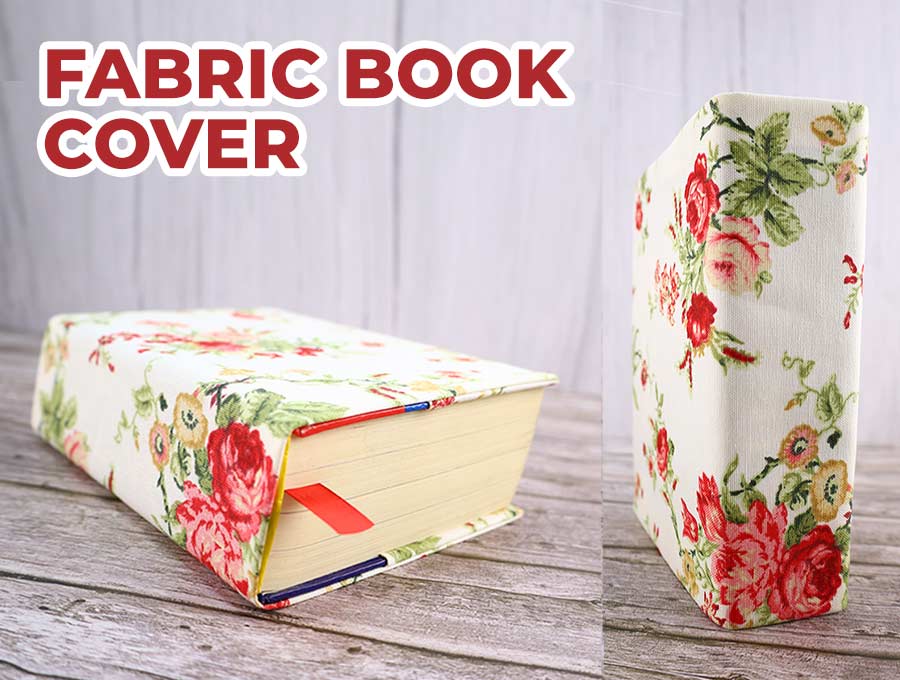 Give your favorite book a makeover and dress it up for the spring. This book cover is made to size,  sews up in less than 15 minutes and is such an eye candy!
Source: HelloSewing
Bunting template
Decorate your indoor and outdoor walls with these festive bunting banners! They are super easy to make and you can finish them in less than twenty minutes.
You can make them long or short, with different shapes of flags or identical ones, in various colors or one bright color, go ahead and improvise as much as you wish!
Source: HelloSewing
I hope you liked this list of our favorite Easter sewing projects and the mini list of Spring sewing projects! Remember to subscribe to our email list to get the freshest sewing tutorials as soon as we put them out. Now go and try these Easter sewing projects out!
Which one will you make first?