1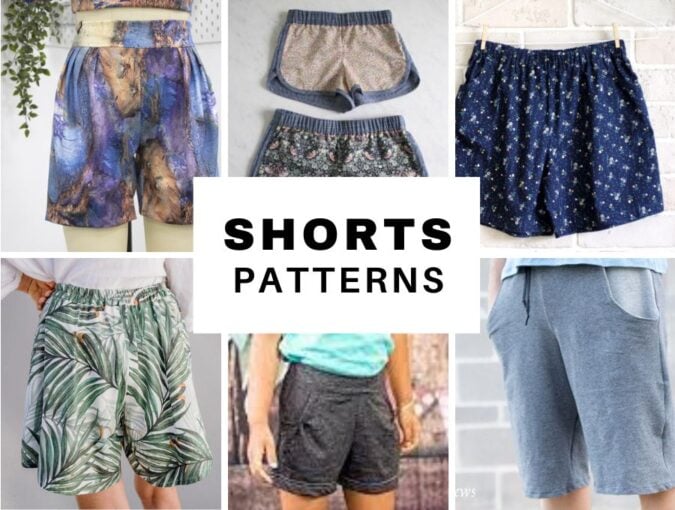 20+ Free Sewing Patterns for Shorts for Everyone in the Family
Do you need a new pair of go to shorts for the summer? Check out this roundup of free patterns for shorts in a variety of colors, styles, and silhouettes.  Sewing shorts is one of the easiest sewing projects even for a beginner. So, sew yourself a pair with one of these easy and free sewing patterns for shorts.
From paperback to yoga waist band, we have a ton of options and styles for women, men and kids! No matter whether you are looking for something dressy or a pair that's more casual or sporty we have plenty of options. Whip up a pair for everyone in the family!
Unisex Shorts patterns
His and her lounge shorts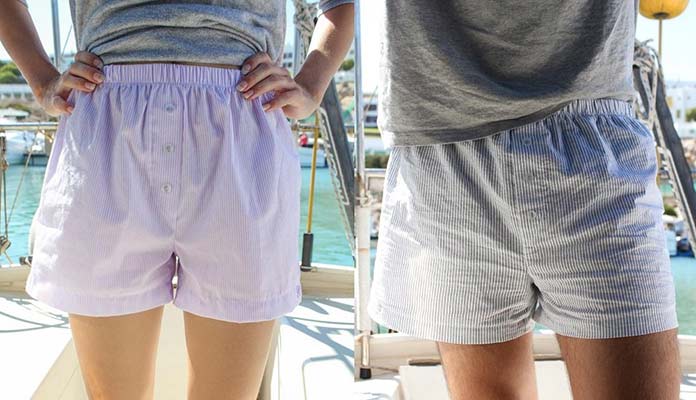 Enjoy the summer days to their fullest with these breezy and comfortable shorts that have two available options for the waistband, pant legs, as well as front and side designs. You can make them with or without an elastic waistband, with or without a fly, and with or without side stripes and pant leg scoops.
Sizes: XXS  to XXL / 6 to 18
Fabric: Woven fabric with an elastic waist.
Pattern: Measuretwicecutonce
Tutorial: Bernina BLOG
Easy unisex shorts
Shorts are one of those clothing articles that are almost perfect in their basic form, as this pattern proves, with a simple elastic waistband, and a decorative fly as their only notable feature. Make a matching pair for you and your significant other and look adorable together this summer.
Sizes: 2XS to 4XL
Pattern: Wardrobebyme
Free Shorts Patterns for Women
Elastic waist linen shorts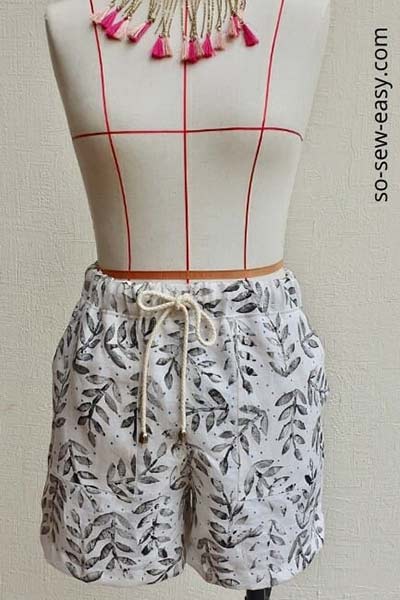 With just two stitches and a dash of your time, you can fashion yourself these lovely, practical, and refreshing shorts that have an elastic waistband with a drawstring going through it, together with two side pockets that are great for storing your phone, wallet, or keys as you walk along the beach or relax at your backyard.
Sizes: S to XL
by So-sew-easy
Myrtle shorts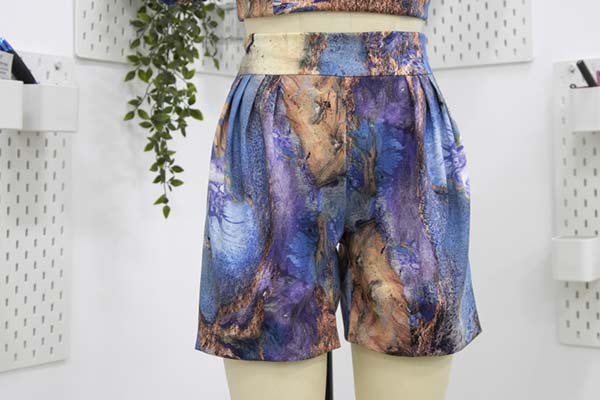 Those who say shorts can't be stylish and creative are undoubtedly wrong, just take one look at these myrtle shorts with slightly longer pant legs that reach above your knees, a wide waistband, as well as four pleats on each leg, and you'll see that they're as chic as the next thing.
Sizes: 2-30
by Moodfabrics
Faux-belted paper bag waist Shorts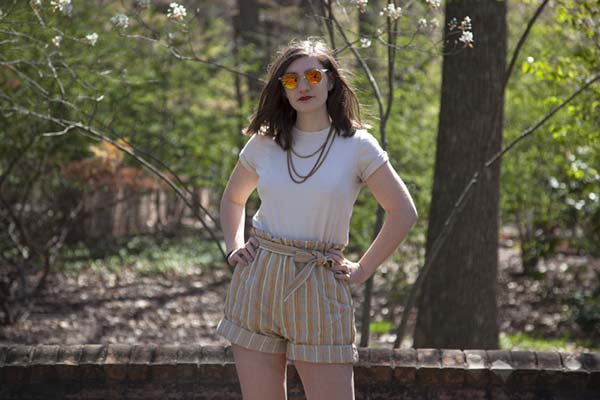 Reinvent the shorts of a jungle explorer as a fashionable clothing piece with this pattern that features short pant legs with cuffs, two back pockets, and an elastic waistband, together with a neat decorative fabric belt tied into a bow that you can use to keep your whip close by as you search for lost artifacts.
Sizes: 2-30
by Moodfabrics
Cuffed shorts (draft your own pattern)
Make yourself a custom shorts pattern that will allow you to sew a garment as you see on the runways, with short pant legs that have cuffs, a zippered fly, a waistband with belt loops, lined pockets, and a decorative pleat at the front side of each pant leg. This is a slightly complex project, so feel free to remove any features if you wish.
Skill level: advanced
Womens boxer shorts
Size: XS to 2XL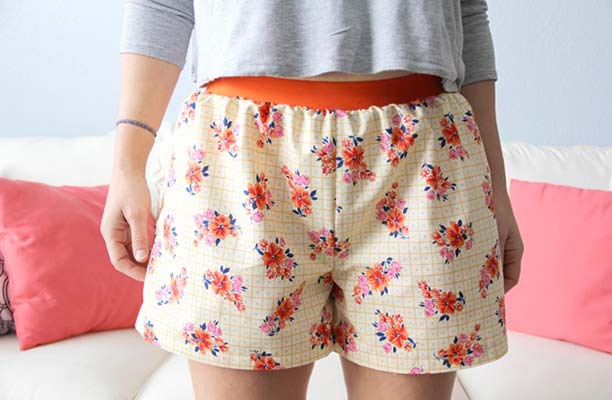 Guys know all too well why they love hanging around the house in their boxers, and now you get to know how it feels like too, with the help of this pattern for leisure boxer shorts that are super comfortable thanks to their elastic waistband and a simple design with just two stitches required to assemble them.
by Ehow
Skye shorts
elasticated back waistband and pockets
sizes: A to P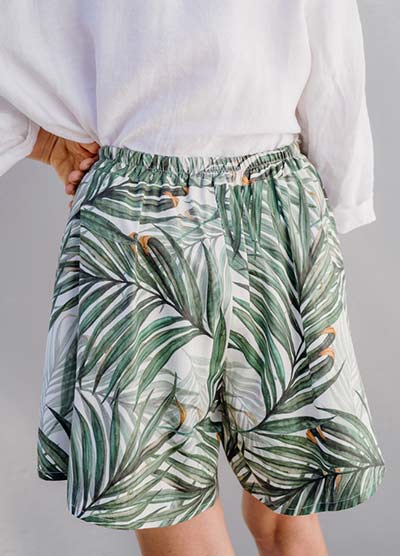 Sometimes you just want a bit of extra room around your legs so you can feel even more breezy, and for such times, these shorts can be ideal with their wide pant legs that reach a bit lower than most shorts, have a wide elastic waistband, a decorative fly, and two handy side pockets.
Yoga shorts pattern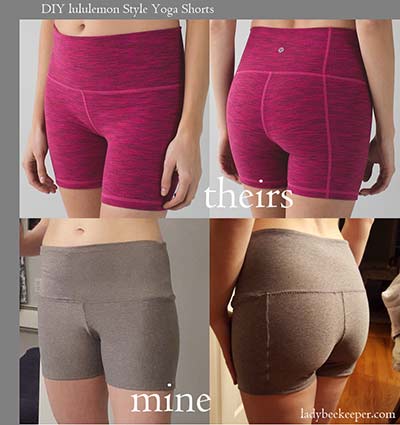 When you hear about yoga pants, you think of comfort, but when you hear yoga shorts, you think of ascended comfort because these shorts can't be described in any other way, due to their snug yet stretchy shape with extremely short pant legs and a wide waistband. They have no other features because they don't need them.
Size: 6
City gym shorts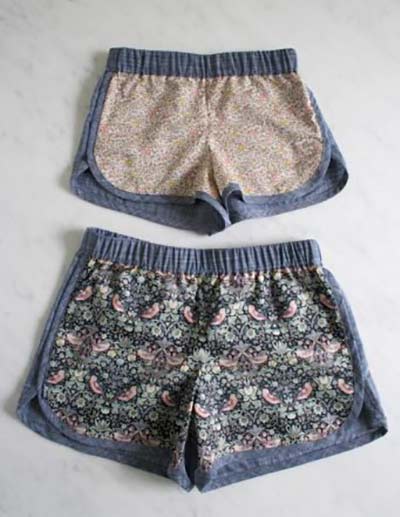 When you do a bit of leg work at the gym, you would ideally want to wear a bottom that can give you a lot of movement freedom, like these shorts that resemble the ones some kickboxers have in the ring, with an elastic waistband and characteristic short pant legs that have a tulip hem, allowing you to move your legs in all directions unrestrictedly.
by Purlsoho
Men's patterns for shorts
Free mens shorts pattern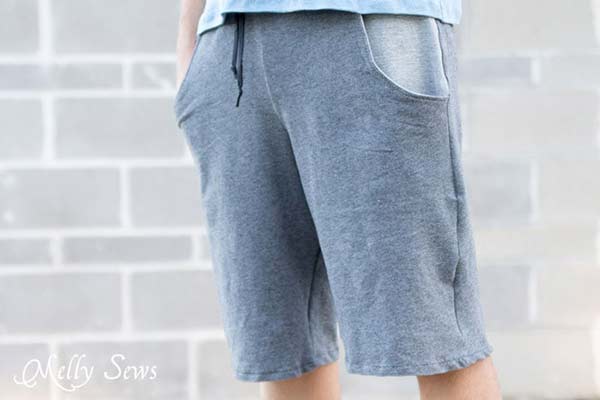 Surprise the important man in your life with a pair of brand new shorts that feature legs that reach over the knees, an elastic waistband fitted with a drawstring, and two deep side pockets that guys love because they can hold anything from pliers to a bunch of change, depending on their needs at the time.
by Mellysews
Sewing patterns for kids shorts
Basic kid shorts with pocket pattern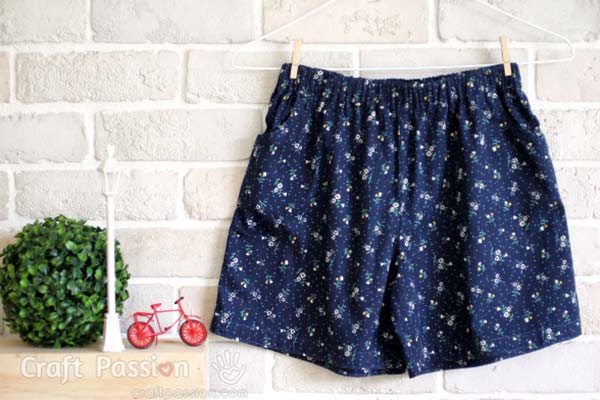 Here's a handy pattern for all the moms that love to sew, with its help you'll be able to make shorts for your kids of various ages, and they are sure to love wearing them since they're comfortable due to their elastic waistband, short legs, and two pockets that can easily hold the things they love heaving nearby like marbles or candy.
Sizes: Toddler (3y.o.), Kid (7y.o.), Pre-teen (12 y.o.)
by Craftpassion
Paperbag kids shorts pattern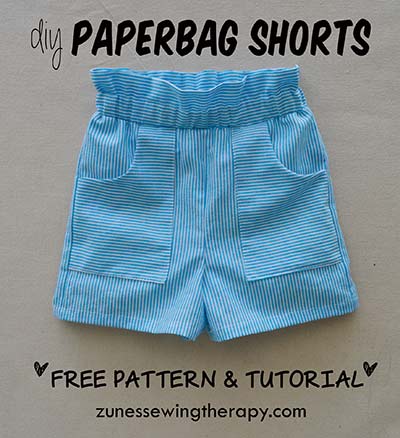 It's never too early to wear stylish clothes, so go ahead and whip up these shorts for your little one and let them enjoy having a chic bottom with a high paper bag elastic waist, short legs, and two exterior front pockets. Make sure to use linen to get the best results.
Size: 3T
How to Sew Kids Shorts Without a Pattern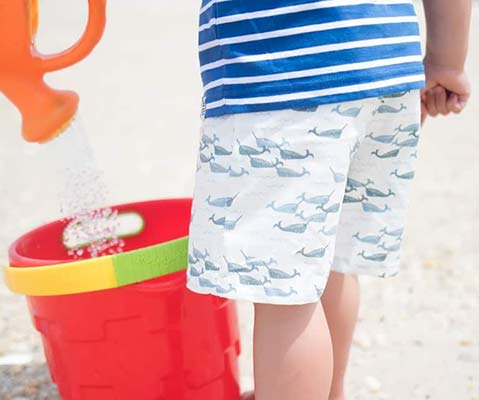 Get ready to sew your kid new shorts extremely quickly without even using a pattern, just take a pair of old shorts as a guide, cut the parts, assemble them, and you'll have a nice pair of shorts with an elastic waistband and knee-high legs, great for boys and girls!
by Gina-michele
Kids shorts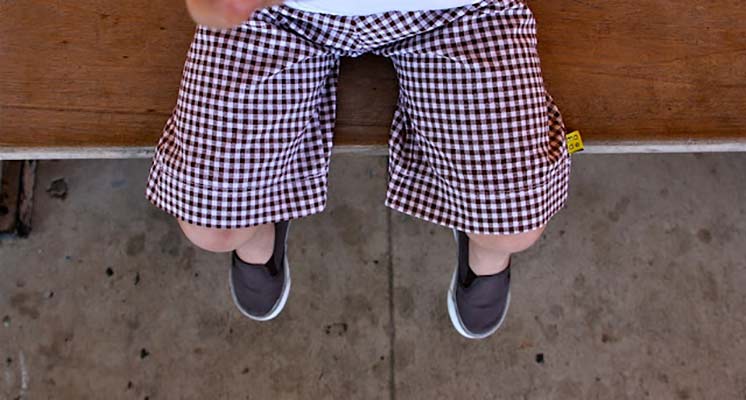 Make your little guy a pair of shorts he can wear all summer long since they're breezy, comfortable, stylish, and decent, thanks to their elastic waistband, and long, wide pant legs that go just below the knees when standing up, and just above the knees when sitting.
Size 2-3T
by Madeeveryday
Girls knit shorts with pockets
If you have a pre-teen or teen daughter, here comes a pattern you will probably love, a pair of shorts that look beautiful and feel nice to wear, with legs that reach to mid-thigh and have a cute bottom hem with a thin band, an elastic waistband, and two side pockets for her phone, lip balm, or anything else she needs to have nearby.
Sizes: 6m-12T
Do you need a new pair of go to shorts for the summer? From paperback to yoga waist band, in this free sewing patterns for shorts roundup we have a ton of options and styles for women, men and kids!
Summer can give its best shot now, with all these sewing patterns for shorts at your disposal, you'll be ready for it. Did one or two of the short sewing patterns already stand out as your favorite? Let everyone know in the comments below. And feel free to subscribe to our mailing list so you can stay up-to-date with new projects, tutorials, and more. Have a wonderful summer with your new shorts!
RELATED:
How to Make a Tulle Skirt with Exposed Elastic (soo easy to make)
30+ Plus Size Sewing Patterns for Women and Men
10+ Skirt Patterns to Sew and Flatter Your Figure
Twisted turban hat – looks good on everyone – from babies to adults. This gorgeous hat was created for women with hair loss from chemo, alopecia, and other reasons, but the stylish look makes it the perfect for everyone.