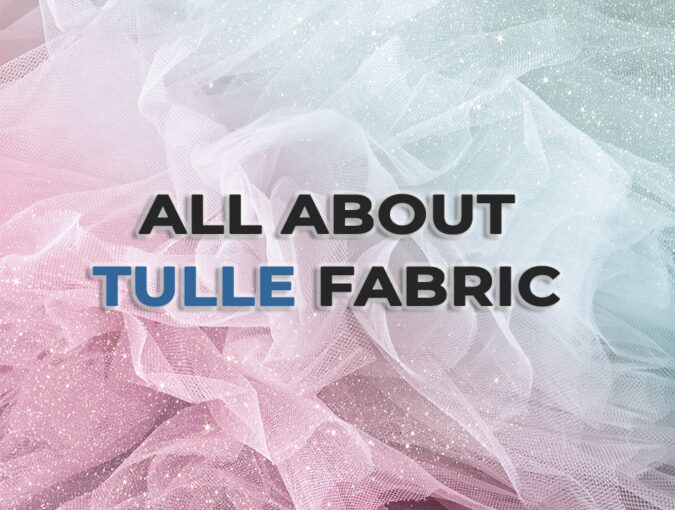 What is Tulle Fabric and Types of Tulle
What is tulle fabric?
Tulle is a lightweight, sheer, mesh net fabric used in many different applications, but is particularly popular for wedding gowns, bridal veils and decorations. Tulle can be made from silk, cotton, nylon, or polyester these days but was traditionally made from silk or cotton. Although white, off white and ivory are used most often, tulle fabric comes in all colors of the rainbow to suit many projects including evening gowns, costumes, hat decorations, lingerie, sheer window treatments, and floral arrangements. Tulle is also known for its ability to keep its shape due to its stiffness, making it ideal for projects such as tutus and petticoats. In this article, we will discuss the history of tulle fabrics, why people use tulle fabrics, how to sew with tulle fabrics, and the differences between various types of tulle.
Tulle Fabrics History
Tulle was used as a base material for skirts and petticoats to be worn beneath the elaborate gowns of the 1800's. The production of the tulle fabric quickly spread throughout Europe as textile mills began producing tulle on a large scale. By the early 20th century, tulle had become a popular choice for wedding gowns and veils due to it being light and sheer, with a soft quality that was perfect for romantic gowns.
Where did tulle get its name?
Tulle got its name from the city of Tulle in France, where it was first produced in the 19th century as industrialization had allowed fabric mills to create delicate tulle on a large scale. Although Italy was where tulle is supposed to have originated, it was the French, with their larger and faster looms, that first made it widely available.
Are tulle and netting the same?
Tulle is different from netting, although it looks very similar to like netting with its fine holes. Netting, which consists of knotted threads tied together into a mesh pattern, is similar to tulle but with less drape due to its heavier texture and more structured shape.
Is organza a good substitute for tulle?
Organza is another alternative to to tulle – it's a lightweight sheer fabric similar with a stiffer texture due to its thicker yarns. It's often used instead of tulle when more structure is desired, or more stiffness or support is necessary to create a design.
Which is better tulle or crinoline?
Although tulle and crinoline fabric are both commonly used in the fashion, home decor, and craft industries, they are made from different materials and have distinct textures. While tulle is a lightweight, semi-transparent mesh fabric with a delicate net-like construction created by twisting together strands of finely spun thread, crinoline fabric is a stiffer type of material made from cotton or synthetic fibers that are woven together into a loose weave pattern. Crinoline has more body than tulle which makes it suitable for making costumes or for creating decorative bows or trims on clothing. Crinoline fabric tends to hold its shape better than tulle so it is the right choice if your garment needs volume.
Why use tulle in your projects?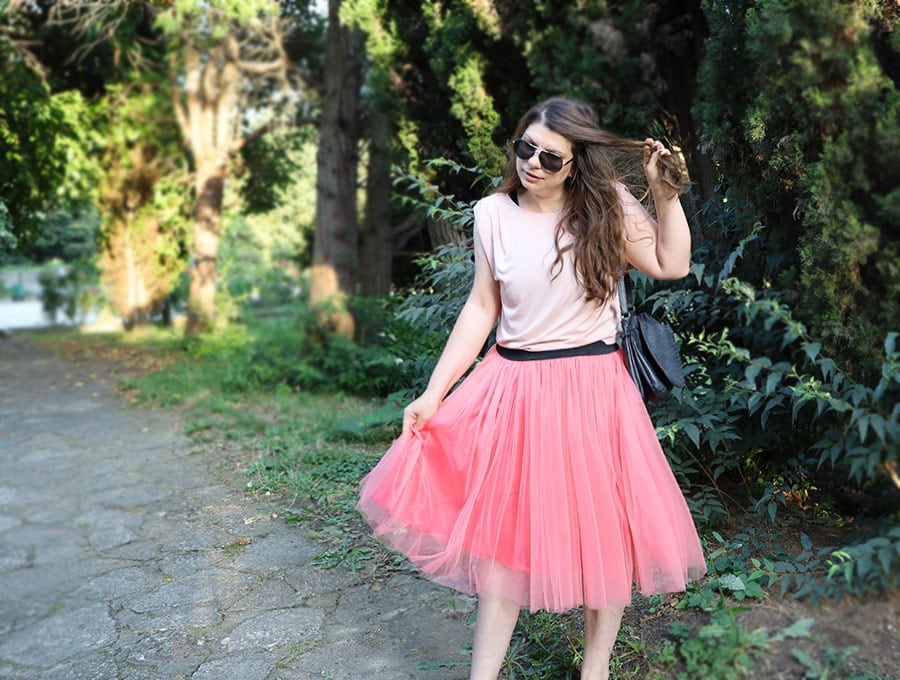 Tulle is known for its softness, light weight, and durability. The diaphanous quality of this fabric makes it excellent for romantic skirts, wedding dresses and ball gowns as it drapes beautifully over the body and can be crafted into shapes that enhance the lines of an outfit providing a dreamy ethereal look.
Although lightweight it has enough body to maintain its shape without sagging or wrinkling over time. This makes it ideal for wedding dresses, veils, evening wear, dance costumes and lingerie. Traditionally tulle was only available in a white or soft cream but now it is it's available in many colors and prints (such as polka-dots), so it can easily be used to add some color or texture to a project you're working on.
Recently tulle has undergone a surge of popularity, for casual-smart skirts worn for dancing and evenings out. The shorter tulle skirts are often paired with ankle boots and a denim or leather jacket for a feminine yet edgy look that is at the forefront of fashion.
How to care for tulle fabric
Although fairly easy care, tulle does require some special attention to make sure it lasts for years. The best way to care for tulle garments is to hand-wash them with cold water and a mild detergent designed for delicate materials. Alternatively, spot-cleaning can also be used; however, it should be done with care to avoid damage. After washing, the garment should be dried either flat on a towel or hung up on a line. It should never be placed in the dryer as this could cause shrinkage or even melt certain artificial fibers. If it needs ironing then use the iron set at low heat while the fabric is still slightly damp. Taking these simple steps will help keep your tulle fabric looking like new for years to come.
How to sew with tulle fabric
Tulle fabric tends to shift around while you work with it. However, here are some tips that can make sewing with tulle easier:
Use a sharp needle
A sharp needle will help you get through the layers of tulle more quickly without damaging the fabric or your machine's needle plate.
Use pins or clips
Pinning or clipping your layers of tulle before you begin sewing helps reduce shifting while you sew, which will make things much easier.
Take your time
Since tulle can stretch when sewn too tightly you will need to do a test to establish the correct stitch length and tension. Do not rush white stitching stitching, instead make sure sure to keep an even feed of fabric through to the presser foot so all the seams look even when finished.
Reinforce corners
If you plan on making corners with your project reinforce them by adding extra stitches at each corner for added strength.
Clean up edges
Trim away any excess threads so seams lie flat.
What can I sew with tulle?
Veils
Bridal gowns
Ball gowns
Ballerina tutus
Adorable Kids tutus
Different Tulle Types
Italian tulle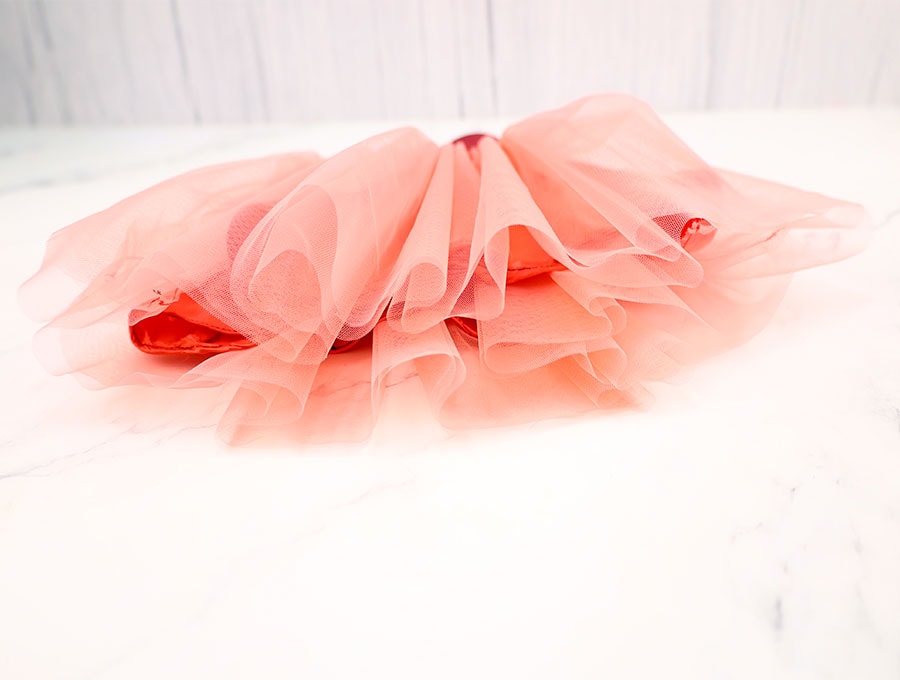 Originating in Italy as early as the 16th century, when it was first used in making gowns and other items of clothing, Italian tulle has since become a staple of fashion and couture, often featuring intricate patterns and embellishments that add to its delicate beauty. While the French were the first to produce tulle on a larger loom the Italians were the first to use tulle.
Italian tulle is usually made from a blend of cotton or silk fibers, which give it its soft texture and lightweight feel. The fabric is usually sheer and gauzy, allowing light to pass through it while still providing some coverage. Its distinct weave creates a unique texture that gives it a romantic look. This makes Italian tulle an ideal choice for evening wear, special occasions, haute couture dresses or bridal gowns.
The transparent nature of Italian tulle also lends itself to various crafting projects and DIY decorations such as wedding backdrops, garlands and veils. This fabric can be used to create all kinds of bows, rosettes and trims. Its fine structure also makes it suitable for embroidery work or the application of crystal beads or lace that add extra flair.
Given its timeless quality and luxurious aesthetic appeal, Italian tulle remains one of the most popular fabrics for clothing designers around the world today, from high-end fashion houses to independent boutiques creating unique custom pieces.
English tulle versus French tulle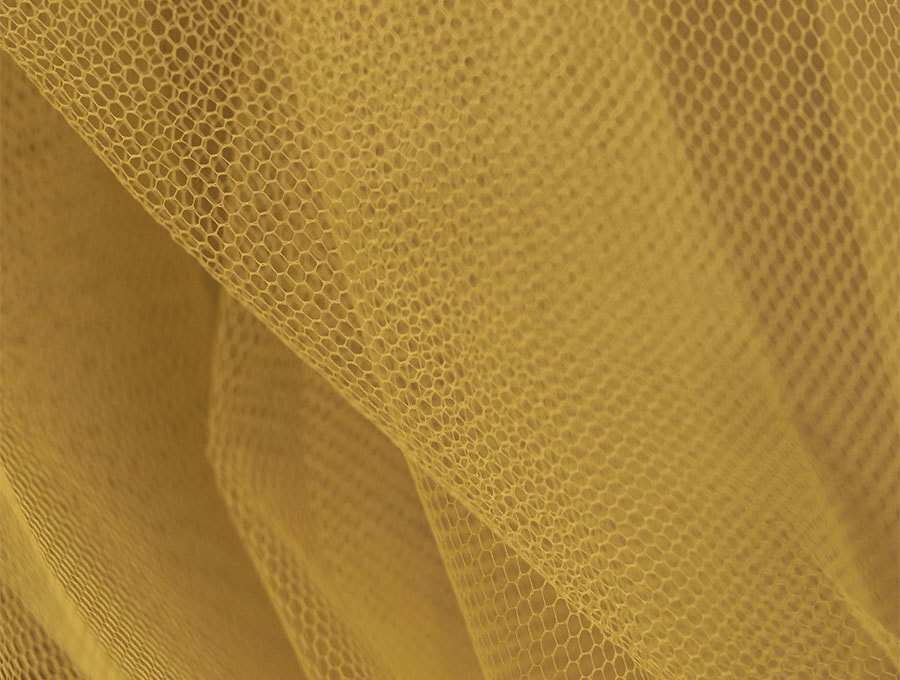 English tulle is typically made from cotton or silk thread while French tulle besides using silk can also be made using synthetic fibers such as rayon or nylon threads instead. There are also differences in texture between English and French tulles. English tulles have a softer feel while French tulles tend to be stiffer due their synthetic fibers which give them more body than their English counterparts. Another notable difference between these two types of tulles lies in their respective weaving techniques. English tulles are woven in plain weave construction whereas French tulles are woven using patterned weaves such as twill or herringbone patterns which result in an overall stronger material. Finally, French tulles usually come in solid colors whereas English tulle comes in both solid colors and patterns.
Illusion tulle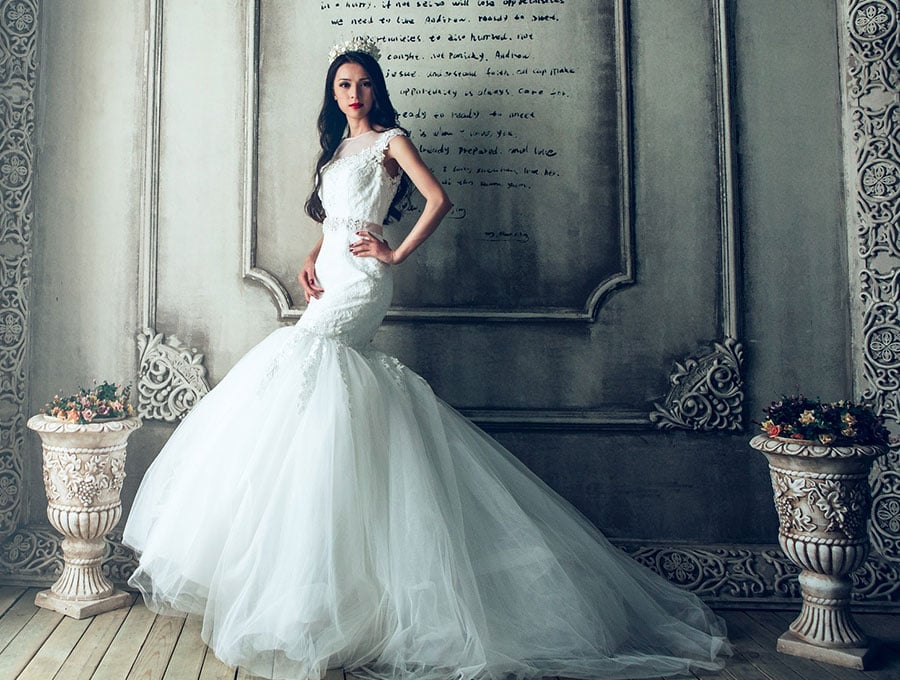 A variation of tulle known as illusion tulle is particularly popular for bridal applications; not only does this version provide a softer drape than regular tulle but it's very fine mesh also offers extra coverage while still providing a light airy feel. Illusion tulle is frequently used to make long sleeves on special garments as well as under delicate appliques of beads that add sparkly detail to a garment without weighing it down.
Other Tulle Types
Nylon Tulle
Polyester Tulle
Silk Tulle
Where do I buy tulle?
The best place to find tulle is at fabric or craft stores. You can also find tulle at wedding supply stores as well as online retailers such as Amazon and Etsy. Some tulles are stiffer than others which may affect how it holds up for certain projects. Online retailers often carry pre-cut lengths that come in various widths and colors which make them perfect for quick projects or crafts requiring smaller amounts of material. No matter where you decide to purchase your tulle, it's important to double check the quality before buying so that you get exactly what you need for your project.
Although tulle has been around since the 16th century it still remains popular. Watch out for our tulle projects coming up soon. If you enjoyed learning more about tulle and how to care for and sew with it then please share this article with fellow sewists. Don't forget to subscribe to have more articles and sewing projects delivered straight to your inbox.