4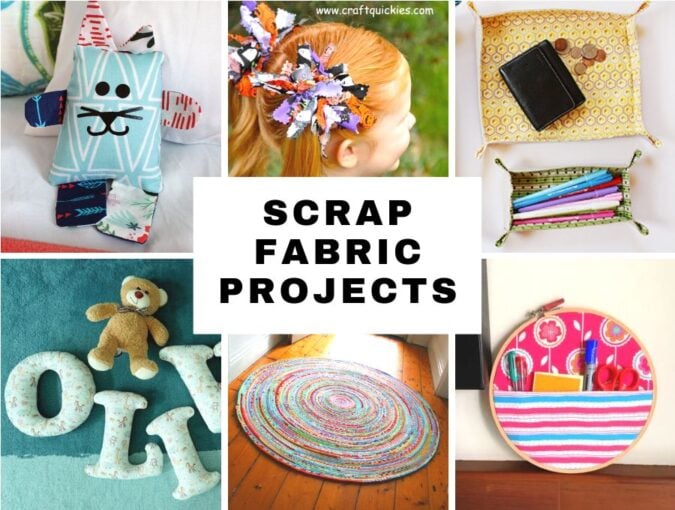 Scrap Fabric Projects – 50 Brilliant Ways to Use up Fabric Leftovers
If you are an avid sewist, the chances are you have an overflowing bucket, bag, shelf or wardrobe full of fabric scraps and leftovers from previous sewing projects. I don't like to throw away usable fabric, so I always come up with clever solutions to use those bits and pieces be they large or small into lovely new projects. Apart from my own tutorials, I scoured the web to bring you the best scrap sewing projects from other designers too! Enjoy and make a dent in that scrap pile!
Scrap fabric projects – cool things to do with leftover fabric
Corner bookmarks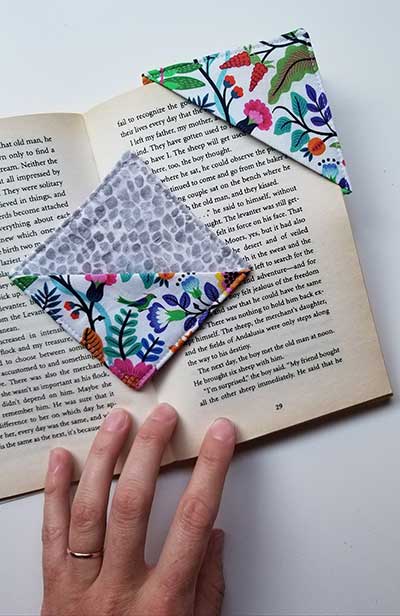 Here's my favorite bookmark of all time, a beautiful fabric square piece with a diagonal pocket made of contrasting fabric that you slide over a corner of the book page where you paused reading and it stays there, showing you where to keep reading from when you get back to it.
Scrap twine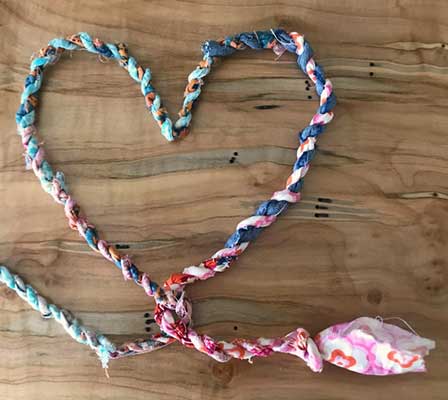 This fabric twine project is great for using up your leftover fabric strips creatively to make a rope-like fabric in the length of your choice that you can use for all kinds of crafts later on as it is almost like a thick type of yarn ideal for making various decorations for your home.
Hoop organizer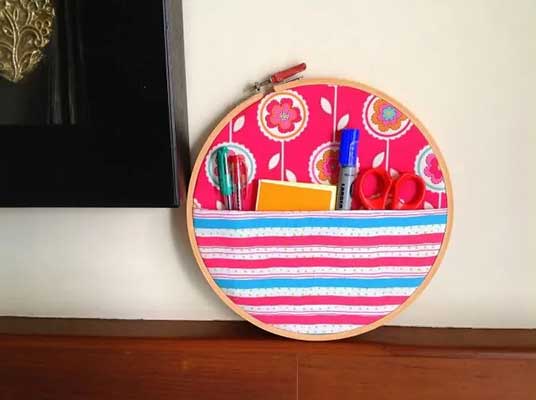 All of you who like to keep your sewing supplies neatly organized, pay attention to this adorable hoop organizer you can hang on the wall or set on your desk, featuring a rounded base with an embroidered design and a pocket split into sections according to your needs.
by Sewcraftyme
Fabric rug tutorial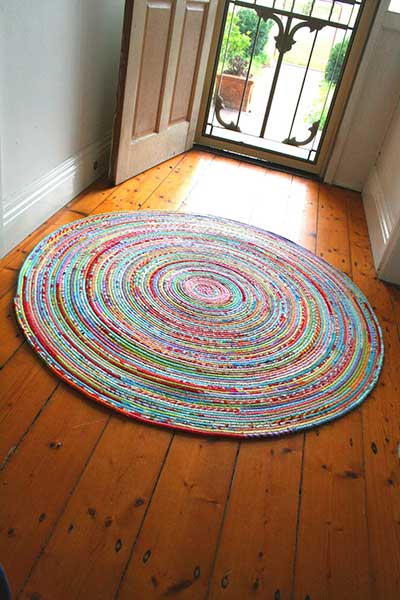 Grab a long cotton cord and roll it up into a circle, stitching it to itself as you go and wrapping it with fabric strips in various colors every few inches or so to get this interesting round rug in the size you desire, then place it in the hallway to give it a special charm and surprise your guests when they enter your home.
Scrap bias binding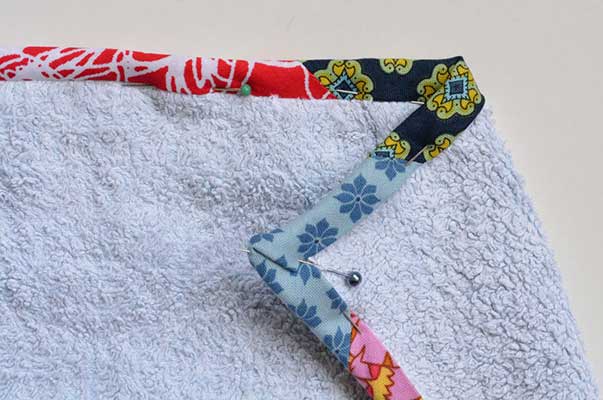 There's no need to waste money on store-bought bias binding tapes when you can use this pattern to make a colorful bias tape that looks even better than that and is environmentally friendly since it allows you to use up fabric scraps instead of throwing them out.
Scrap fabric bunny softie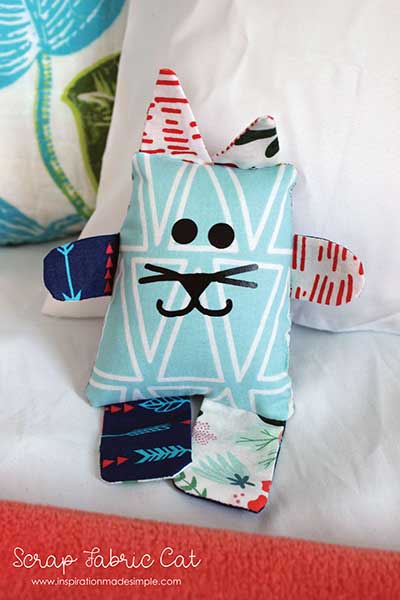 Here's an adorable little square bunny that has body parts in different colors made of fabric scraps and is just as irresistible to kids and some adults like me as any other plush toy even though it is made by upcycling leftover material.
Scrap fabric tray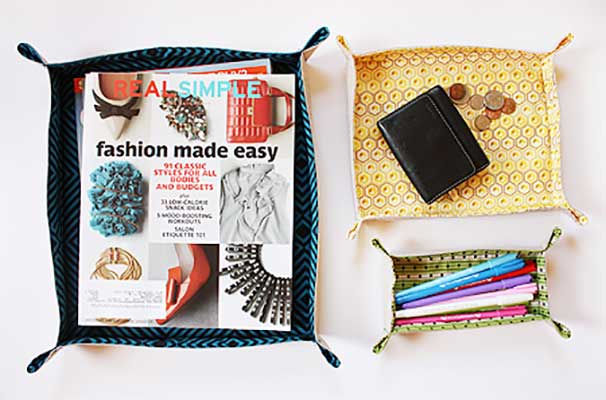 These rectangular fabric trays that have upright edges like a bowl and pointy corners aren't suitable for holding snacks or food, but they are great for storing things like keys, spare change, sewing supplies, and if you make them in a large size, magazines, remotes, or phones of the members of your household.
by  Noodle-head
Fabric yo yos
No, this is not the toy yo-yo you roll up and down, it's a traditional fabric yo-yo that is a circle with one smooth side and one puffy side, and can be used as a decoration on your crafts, home décor, and even clothing because it resembles a small flower.
Fabric Scrap Memory Game for the kids
Don't buy those memory card games because you can make it yourself with this pattern that helps you turn fabric scraps into small rectangles equal in size, with one blank side and the other side that features a motif common to just one pair of squares so your kid can try and find pairs by flipping two squares at a time.
by Inchmark
Card kitty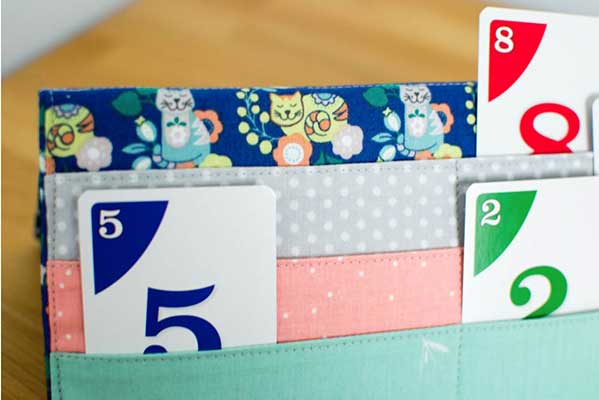 If you're like me and couldn't hold more than five cards in one hand if your life depended on it, don't skip this project, as it will allow you to make a rectangular piece of fabric with three pockets that can hold those cards for you!
Stuffed fabric letters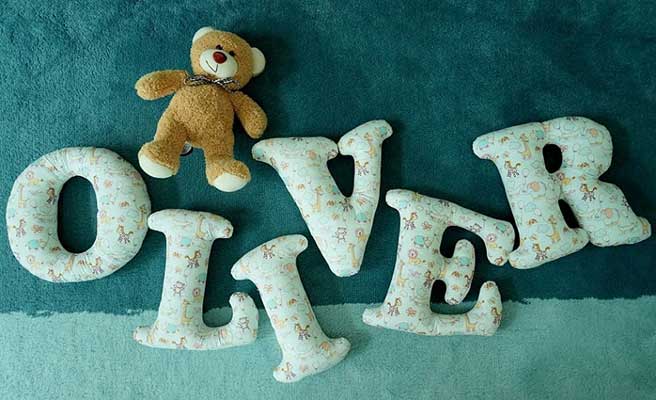 Transform fabric leftovers into big letters stuffed with filling like plush toys, then spell out your kid's name or your favorite quote and set them onto the wall, bed frame, shelf, or the top of the closet as a creative and unique decorative piece.
by Sewjahit
Fabric alphabet
Kids learn new things the fastest with appropriate tools that can stimulate their minds, like these letters made of fabric that will attract their attention with their fun and colorful shapes and help them learn how to read in without them realizing they're learning by playing.
Scrap fabric projects no-sew
No sew fabric garland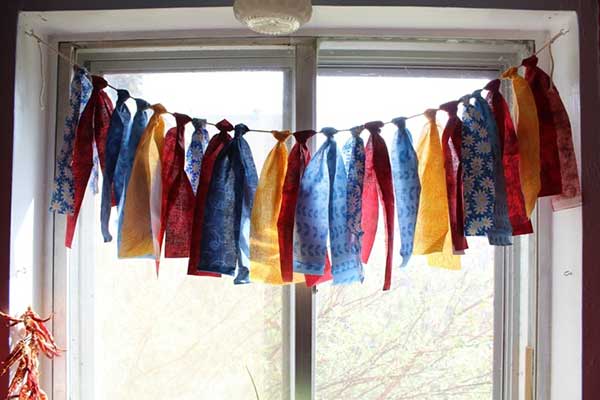 Cut your fabric scraps into strips of equal size and tie them around a cord next to each other in alternating colors to create a beautiful garland you can use as a decoration inside your home or in your backyard during family gatherings or small parties with your friends.
by Kenarry
No-sew Firecracker hairbows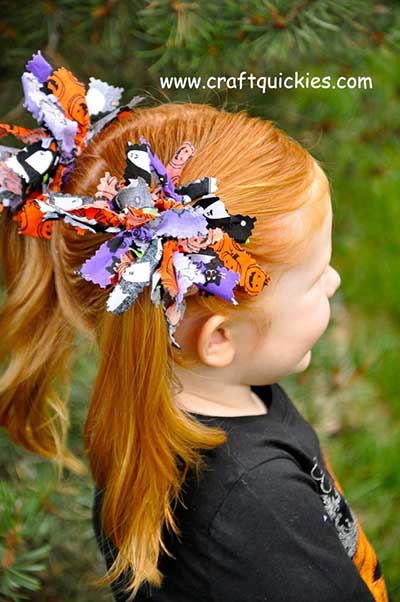 Multiply the cuteness of your daughter's hairstyle by a hundred with the help of these colorful fabric strips joined together into hair bows that look like firecrackers that went off and made that shiny splash similar to fireworks.
Projects for knit fabric scraps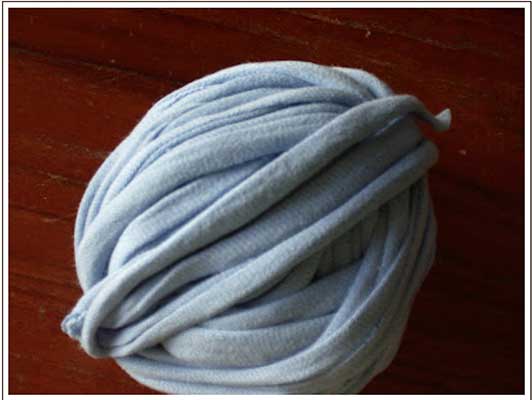 This project is a treat for all you knitting and crocheting enthusiasts out there because it teaches you how to cut up a cotton shirt you won't wear anymore into a thick yarn perfect for making hats, scarves, ear warmers, and all other warm accessories.
by Mousechirpy-polkadotpineapple
Scrap sewing projects by HelloSewing
Fabric ball or sphere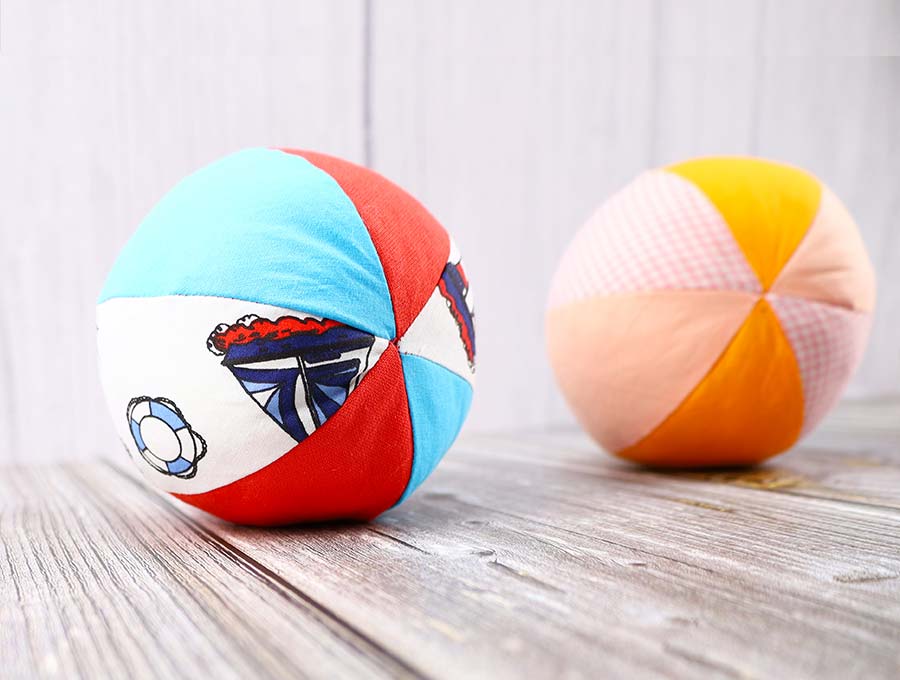 Plush balls we have here can be a lifesaver if you have more than one kid who loves playing indoors, since these kinds of balls won't be able to hurt them no matter how strong they throw them, nor will they break your favorite vase if a stray shot finds its way to it.
fabric sphere by HelloSewing
Hair bun maker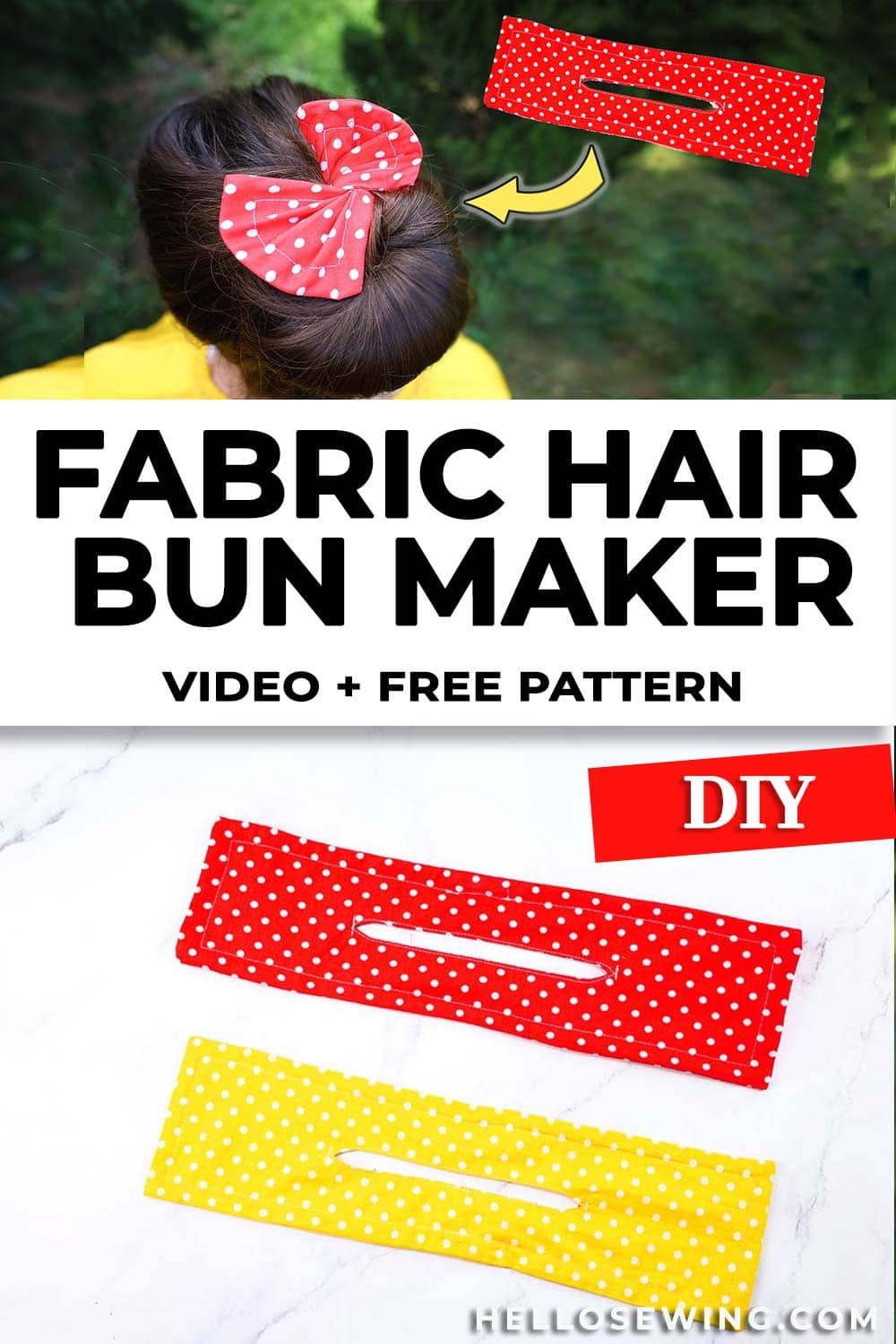 One of my all-time favorite projects for scrap fabric!
Put your scraps to good use as you turn them into a rectangle with a wire along its edges and a wide slit along its middle, then pull your hair through it, twist the whole thing and you'll get an adorable bot that will keep your hair in check and make you look dashing.
Hair bun maker by HelloSewing
Pocket prayer quilt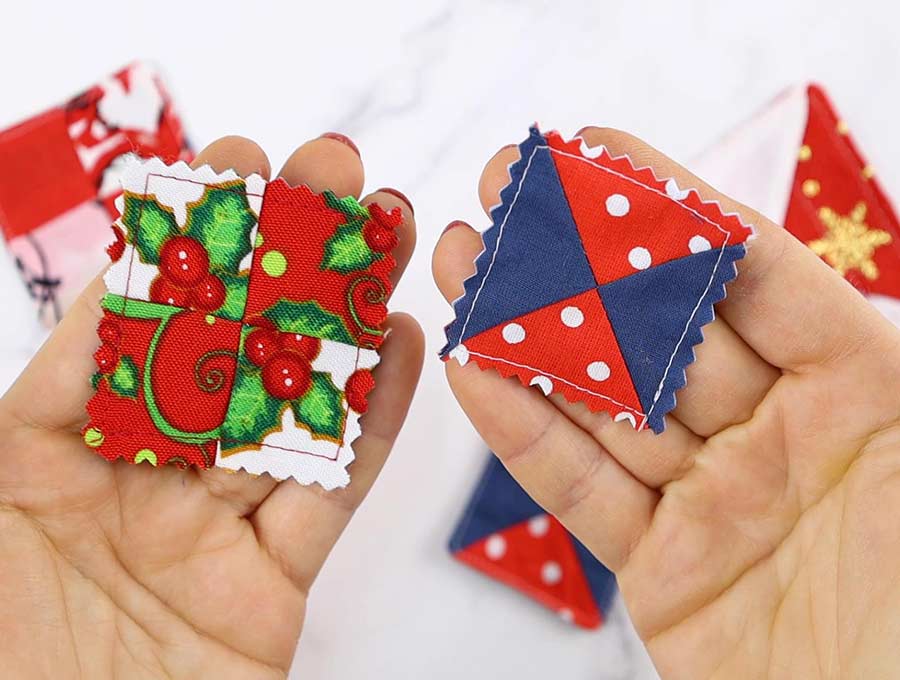 These pocket prayers come in two variants, one is a square made of four triangles in two different colors, arranged in an hourglass design, while the other variant is also a square, but it's made of four smaller squares in two colors, joined together in a checkered manner.
Pocket prayer quilt by HelloSewing
Origami butterfly from fabric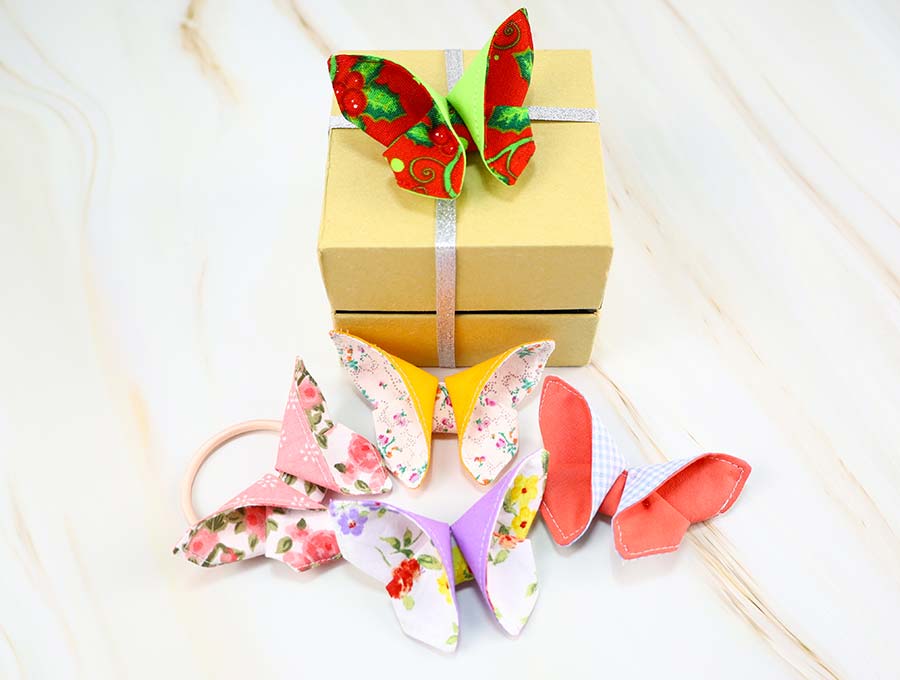 Put those fingers of yours to work and fold up fabric scraps creatively and patiently to make these lovely butterflies with contrasting colors on their interior and exterior, then hang them up as room decorations, stitch them onto your kid's toys, attach them to clothing, or find a new purpose for them.
Origami fabric butterfly by HelloSewing
Gift card holder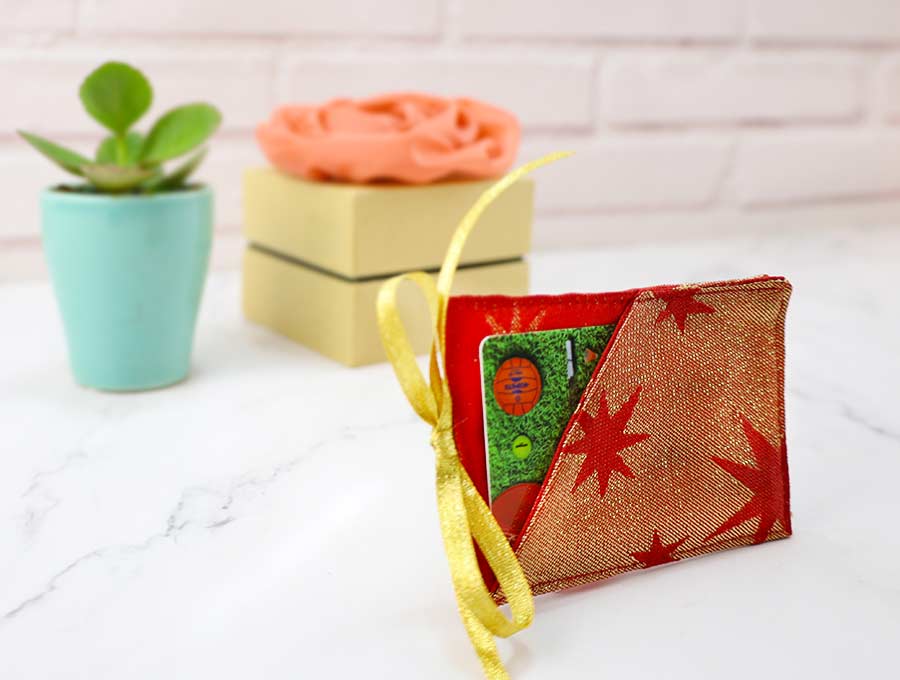 Gift cards are great presents nowadays, but they can become even better if you give them out in holders like this one that features a diagonally cut pocket for the card and a decorative bow at its top, or a hanging loop that lets you hang the present on the Christmas tree.
Gift card holder by HelloSewing
Chapstick (lipstick) holder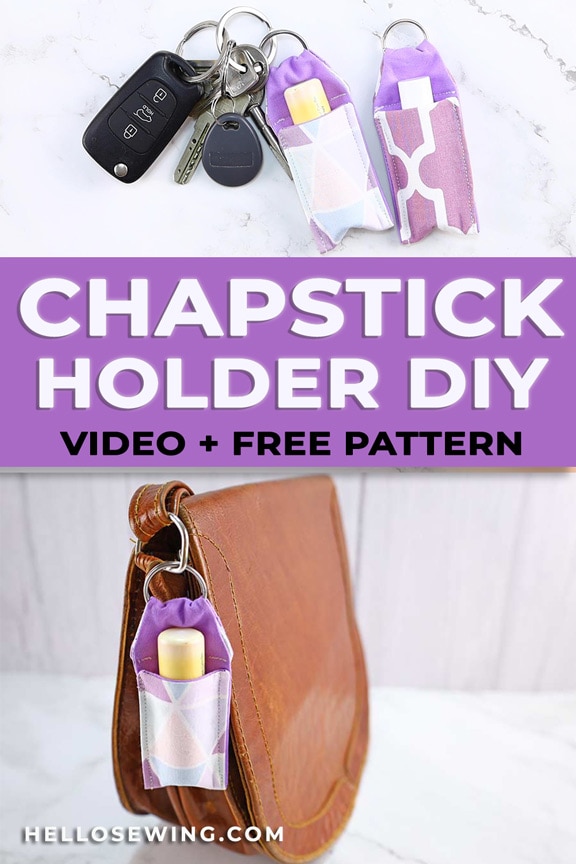 All you ladies who have dry lips and use chapstick often, and all you who like to have your lipstick nearby for quick fixes, here comes a project for you, a small holder for chapstick or lipstick that you can attach to your keys and have it within reach at all times.
chapstick holder by HelloSewing
Cord keeper
Your cords will never get entangled again thanks to this pattern that will give you small strips of fabric with curved corners and a velcro closure that you can wrap around a neatly gathered cord and keep it in that neat state until you need it again.
diy cord wrap by HelloSewing
Face mask carrying pouch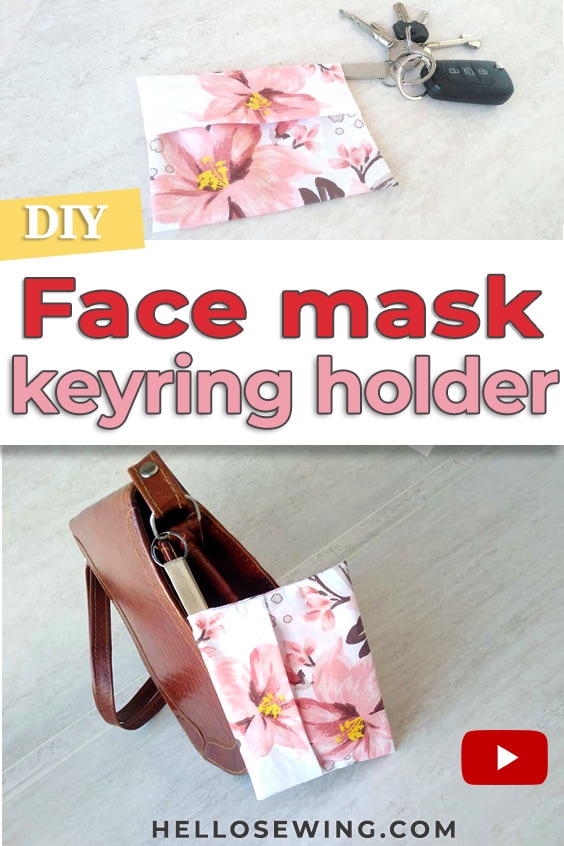 Make sure your mask stays clean and nearby when you don't wear it with the help of this rectangular fabric mask holder that you can hook onto your keys, backpack, jeans, or purse and carry with you wherever you go.
Face mask carrying pouch by HelloSewing
Bunting template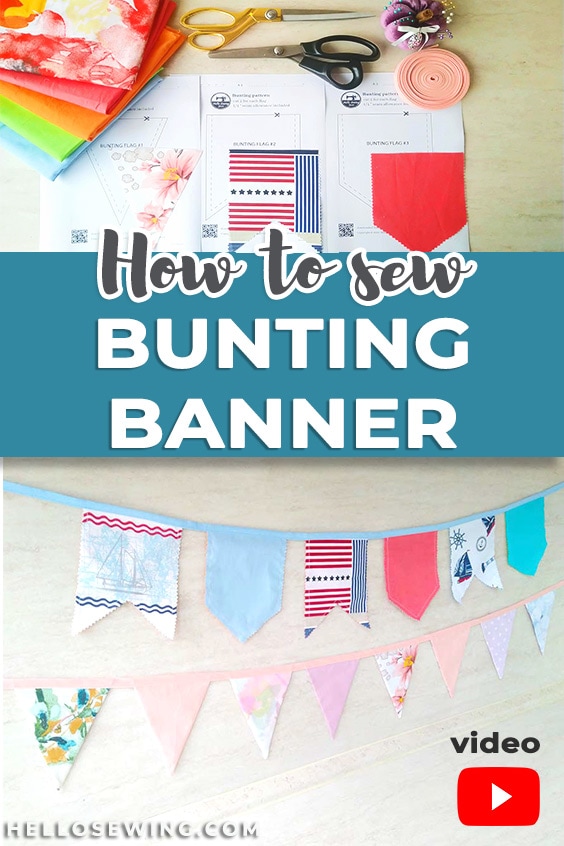 The bunting we have here features a string with pieces of fabric in various colors and three different shapes attached to it, but you can opt to make the pieces in any shape or color, then hang the decoration on your walls indoors or outdoors, depending on the occasion.
bunting by HelloSewing
Triangle coin purse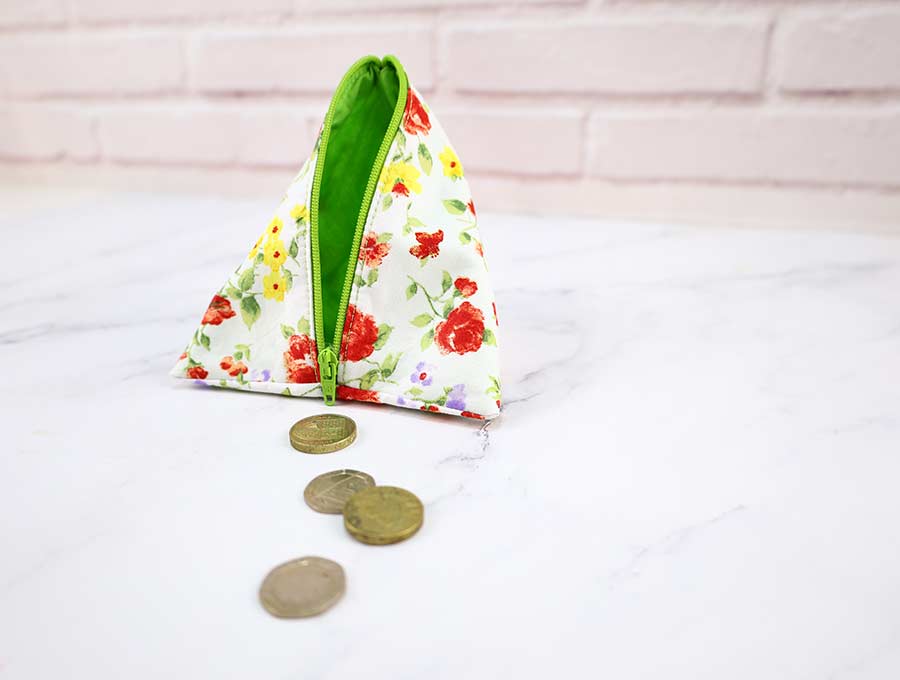 What better way to teach your little girl about the value of the money than to give her this triangular coin purse with a zipper and a hanging loop so she can store the change you give her now and then when she did well and allow her to eventually buy herself candy or a small toy she likes with it.
Triangle coin purse by HelloSewing
Reusable duster cloths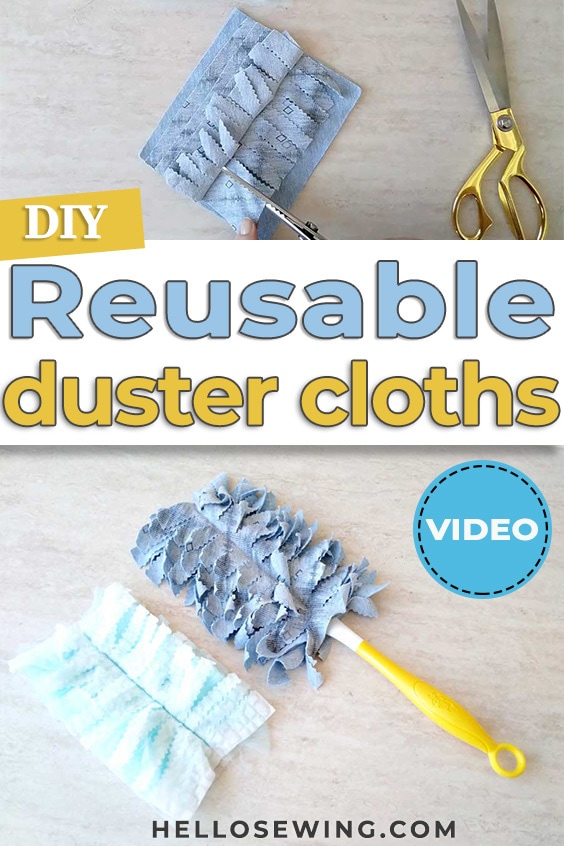 Don't waste money on duster cloths if you have old shirts because you can make reusable dust cloths out of them in less than twenty minutes and attach them to standard duster handles, then take them off to wash them when necessary, dry them up, and get them back into action.
Reusable swiffer duster cloths by HelloSewing
Soft fabric glasses case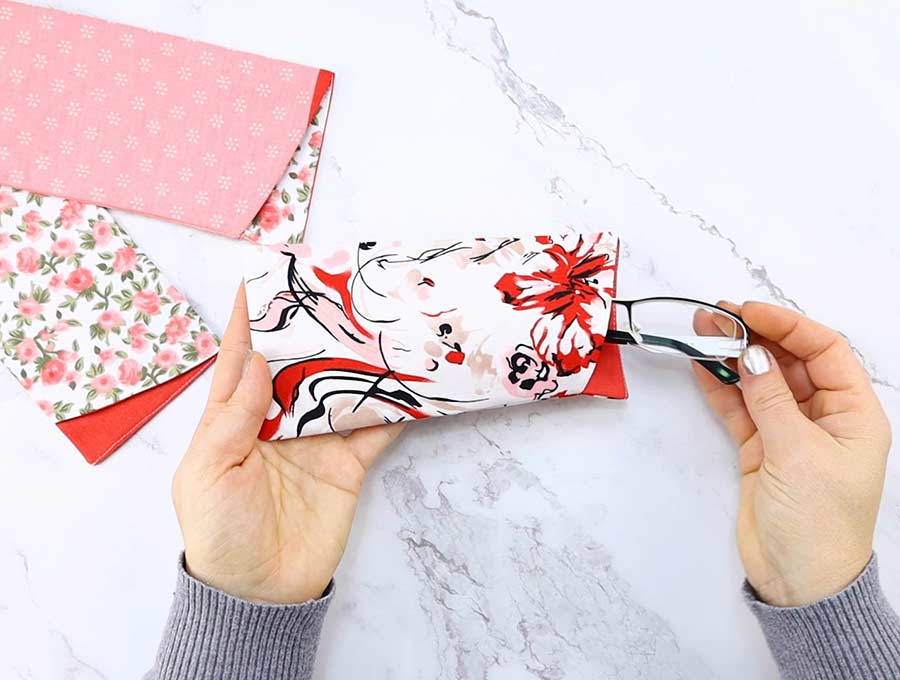 It's hard to keep your glasses clean if you take them off often, unless you have a fabric case like this one that looks stylish, and can keep your eyewear stain-free and smudge-free with its lined interior and contrasting main fabric, as well as a unique opening that's slightly diagonal at the front and straight at the back.
Soft fabric glasses case by HelloSewing
Reusable fabric coasters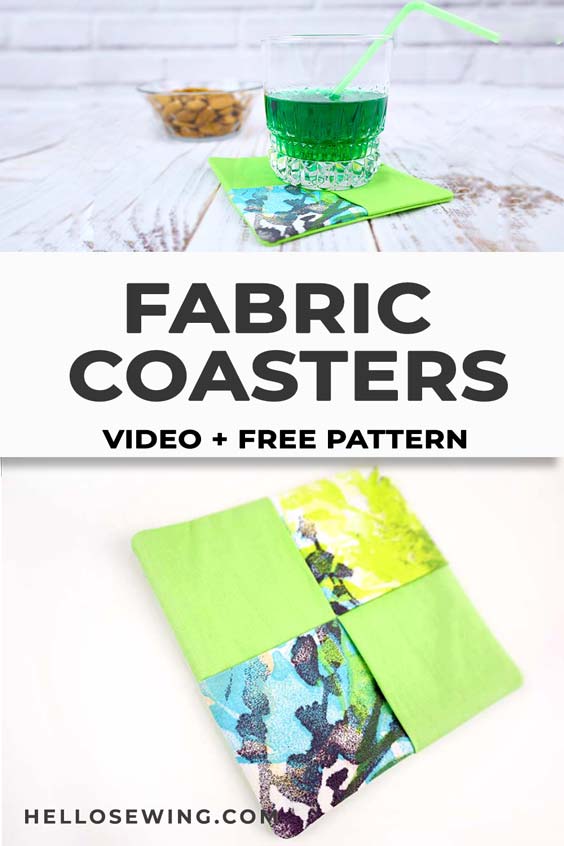 Fight those water rings glasses and mugs often make in style with square coasters made of fabrics in three different colors, cut up into four squares and arranged to form a checkered design with two diagonal squares in the same color and the remaining two in individual colors each.
Reusable fabric coasters by HelloSewing
Which one of these projects for scrap fabric is your favorite? Which one are you going to sew? If you are like me and you wonder what to do with the creeping pile of fabric scraps, you will definitely find these scrap fabric ideas useful.
Do you have a favorite scrap sewing project that is not included here? Pop in the comments below and let me know what it is!
By the time you finish all these projects, you'll have no scraps left! Talk about green sewing! Tell everyone in the comments which pattern you liked the most and which one turned out the best when you made it. If you want to receive updates about new articles like this one, subscribe to our mailing list and we'll have you covered. Keep up with sustainable sewing and have fun using up a hundred percent of fabrics!
RELATED: