46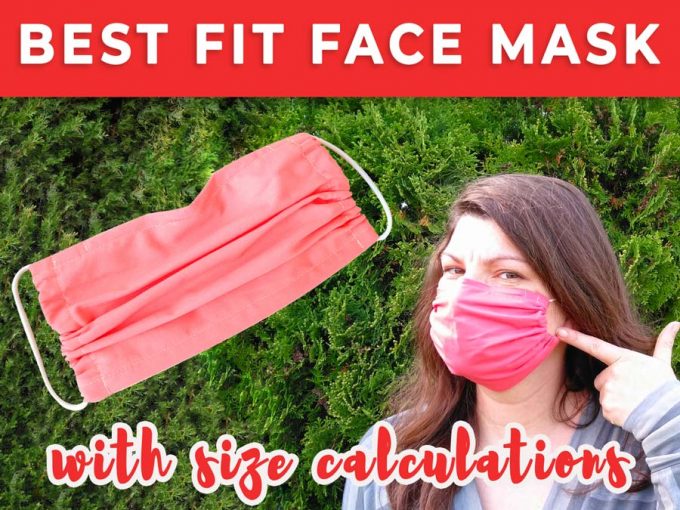 Best FITTING Face Mask with Size Calculations for Custom Fit
Why I call this the best fitting face mask? Ever since the coronavirus (COVID-19) hit, I've been searching for a better fitting mask. I've already made 5 different face masks (links at the bottom of the article) to fit a variety of faces and needs, but as we all have different facial shapes and features, so some people need custom fit face mask. This is why I decided to make a DIY face mask with size calculations and elastic sides – to allow for the best possible fit and still be an easy to sew mask.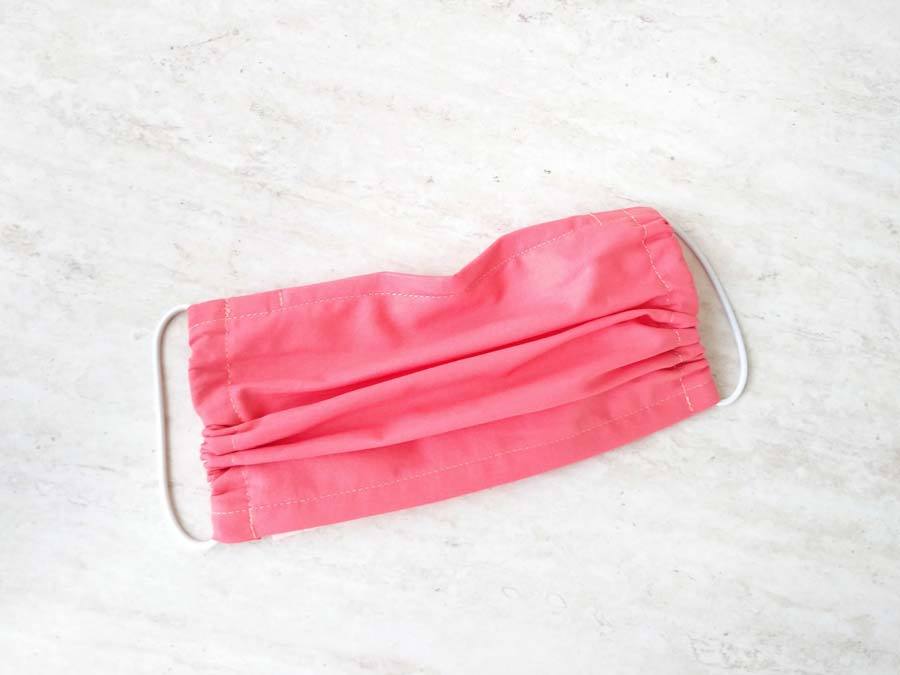 Below you will find my step by step written tutorial how to make a custom fitted face mask without pattern. All you need are two fabric squares! I've also made a VIDEO for all the visual learners.
We occasionally link to goods offered by vendors to help the reader find relevant products. Some of the links may be affiliate meaning we earn a small commission if an item is purchased.
How to Make Form Fitting Face Mask
Supplies and tools
Follow us for free patterns & tutorials!
How To Sew the Best Fit Face Mask
Watch the diy face mask video first and then follow the written directions below.
Please enjoy and don't forget to Like and SUBSCRIBE over on YouTube to be kept up to date with new videos as they come out.
BEST Fitting Facemask VIDEO TUTORIAL
INSTRUCTIONS:
STEP 1: Measure your face
Take your measurements as shown in this image. You should have 2 measurements – X and Y.
Measure X from temple to temple through the tip of your nose
Measure Y from the bridge of your nose to under your chin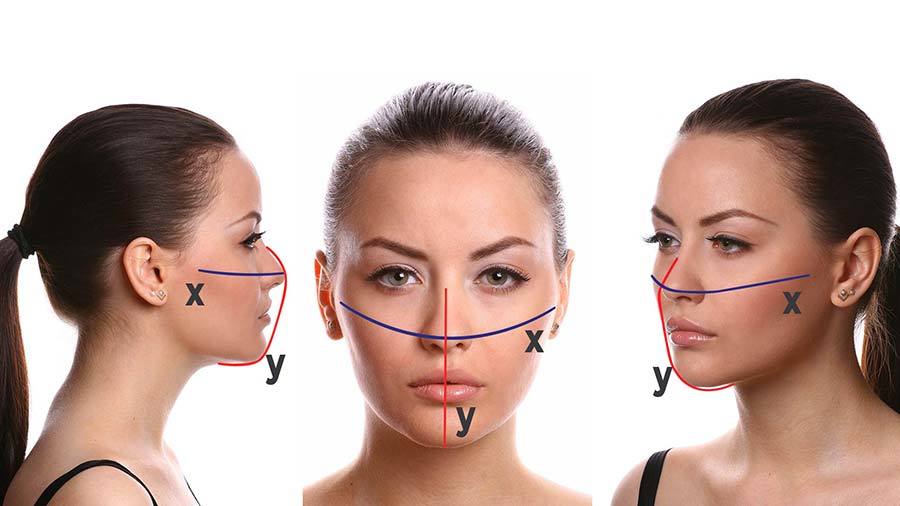 STEP 2: Cut fabrics
You'll need to cut 2 rectangles out of your fabric – rectangle A and rectangle B as shown. You don't need any pattern or template for your custom fit face mask as the patterns are simple rectangles.
Your lining is rectangle A with sides X and Y
The main (outer) fabric is rectangle B which is 2 inches wider and higher than the lining.
STEP 3: Prepare lining
Fold the short sides of the lining fabric 3/8″  twice and press them with a lot of steam. Pin in place and sew.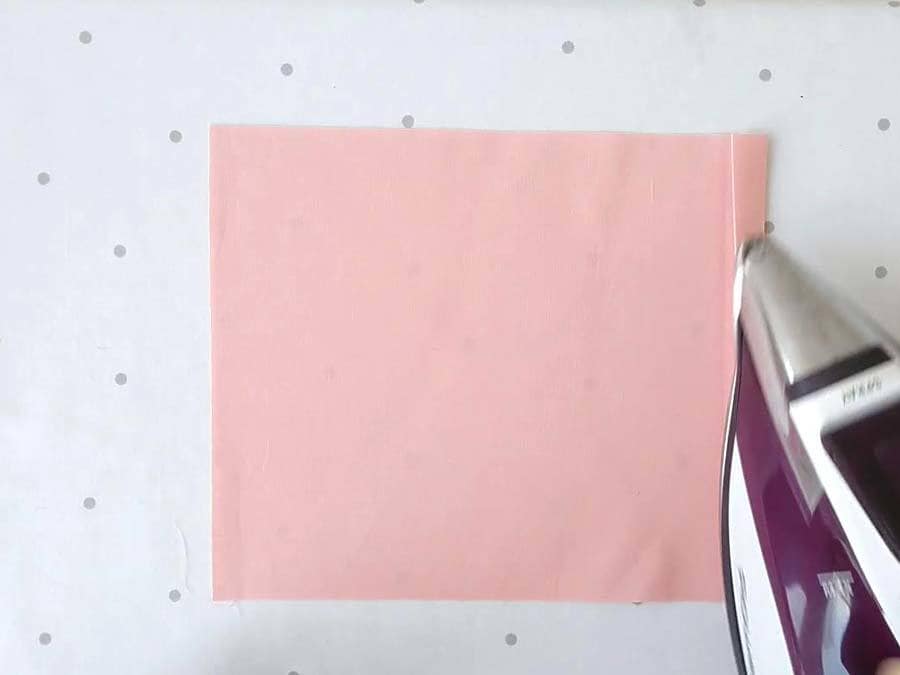 STEP 4: Align fabrics
Place the lining on top of the outer layer, wrong sides facing each other, so that the lining is exactly in the center. To place it precisely you can create creases along the middle of the both layers. Fold each of the fabrics in half widthwise and fingerpress to make creases. Align the creases as shown below.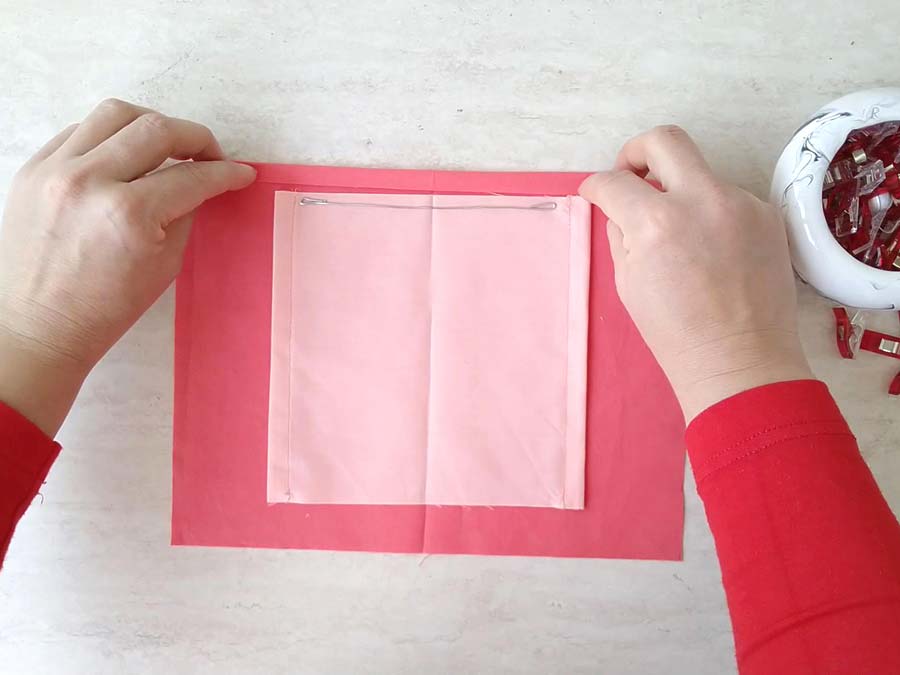 STEP 5: (OPTIONAL): Insert nose wire
If you want to reduce glass fogging, it would be a smart idea to insert a nose wire stay. You can make the nose wire of multiple materials you probably already have at home. We've tested and rounded up the best materials for nose wire here.
STEP 6: Fold top and bottom
Fold the top and bottom of the outer layer twice so that they overlap the inner layer. Either pin in place or use clips and sew from edge to edge.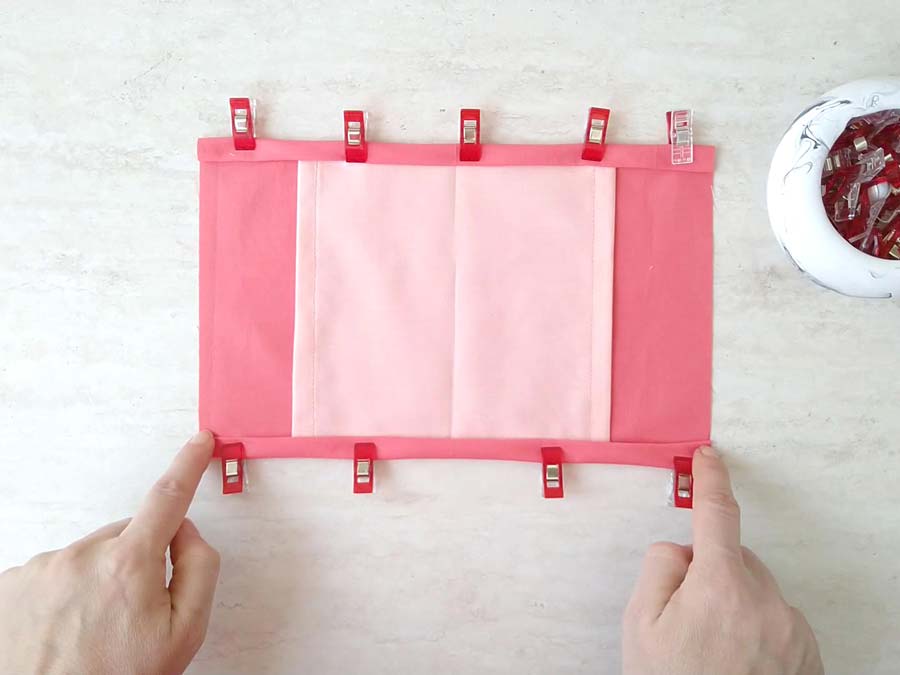 If you have inserted a nose wire, sew right next to both it's ends to secure it in place.
STEP 7: Fold sides and create filter pocket
Fold the left and right side of the outer layer twice so that the folded edges meet the edges of the inner layer. They should NOT overlap as the opening is the filter pocket.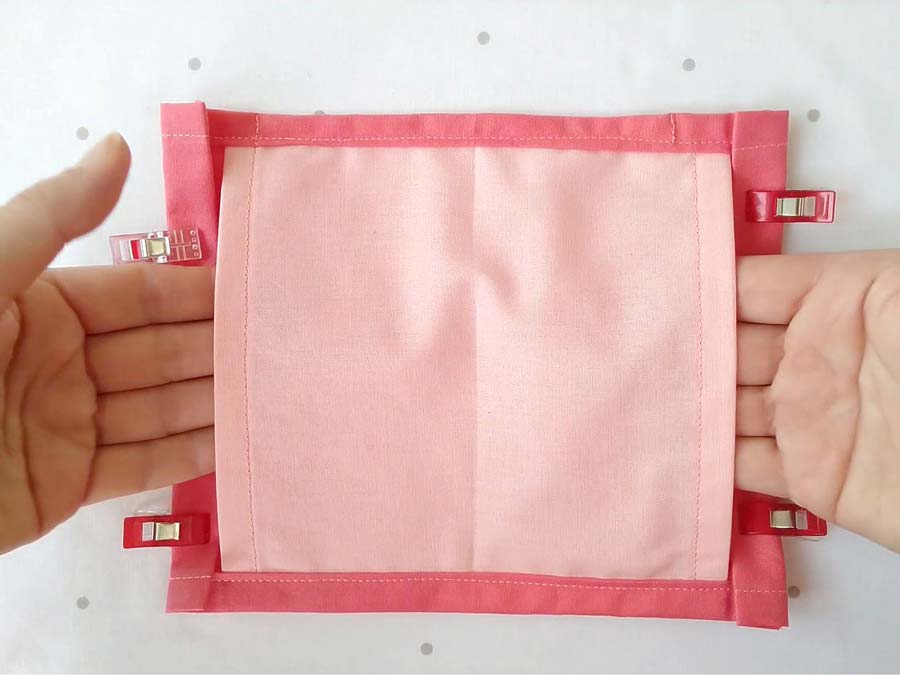 STEP 8: Sew sides
Sew along the folded edges of the outer fabric as close to the edge as possible. Backstitch at the beginning and the end several times to reinforce the seams. Both seams should be as durable as possible as they will be pulled by the elastic.
STEP 9: Insert elastic/ties
Use a safety pin to thread the elastic through the casing on the side of the mask. Repeat for the opposite side. You can either create two separate ear loops as shown or make one continuous elastic tie that goes around the head. If you or the person who will be wearing the mask will use it for a prolonged period of time, use one continuous piece of elastic or add an ear saver to reduce the stress on the ears. Elastic ear loops alone rub the back of the ears when worn continuously.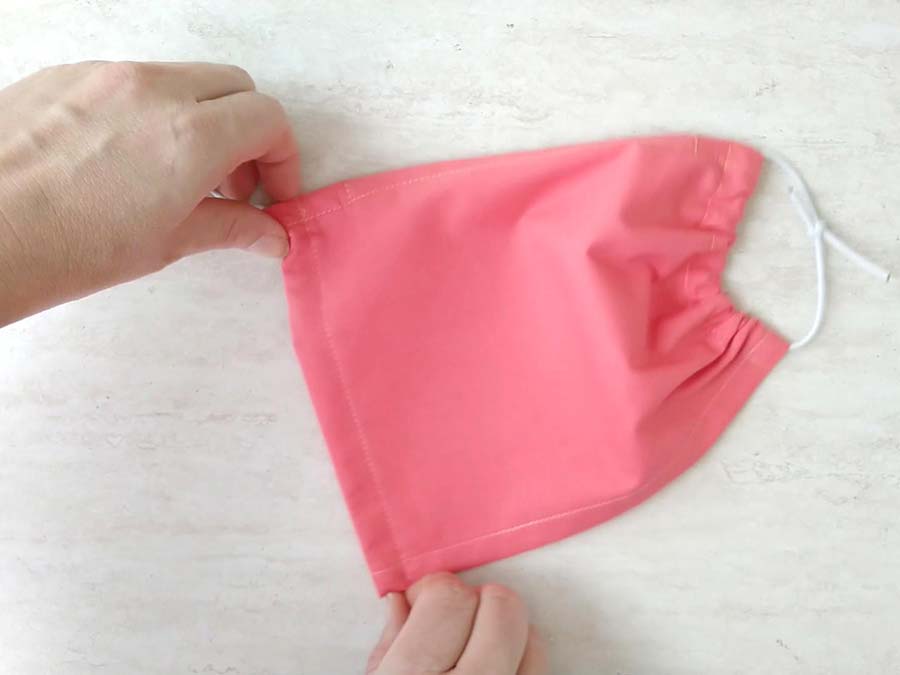 STEP 10: Finish the mask
Tie the ends of the elastic in a secure knot. Pull the elastic to secure the knot and pull it inside the casing to hide it.
That's it! The best fitting face mask is ready. It simply molds to the face and it's custom fit ensures the much needed comfort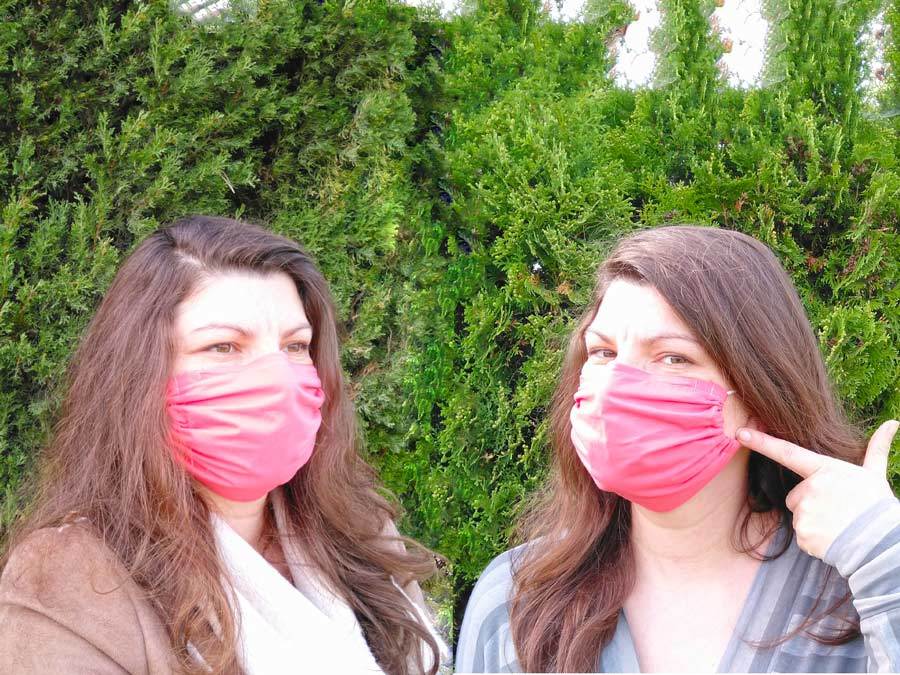 Form fitting mask OPTIONS:
Ear loops or one continuous head piece
Elastic alternatives – you can use t-shirt ties instead of elastic
With or without nose wire
According to CDC (as of 31 March 2020): HCP (health care providers) use of homemade masks:
In settings where facemasks are not available, HCP might use homemade masks (e.g., bandana, scarf) for care of patients with COVID-19 as a last resort. However, homemade masks are not considered PPE, since their capability to protect HCP is unknown. Caution should be exercised when considering this option. Homemade masks should ideally be used in combination with a face shield that covers the entire front (that extends to the chin or below) and sides of the face.
Do you like this? Pin for later: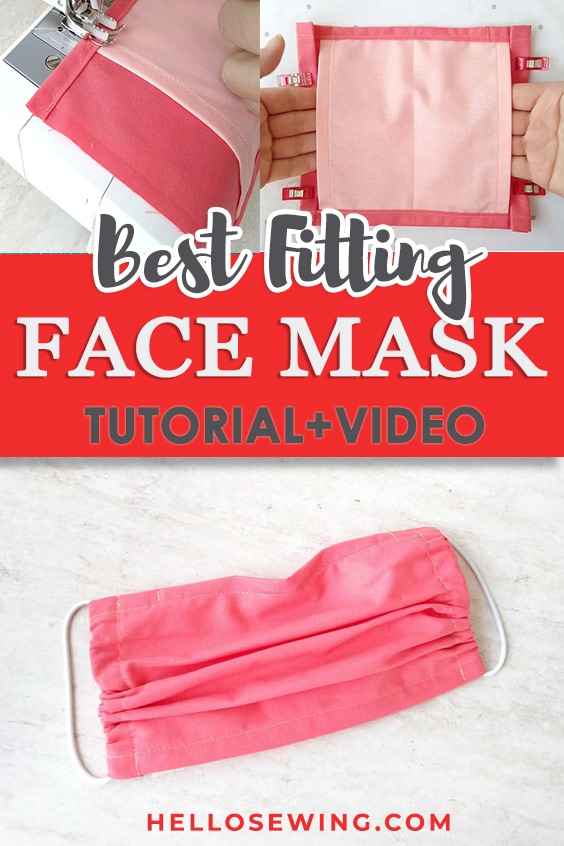 Wanna be friends? Click HERE and follow me on Pinterest
RELATED:
Free face mask pattern (fitted, contoured model)
Face mask with visor / eye shield
DIY cloth face mask with fabric ties (pleated)
Surgical face mask with elastic ear loops
Medical face mask (No elastic model, around the head ties – great for medical staff)
Ear saver for nurses and doctors
Surgical scrub cap (unisex model with ties)