9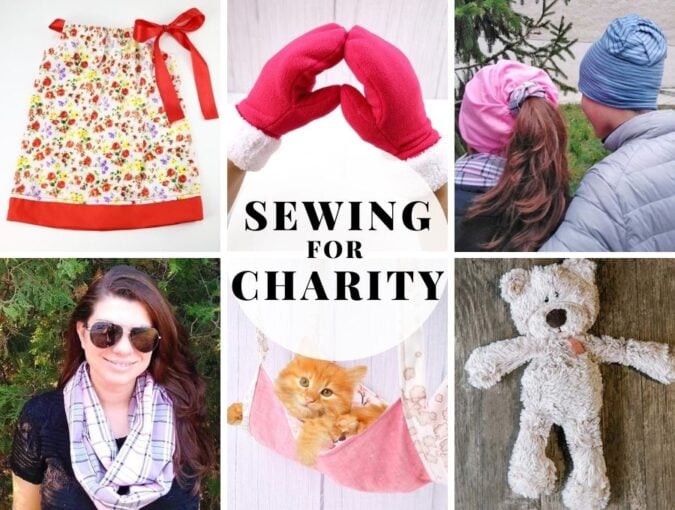 Sewing for Charity – How to Put Your Skills to GOOD Use
Keen to help out with charity sewing? That's absolutely wonderful that you have the time, and materials to make the lives of people and animals better. There are hundreds of thousands of charities worldwide that are eager for help, but before you start sewing it is best to contact the charities you're interested in working with, to find out exactly what they need. They will also provide guides on types of fabric to use, sizes needed, colors, and styles. For example, certain colors may have negative associations in some countries, and styles, such a shorts for girls and women, may not be worn for cultural and religious reasons.
What charities need
There are a few questions you can ask smaller charities, but other larger charities will usually have a fact sheet with the  suggestions for donations laid out and may even provide patterns of the items they need. Some even go as far as providing the fabric already cut out for you to sew, while others allow you free rein on your creativity – it all depends on the particular charity.
Questions you may need to ask before sewing
 Do you accept handmade items?
Some charities do, and some don't. You don't want to put in effort and have the items discarded. Some charities only accept machine made items – like the bags for baby kangaroos, because hand stitched ones may not hold up to the weight, or the stitches may be too far apart and the babies claws could get stuck.
What sizes and styles of items are needed?
If you are making items for children in the tropics then they will not need beanies or jackets. Instead light dresses for girls, and shorts for boys will be in demand. Also find out how they live – do not use fabric that requires ironing if the people do not have access to electricity, or supply socks if they don't have shoes.
How are donations handled?
Some charities distribute to their own communities, and donate their excess to other charities. Others store donations in particular sizes, until they are needed. The last thing you want is for a charity to be so inundated that they have to dump donations because they don't have sufficient storage – so always ask what is needed.
What can I supply that will be useful?
When we hear of a natural disaster the first things we think of are food, blankets and clothing. For someone who has lost everything and is probably being moved from shelter to shelter, a roomy over the shoulder bag would be more useful so they can carry what little they have. Children in poverty stricken countries need clothing rather than a toy, and animals always need bedding.
Charities that need your sewing skills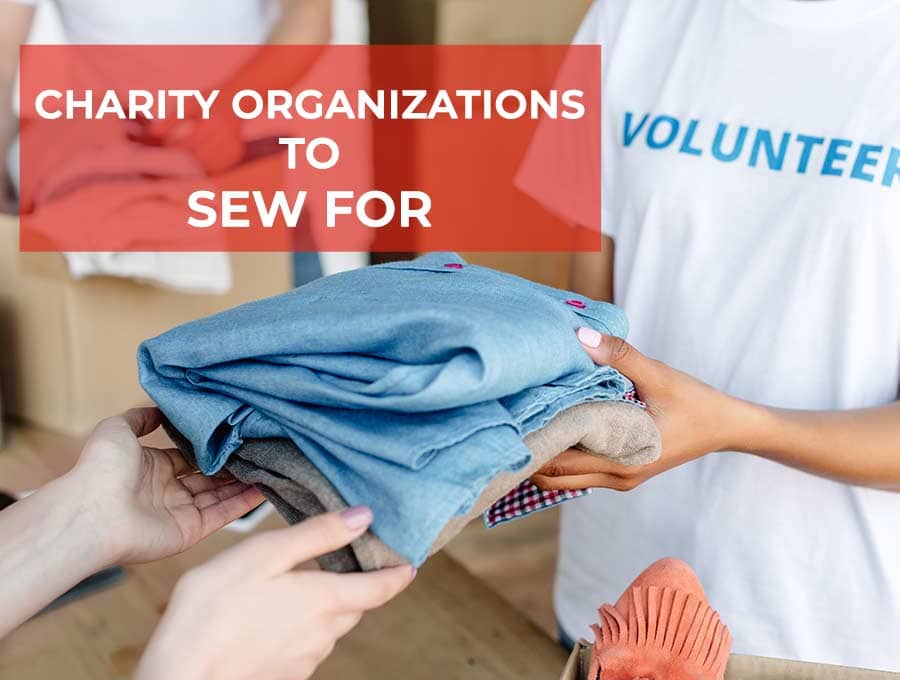 The dresses for young girls are distributed throughout Africa via various local organizations within the African countries, giving little girls a sense of hope and worthiness when they receive a crisp new dress, rather than wearing cast offs that have aged to grey through numerous washings. Here's a pattern for a pillowcase dresses you can make and send. Just make sure to use bias tape instead of the ribbon
Britches for Boys
The boys couldn't be left out and pants made from T-shirts are welcomed as sleepwear, as well as pants in plain colors and prints for the youngsters. Here's a quick tutorial how to make elastic pants from a t-shirt
This organization provides colorful pillowcases for children who have to stay in hospital brightening the otherwise sterile atmosphere. It cheers kids up surrounded by favorite prints from programs and movies as they undergo treatment.
One of the programs within the Enchanted Makeovers organization is The Sacred Sewing Room –  a sewing room set up within shelters for mothers and kids. Donations of fabric and haberdashery, patterns and notions are gladly accepted. If you should be near a shelter you can donate your time as an instructor. You'll also help them make beautiful items to use in their homes once they leave the shelter. This equips them with a new skill and enables them to make their dreams come true.
This organization which falls under Hope 4 Women International, focuses on getting dresses to little girls who would probably never own a brand new dress. They will give you patterns and instructions as well as tips on the type of fabric to use. It is too delightful to see the photos of some of the recipients wearing the biggest smiles ever with their new dresses.
When girls have no access to sanitary pads they simply don't go to school for the days their menstrual period lasts, to avoid the embarrassment. This means losing out on education, and career opportunities.   The organization also supplies panties – such a basic item that we take for granted, but many girls do not have any to wear under school uniforms! Check their site for instructions on the type and size of panties needed, as well as the materials need to construct washable sanitary pads. Drawstring bags are also needed in which to place the sets of pads and panties.
If you are a serious quilter this organization is for you – the quilts made are top quality as befits a returning serviceman. Help create an heirloom quilt that can be treasured by the family as a token of appreciation for their service.. Patriotic colors are popular, and the site offers some ideas for patterns.
This organization started in response to the events of 2020 when there was a huge shortage of face masks, surgical caps and gowns. Now that this need has been fulfilled the organization's Facebook group is using its members' sewing skills to help various local groups.
US states all have chapters, and if there isn't one near you, then approach the organization with regard to starting one and becoming a chapter coordinator yourself. The organization will supply you with information on the type of materials required to make the blankets that are supplied to needy children across the US.
Project Linus is also in the UK supplying blankets to children in need in the UK.
The sewists who help with this project make tote to supply to women who are undergoing cancer treatment, and who are living with cancer. The project organizers will supply you with the tote pieces and pattern already cut out – you just need to sew it up.  There is help needed with monogramming totes too and writing letters of encouragement to those determined to win their battle with the big C.
Although this is a UK organization, donations from sewists are sent worldwide to help ease the suffering of donkeys and mules. Contact them to find out the closest place you can send your donation. They currently have around 7000 donkeys in their care at sanctuaries in the UK and Europe, and you will be sewing felt donkeys to raise funds and awareness.
This UK based organization has a whole list of other organizations that need items. So if you have a particular item you have made and want to donate it you will find someone in their long list of charities who will need it. It perhaps gives creative sewists more free rein in creating from their fabric stashes rather than working to a pattern requested by the charity. The Shoeboxes for Hope need handmade teddy bears, scarves, hats, gloves, and lots more.
Sewing for Charity, Australia
The day this post was written, Sewing for charity, Australia, had been running for four years, supported 254 different charities and made 153,185 handmade items – now that is impressive. They have volunteers in every state and territory of Australia who upcycle used textiles and clothing into new items, and accept donations of fabric wool and other haberdashery that would otherwise go into landfill.
Animal shelters worldwide
Contact a shelter near you to find out what they need. Usually they request towels for drying animals, fleece blankets for dogs and cats, as well as small disposable handmade cotton face cloths for wiping animals' eyes.  Use up your fleece scraps and make small patchwork blankets – the dogs and cats aren't fussy as long as they are warm. Making cat hammocks is another great idea
The largest animal charity in the UK, is the Royal Society for the Prevention of Cruelty to Animals, SPCA's  are in numerous countries around the world, so wherever you are there is bound to be one near you that is in need of donations of fleecy blankets and towels.
It is estimated that around 3 billion animals were affected by Australia's bushfires of 2019-2020, and a billion died. Thousands of baby kangaroos were orphaned and help was needed worldwide from volunteers to make joey pouches to house the little ones, as well as other marsupial babies, until they were old enough to fend for themselves. The organization has an ongoing need for pouches –just check the list of sizes they need. They also specify that no synthetic materials be used as the joeys can overheat, cotton being the preferred material.
Charity Sewing Projects and Ideas
Sewing for charity can be a great creative outlet, allowing you to make use of a fabric stash that is getting way too large. When you see photos of little girls in Africa dancing around in their new dresses, kittens playing with the toys your created, or dogs snuggled into their fleecy blankets as they wait for their forever homes your heart will be gladdened. However, before starting to sew, check with the charity you have in mind, to see if they need the item you plan on making. Also check if certain specifications need to be adhered to, for example, with face masks the types of materials used for the various layers and way it is fastened.
Here are some easy sewing for charity ideas
Blankets – needed by children and adults, the autistic (weighted blankets), and animals worldwide.
Pillowcases – needed in children's hospitals, orphanages and shelters, and by those living in poverty.
pillowcase pattern: easy pillowcase burrito style
Pillowcase dresses – accepted with glee worldwide by children who may never have had a new dress in their lives.
Hats – particularly useful to the homeless in winter, underprivileged people around the world and victims of natural disasters
hat patterns: 1. fleece hat, 2. 4-in-1 beanie hat pattern
Gloves – useful to people living in cold climates who have lost everything due to natural disasters, the homeless, and the poor.
gloves patterns: 1. mittens out of a sweater, 2. fleece mittens with lining and faux fur cuffs
Scarves – another great item to keep the homeless warm
scarves patterns: 1. infinity scarf pattern , 2. fleece neck warmer
Quilts –those living in makeshift shelters, veterans as a symbol of their service, children, babies and adults living on the poverty line across the world, victims of disasters.
Chemo caps – when you have lost your hair these give some dignity to anyone trying to beat cancer.
Many people use my scrub cap pattern with great success
Drawstring backpack – refugees, the homeless, veterans and orphans.
drawstring backpack sewing tutorial
Face masks – anyone required by law to wear one. Many people can't afford to keep buying facemasks, so reusable ones donated to them will be very welcome.
Face mask patterns: 1. 3d face mask pattern 2. half face mask pattern 3. antifog mask pattern
Menstrual pads –Girls in third world countries need these reusable pads as they don't have the money to buy sanitary products.
Panties – girls in third world countries who cannot afford this basic item.
Pet projects – soft balls, dog bone toys, dog or cat beds, cat hammocks – these can be donated to elderly people going through hard times,  along with some pet food. Animal welfare charities will also need these to keep animals amused and warm.
animal patterns: soft ball pattern, dog bone toy pattern, cat hammock tutorial
Teddy Bears – this one woman business in Australia is supplying patterns for the honey bear https://www.funkyfriendsfactory.com/sewing-toys-for-charity, free when you subscribe – there are a few copyright instructions but basically if you are making them yourself you can donate to any charity of your choice or sell them to raise funds – she is wanting to reach a Billion Bears for Charity.  Make bears for children who are in hospitals, children in third world countries and any child who is in need of a bear companion but whose family won't be likely to afford one.
teddy bear patterns – a list with more than 15 free sewing teddy bear patterns
Mosquito nets – 229 million people contracted malaria in 2019  according to the World Health Organization so making mosquito nets, particularly for children under 5, who are the most vulnerable, can be enormously helpful.
Small zipper bags – these are in high demand worldwide in disadvantaged communities for kids to place their pencils in for school, for girls to take extra reusable sanitary pads to school, for the elderly to keep pills together, and for a myriad of different uses for everyone else.
pattern – zipper pouch pattern
Other ways you can help
Most organizations appreciate monetary contributions to help pay fuel and vehicle costs, rent or maintain buildings and pay transport to get the goods to where they are needed. Volunteers are always needed to check quality, pack and dispatch items, answer emails and calls and co-ordinate efforts.
There are many items you can make that don't use a lot of material, plus a few that do. Whatever you have to give should be directed to the correct charity, who can rush it to those so desperately in need. You can use your talents to bring joy into the lives of both animals and people who deserve to be reminded that they are worthy and deserve a life filled with hope. If you liked this article please share it with others who may be willing to sew. To have more articles like this delivered straight to your inbox, please subscribe so we can keep the love and hope spreading around the world.
Take A Peak ? At My Fave Thanksgiving Ideas [+ Sew to Give]
Looking for the perfect Thanksgiving decor?
Create a festive holiday style that's all your own with these beautiful handmade Thanksgiving and Christmas decorations. Transform your home inside and out for the holiday season. These home décor ideas are perfect for when you're running low on time and high on expectations. Impress your guests with these show-stopping holiday-worthy decorations. Make sure to read to the end for some early bird Black Friday deals
Thanksgiving Home Décor ideas:
10+ Thanksgiving projects to inspire you
Reversible placemats – choose appropriate fall colors on one side and fun Christmas print on the other
Sew a pumpkin table runner – #19 on this list – click the link under the image to get the pattern/tutorial
Throw pillows are a quick and easy way to spice up your rooms
See What's New:
Sewing for Charity – Put your needle to good use, for a good cause. You can use your talents to bring joy into the lives of both people and animals who deserve to be reminded that they are worthy and deserve a life filled with hope.
Black Friday deals:
Gifts for sewists – get yourself something new, or share the list with someone
Sewing Machine Black Friday Deals 2021 – LIVE updates HERE. I'll update this article LIVE during the week, so make sure to come back and check often so you don't miss an opportunity!